Photography can be a very rewarding experience for many photographers. Not only do photographers create a permanent archive of memories, but the validation and criticism received when sharing your work – be it with friends and family or exhibiting in a gallery – can generate an amazing feeling and confidence within that photographer. While technology is making it easier and easier to "take" a good picture, many things are necessary in order to improve and "make" an extraordinary photograph.
Photo in my 2nd year of shooting.
Bern, Switzerland
In 2011, I started NYC Digital Photography Workshops, which has now collectively grown to over 5,000 members. Working alongside some of our world class instructors over these last six years, I've helped generate a terrific program, especially for beginners on how to best learn photography and have consistently seen positive results. Below are 12 tips for beginners on how to best learn photography.
DECIDE ON A WORKFLOW FIRST
I wanted to start with workflow first as not having one from the beginning was a personal mistake I made that resulted in over 30,000 images years later and not knowing where and how to start with organization. If you sit down, think about and create a good workflow from the beginning, you can avoid feeling like you will never be caught up because you keep changing your mind on how you want process your images from set up to sharing with the world.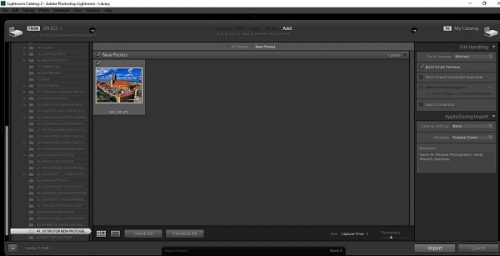 I use Adobe Lightroom for the post-processing part of my workflow.
General Camera Setup
Since this article is primarily for beginners, it's important to set up your camera's general settings from the start and to know what will change from scenario to scenario. Some of the features you'll want to consider setting up from Day One are:
Your playback options of what is displayed on images upon playback such as highlights, RGB histogram and shooting data.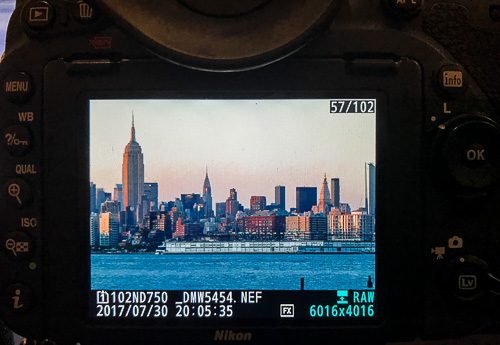 Info I've chosen to be shown on upon playback.
2. On your shooting menu, things such as file naming, card slot rules (if you have two card slots in your camera, what role each card slot will play), image quality (jpeg vs. RAW) and color space (sRGB or Adobe RGB). It's extremely important for the sake of post-processing your images that you set your camera to record images in RAW format as this format will gather and record the most data. If you want to be able to instantly share your images, set your camera to RAW and JPEG together, but don't just shoot JPEG as you will severely limit your editing options.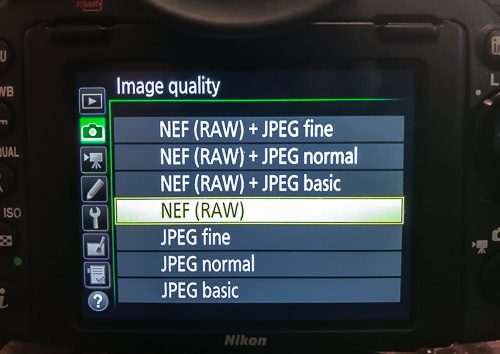 Shooting in RAW is extremely important for post-processing purposes.
3. On the video shooting menu (if you have this), you'll want to set up your file naming convention, the destination where videos will go should you have more than one memory card slot, frame size/frame rate, movie quality, microphone sensitivity and wind noise reduction.
4. Under your custom menu, you might want to set up your general autofocus settings, metering and exposure settings such as ISO sensitivity, step value and EV steps, whether the camera beeps upon shooting (this can be helpful when shooting subjects in studio), continuous mode frames per second, whether or not you want to have a grid display in your viewfinder to help guide your composition and functions of the buttons on your camera. You can customize what the buttons on your camera do as you may find you use certain functions more than others and you'll want to be able to adjust those quickly and easily, therefore, assigning those functions to buttons that are more easily accessible.
5. Under your setup menu, you may want to set up the color balance of your LCD monitor, your monitor brightness, the timezone and date/time, language, auto-rotation of images and customize your image copyright information.
How You'll Backup
There are many ways you can backup your images as you create them with some ways being temporarily convenient while others are much more reliable in the long run.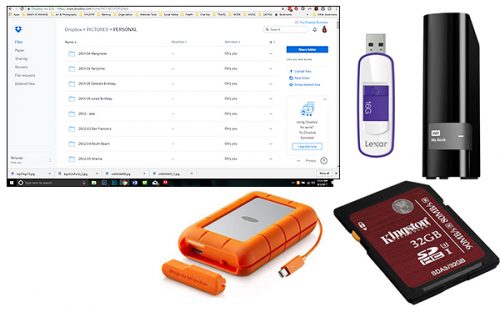 Example backup sources (clockwise from top left): Dropbox (cloud), flash drive, desktop external
hard drive, memory card and portable hard drive.
Images courtesy of Adorama
Memory Cards. A CompactFlash or SD card will be your first method of backup as you are initially shooting your images (unless you are tethering to a computer or laptop…) This isn't a reliable way to permanently store your images as they become full quickly, can be a bit pricey and offer no way to organize your images. Since you will need these regardless, I do not recommend using only one large capacity memory card when you shoot as should that one large capacity memory card become damaged, you will lose all of your images. Instead, use several smaller capacity cards so that if a card gets damaged, you only lose some of the images instead of all of them.
Flash Drives. While cloud-based platforms really make these unnecessary anymore these days, a flash drive is a great way to transport or deliver images should you want to share images in a place where you do not have a wifi connection. I wouldn't recommend a flash drive for permanent storage of your images but more for when you might have a presentation and need to plug a pocket-friendly portable storage device into your laptop on the road.
External Hard Drives. An external hard drive is a "must" as local, secondary backup source. A couple of great options for external hard drives are the WD My Passport Ultra 2TB USB 3.0 Portable Hard Drive, the LaCie 6TB 2big Quadra Hard Disk Two Bay RAID Desktop Drive or what I have: the LaCie 4TB Rugged RAID 2.5″ External Hard Drive, Thunderbolt, USB 3.0. I'm a big fan of RAID drives because you can set up half of the drive to mirror the other half so that if one half goes down, you're still backed up because the both halves of the drive are identical. Portable hard drives are a great backup option when you don't have access to wifi to backup to cloud storage.
Cloud Backup and Storage. Your best option for backing up and sharing your work is cloud storage. Some of most common options out there are Dropbox, Microsoft OneDrive, iDrive, Google Drive (Google Photos), Apple iCloud Drive and Box. I was very pleased to find that Google Drive/Google Photos has options of 100GB to 30TB in storage ranging from $1.99 per month to $299.99 per month.
How You'll Process Images
Another major workflow decision that you'll want to decide on is what software you will use to organize and process your images. There are many choices out there such as Aperture, Capture One, Adobe Photoshop and Adobe Lightroom. I will be honest with you. Adobe has some of the best software out there for importing, organizing, processing and sharing your images. We generally teach our students to use Adobe Lightroom because it's so easy to use and you can batch process images, to do as much as you can in Lightroom first and then do any fine tuning in Photoshop. You can take advantage of a free trial of Adobe Lightroom here: http://www.adobe.com/creativecloud/photography.html.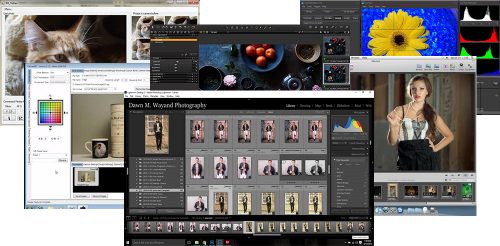 Various photo editing/tethering software such as PK Tether, Camera RC,
Control My Nikon, Aperture, Capture One and Lightroom.
Naming Conventions
When using photo editing software, you'll want to decide up front on the naming convention of your images and the folders they will be stored in. Due to keywording features, some photographers keep all of their images in one folder, thoroughly keyword their images and then they are able to locate them upon a search later down the road. I personally title my folders by "yyyy-mm-dd Project Name or Subject Title" and then my images are titles "Subject Title-Sequence Number". It's really up to you how you prefer to organize and name your images, but it's good to decide this in advance to avoid having to go back 20,000 images later and reorganize and rename everything in a consistent manner.
Keywording Your Images
Lightroom is a great tool for not only organizing your images but also locating your images when images are thoroughly keyworded. I try to be as descriptive as possible with keywording for each of my shoots so that if I need to find all images of models with black hair across all of my images, I can easily search and see only the images I have of models with black hair. It automatically picks up image information such as the camera and lens used, the date the image was created and the settings for each image (aperture, shutter speed and ISO).
How You'll Organize the Images
Going along with the topic of naming conventions and keywording, Adobe Lightroom is a great tool for organizing your images because you can import, create folders and move images from folder to folder within Lightroom and it mirrors the same organization on your local hard drive. An important tip: If you use Lightroom, don't try to move images from folder to folder directly on your local drive instead of through Lightroom as when you go to look for the images in Lightroom again, you will have to locate and relink the images in Lightroom to the new location where you moved the images on your local drive.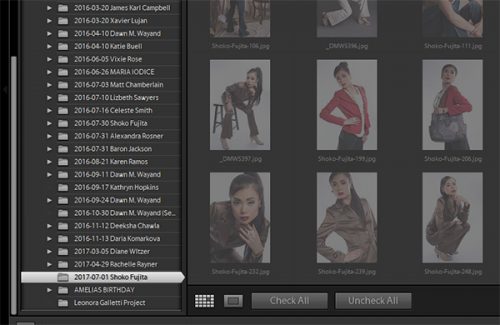 Organizing images into folders in Lightroom.
If you're interested in learning more about Adobe Lightroom, Adobe Photoshop or any other photo editing software, my group, NYC Digital Photography Workshops offers private workshops with photo editing guru, Clifford Pickett, who specializes in Lightroom, but also teaches other software as well. For more information, you can email [email protected].
GET TO KNOW YOUR CAMERA
You just got your camera and you're ready to hit the ground running to start creating amazing images. It happens all too often though, that a new photographer will get frustrated with not getting the shot they want because they can't figure out how to use the camera and they end up putting the camera into a drawer, never to be picked up again. Let's safeguard that from happening to you.
Read Your Manual
You've probably heard this many times, and most of us hate to do it, but the best way to get to know your camera is to read your manual from front to back. I know, I'm terrible at manuals too, and usually don't even look at directions when putting furniture together, but this is one instance where it will make using your camera a whole lot easier.
Read your camera manual cover to cover!
Try Out Every Function on the Camera
As you go through your camera manual, try out every function you read about to better understand what it does, where it is and when you might use it.
Lenses & Focal Length
While the camera is the performance mechanism for your kit, the lens is what creates the quality of an image once you've learned technique and composition. As you acquire lenses, you should have at least one good lens in your kit, which usually do not come cheap. As the saying goes, you can put a high quality lens on a non-top-of-the-line camera and still get a great shot but you can't put a bad piece of glass on a top of the line camera and still get that same shot!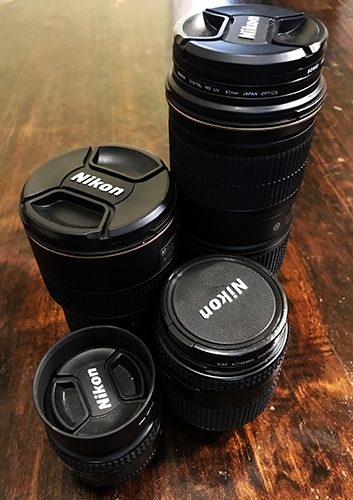 Just a few of my lenses.
What lens(es) you choose will be up to what you shoot. If you fancy shooting landscapes, a wider angle lens would be a good bet and those can vary in focal lengths. If you like to shoot portraits, a prime lens like an 85mm and using your feet to zoom in and out would work, or a zoom lens like a 70-200mm would do the trick – depending on how much space you have to shoot your subject.
LEARN MANUAL SETTINGS TO OBTAIN PROPER EXPOSURE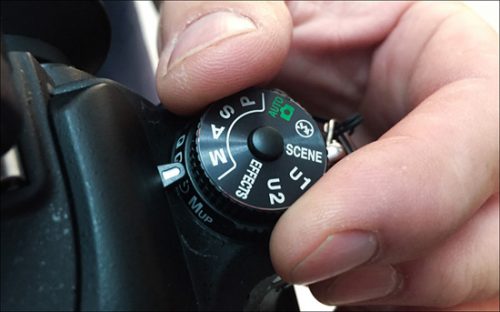 Learning manual settings give you more control over your shooting.
Program Mode
The program mode can be helpful for beginners as a place to start when learning manual settings. Set your ISO and the camera will select the aperture and shutter speed for a properly exposed image. This mode is a good start to see and understand the relationship of aperture, shutter speed and ISO and where you might want to make adjustments to these elements in full manual.
The Aperture Mode
With Aperture Priority, you select the aperture and ISO and the camera figures out the shutter speed for optimal exposure. Aperture Priority is best when you are wanting to control the Depth of Field. When shooting things like landscapes, cityscapes and seascapes, you will most likely want everything sharp in focus, so you will need the maximum aperture (a higher number). When you are photographing people, whether it's portraits or headshots, you will most likely want your subject to be the only thing in focus with things behind your subject out of focus so as to avoid mergers and distractions in the portrait or headshot.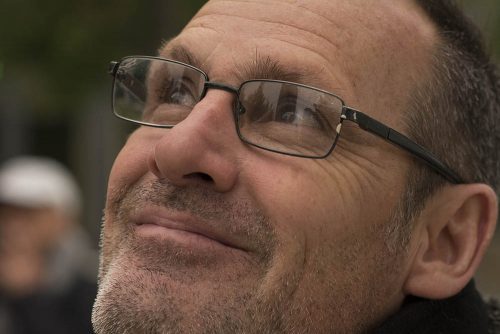 The background is out of focus here through a shallow depth of field.
The Shutter Priority Mode
When using the Shutter Priority mode, you select the shutter speed and ISO and the camera determines the aperture to obtain a proper exposure. The shutter speed priority mode is best used when you are trying to capture motion or to control freezing motion and to make everything in the image sharp.
Full Manual Mode
If you choose to use full Manual mode, you are controlling all aspects of the capture: the aperture, shutter speed and ISO.
Aperture is basically how large the opening of the lens is when a picture is taken. The aperture is what controls the amount of light that enters the camera. The smaller the opening (the higher the number), the less light will come into the camera. The larger the opening (the lower the number), the more light will come into the camera.
Shutter speed can best be described as the amount of time that the shutter stays open when a picture is taken. The longer you leave the shutter open, the more light that gets onto the sensor.
ISO is the measure of sensitivity your camera has to available light. The lower the ISO setting, the less sensitive your camera will be to light. The higher the ISO setting, the more sensitive your camera can be to light. The part of your camera that needs this input to make an image is the image sensor. The image sensor is what takes available light and creates the image. As a rule of thumb, you want to try and keep your ISO as low as possible to obtain the best image quality. You want to use a low ISO setting when there is plenty of available light to satisfy the sensor sensitivity to make the image. The workaround to use a low ISO setting in a low-light environment would be to stabilize your camera on a tripod or sit it on a stable surface and set a longer shutter time to allow more light onto the sensor. Note that anything moving within the frame may disappear or become blurred in motion. You may want to use a higher ISO when you are in a low-light environment but want everything captured within the frame and/or are limited in time to capture the image. Again, you may have to compromise image quality (introduction of grain) to get that low-light shot quickly.
LEARN THE KELVIN SCALE & WHITE BALANCE
To top off a good exposure, you want to also make sure that you have the proper white balance in your photo.
White Balance Settings
As you can see in the first image below, tungsten lights tend to produce a warm yellow-orangish hue while a typical fluorescent light might produce a little bit of a greenish hue. If you look at a scene on a cloudy day or if it is in a shady area, the image might have a slight cool cast. Your camera offers quick white balance settings for lighting situations like shade, cloudy days, sunlight, artificial/flash light, tungsten and fluorescent lighting to balance the color of your images. For more control over the white balance of your images, it's a good idea to learn the Kelvin Scale and how to use it in certain lighting situations.
The Kelvin Scale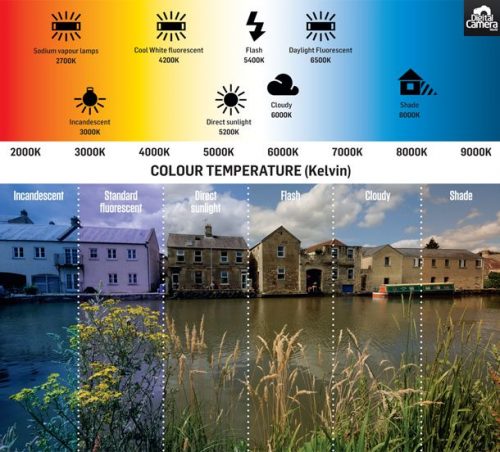 White balance and the Kelvin Scale.
Image courtesy of Google
Since the goal is correct white balance, you want to match the Kelvin number to the environment lighting. When using tungstens, for example, you'll want to set your Kelvin number to somewhere around 3000 to get a proper white balance.
Tools to Help With White Balance
The easiest way to get your white balance correct is to use an 18% gray card and correct your images in post-production. You can also use the same Lastolite Gray Card or an ExpoDisc 2.0, snap a photo using one or the other and use that photo to set white balance under the Custom White Balance setting in your camera.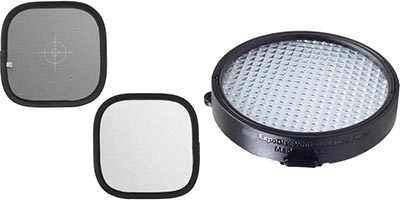 Lastolite Gray Card (left) and ExpoDisc 2.0 on the right.
Images courtesy of Adorama
If you don't have a 18% gray card or an ExpoDisc, you can still get your white balance close to accurate by using the white balance settings in your camera and/or making adjustments in post-processing.
STUDY COMPOSITION
Good composition of a photograph is generally what will make the subject of a photograph more appealing to a viewer. To break the rules of composition, you first should learn the rules. Some elements of composition to familiarize yourself with are: The Rule of Thirds, line, balance, motion, shutter speed, depth of field, focal length, light, color, form, positive/negative space, camera position, texture, pattern, contrast and tone.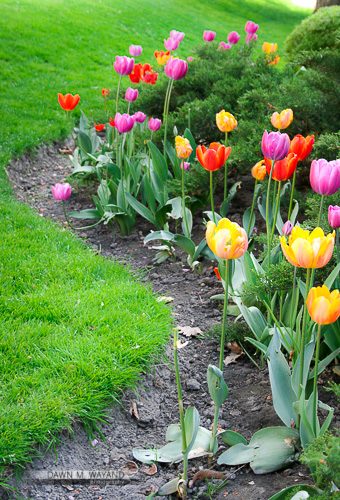 Lines make this image a little more appealing to look at. The S-Curve takes a viewer's eyes through the image.
A good exercise is to go through a bunch of magazines and tear out the images you like, and then determine if composition played a part in its appeal to you.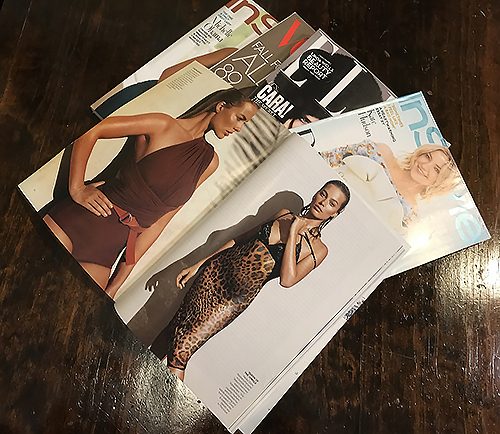 It's good to study magazines containing photos of your favorite genre to shoot to determine what about the image appeals to you.
I wrote a great article earlier this year that involves many of the elements of composition among other things that make an image more appealing called, Creativity & Awareness: Learning to See Before the Capture. Be sure to check it out.
LEARN LIGHT
Light and shadows are what make up photography, after all, the word photography literally means "to draw with light". Light and shadows can create patterns on surfaces, which we've already determined is appeasing to the viewer's eye. It can also create lightest and darkest areas of an image whereas the lightest part of an image generally will attract a viewer's eye before anything else.
Natural Light
Many photographers may think that natural light photography is easy but it's uncontrolled light that spills everywhere and with things like harsh daylight, can cause very harsh shadows, not to mention cause your subject to squint, which can really break a photograph. Once you learn some of the tools and techniques necessary to control natural light, this type of lighting can be your definitely be your friend.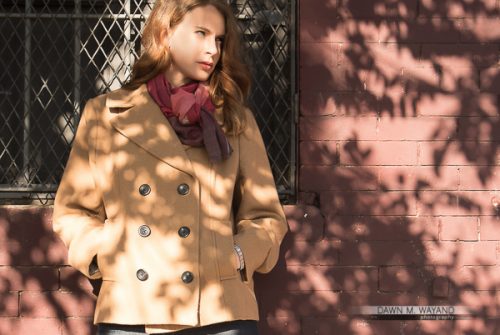 Playing with the shadows of the trees in natural daylight.
Model: Daria Komarkova
The best time to photograph outdoors is when there are clouds in the sky. Why? Because the clouds serve as a natural diffuser to soften the harsh light the sun produces. However, when you don't have cloud cover and you still have to shoot, you learn to find workarounds like breaking up harsh sunlight with a tree's shadows or using a manmade diffuser to soften the light. A white sheet works wonders and can be tied or clamped to trees or light stands or held by assistants. If you can swing it, you can buy a large portable collapsible reflector, which generally has a diffuser as the base option when the covers are taken off. Another option is a scrim which you can attach to a light stand to diffuse light from the sun.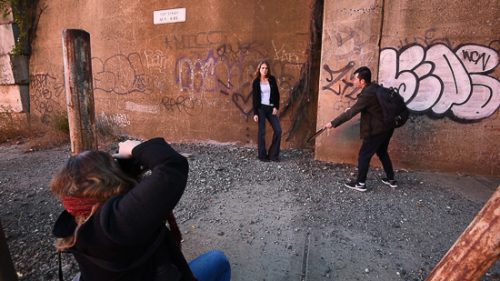 Using a reflector shooting in natural light.
Image courtesy of Yann Bizeul
What is really important to learn whether you shoot indoors or outdoors and no matter the subject is how to use a portable collapsible reflector to bounce light back onto a subject to fill in those harsh shadows. Learn how to angle the reflector and see the light on your subject and you will always have a well-lit subject.

Artificial Light
Another great way to learn light is by purchasing one or two continuous lights and placing them in various positions around your subject. This will give you the what-you-see-is-what-you-get (WYSIWYG) result of how the position of lights affect the way your subject will be lit. These are a great learning tool prior to obtaining monolights. Adorama has a great Flashpoint CL-1144R Circular LED Two-Light Kit to work with for $560.95.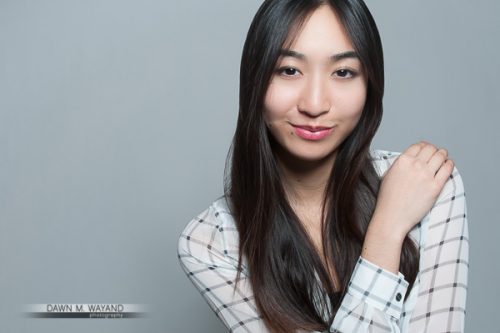 One of my first portraits with monolights.
Model: Tara Virada
CONCLUSION
As a newbie to photography, these are going to be the six most important keys to learning your craft as exposure (learning your manual settings to obtain this properly), white balance, composition and light are the most important elements of photography while having a workflow in place and knowing how to use your camera will make your creating and processing your images a lot easier and much less stressful down the road. Stay tuned for more tips for new photographers learning photography – coming soon!