On Sunday, February 5, 2017, we lost a "pillar" in the photography world: Lino Manfrotto – a man whose last name is well-known to almost every photographer, if for nothing else, the support he provided to photographers around the globe.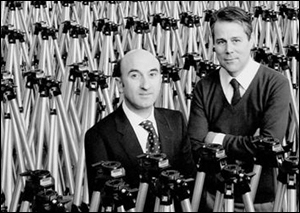 Lino Manfrotto (right)
Image courtesy of Manfrotto website
In the Beginning…
Toward the end of the 1960's, Lino Manfrotto worked as a photojournalist in Bassano del Grappa for Il Gazzettino and Giornale di Vicenza while also pursuing gigs in industrial and advertising photography. While there were many options for studio flash at the time, little advancement was offered in the way of support and clamps.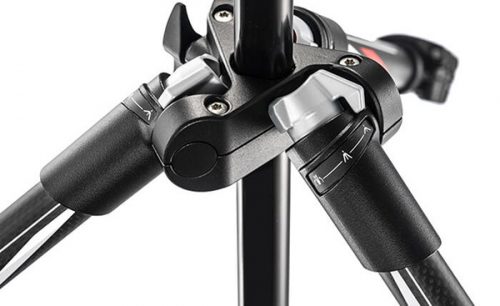 Manfrotto BeFree 4-Section Carbon Travel Tripod
Image courtesy of the Manfrotto website.
Frustrated by heavy, cumbersome camera and lighting support, Lino took to designing and creating what he needed to get the job done including a more lightweight, portable tripod and lightweight light stands that allowed flexibility of light placement. He started this for himself, which then expanded to his circle of photographer friends.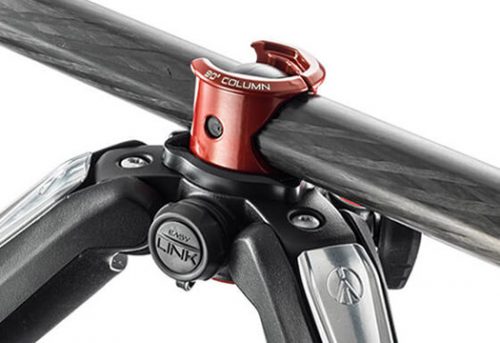 Today's innovation of the Manfrotto tripod: Manfrotto MT190CXPRO4 Carbon Fiber 4-Section Tripod
Image courtesy of the Manfrotto China website.
After meeting Gilberto Battocchio in 1972, a technician for a mechanical company in Bassano, Manfrotto and Battocchio, introduced the first Manfrotto tripod. Other equipment that soon followed that have not – to this day – found any remarkable competition are the Superboom, Autopole and the Superclamp, the latter two of which are found on display on the Museum of Modern Art's website.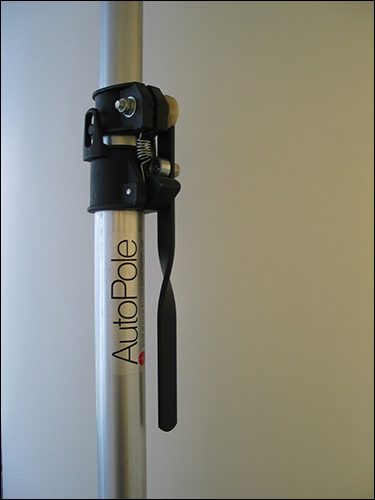 The Autopole.
Image courtesy of the Museum of Modern Art, NYC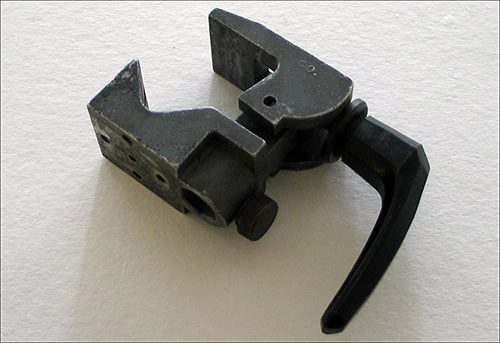 The Superclamp.
Image courtesy of the Museum of Modern Art, NYC
A Growing Empire…
In the late 1980's, the Avenger brand was established, support built for photographers and videographers for high load capacities extreme use in rough conditions.

Image courtesy of Manfrotto Poland
In 1989, Manfrotto became part of the Vitec Group, a British multinational company operating in the photo and broadcasting sector with American, English, French and German subsidiaries of which it still operates today.
Image courtesy of the Manfrotto School of Excellence website.
Several company acquisitions soon followed: in 1992, the French company, Gitzo, which specialized in tripods and ballheads and in 1993, American company, Bogen, which specialized in American photographic distribution. In 2004, distribution company Bogen Imaging GmbH began in Germany. National Geographic photography bags began distribution in 2005 under license through the acquisition of Israeli company, Kata.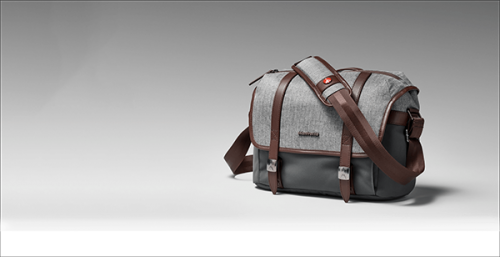 Manfrotto Lifestyle Windsor Messenger Bag – Small
Image courtesy of the Manfrotto website
In 2010, Bogen Imaging changed its name to Manfrotto Distribution which included distribution companies in the United States, the UK, Germany, France and Japan. New distribution companies were launched in Shanghai and Hong Kong that same year. The company acquired the Lastolite brand in 2011, the premium manufacturer of photography light modifiers (such as portable collapsible reflectors) and backgrounds.
Fast Forward to Today…
Since 2010, the Manfrotto brand has taken a firm grasp of the future of technology with its mission and slogan "Imagine More" as it builds for the new generation of photography gear. This mission brings with it products designed for cameras (as they get smaller and smaller), smartphones and their use in the social realm.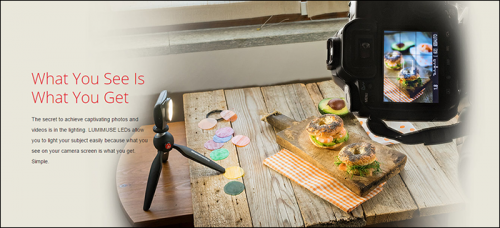 Manfrotto Lumie Muse LED Light
Image courtesy of the Manfrotto website.
In recent years, Manfrotto has catered to the surge of this new technology allowing the average everyday person photographic capabilities through creating accessories and support for use with iPhone. New products such as mini LED lights for smaller recording devices have been introduced providing more innovative solutions for those shooting both stills and video.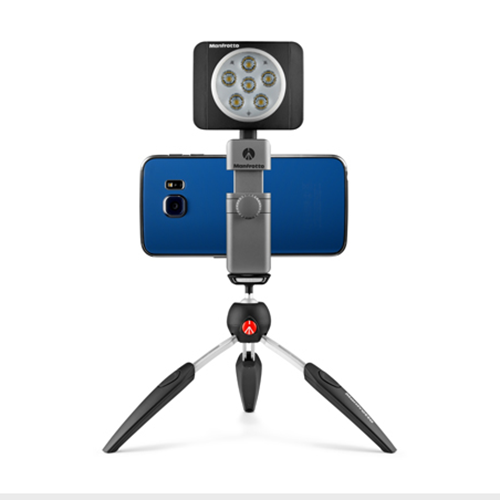 Catering to today's camera technology: Manfrotto TwistGrip Universal SmartPhone Clamp
withManfrotto Lumie Muse LED Light  on a  Manfrotto PIXI Evo 2 Section mini Tripod
Image courtesy of the Manfrotto website.
May His Legacy of Innovation Never Rest…
The man behind the Manfrotto brand was innovative and every product he produced in his lifetime has come with the highest satisfaction ratings in quality and performance. From a photojournalist to an entrepreneurship stemming from the drive of wanting better convenience and performance from the equipment he needed to use, we hope that his legacy of innovation will live on continuing to help support photographer and videographers around the globe.