So you got a camera for your birthday, the holidays or you just decided to finally get one and learn how to use it. Many beginners will start to learn photography without direction only to run into a roadblock and decide that photography is not for them. They put their camera in a drawer, never to reemerge again. Let's not let that happen to you!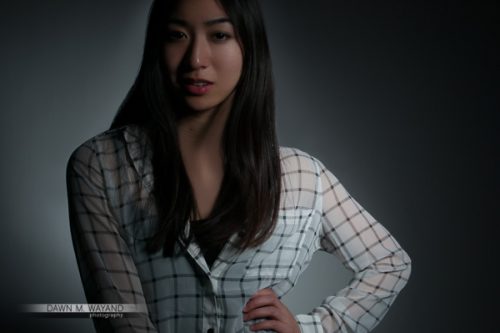 Model: Tara Virada
In my last article: 6 Tips for Beginners Learning Photography, I taught you that workflow, getting to know your camera, learning manual settings and white balance, studying composition and understanding how to control light were vital things to learn as a beginner photographer. Here are six more tips that will help you to master your new hobby.
LEARN BETTER TECHNIQUE
Change Your Angle
My mentor once taught me, "If you want to make your photography better than 80% of other photography out there in the world, change your perspective." This was probably some of the best advice I had ever heard. If you just stand there, put the camera to your eye and take the image, anyone can do that and your images may appear to be more snapshot-like. We don't want just snapshots – we want interesting and captivating images!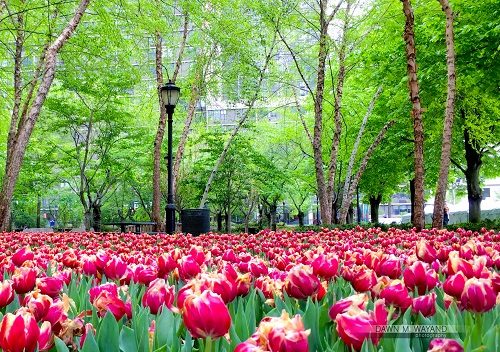 I kneeled down to capture the tulips at a level of their own height.
Battery Park City in the Spring.
Move about a scene and try different levels: get up on the wall or bench and shoot down. Lie on the ground and shoot your subject from below (a "bug's eye view"). Or get at the subject's level for a more realistic impact, which works especially well for photographing animals and children.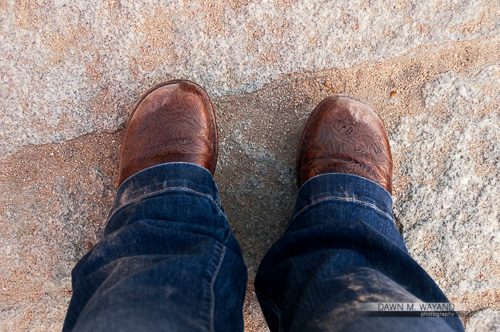 Shooting from above.
Madrid, Spain
I entitled the image above, "I Am Here" as the pants and shoes are dusty and worn. Most people know that I am a traveller and this was my expression of my journeys. While you can lay down and shoot upward, in the image below, I placed my camera lens up on the ground and shot the tulips from a bug's eye view.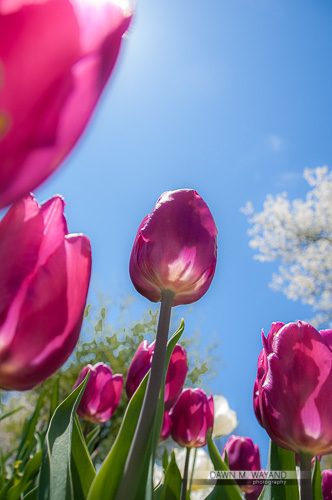 Shooting from below.
Brooklyn Botanical Garden
Holding & Stabilizing a Camera to Get Sharper Images
The goal of most photographers creating an image is to not only obtain a proper exposure but to create a image with the subject in clear, sharp focus. Technological advancements are constantly providing better solutions to meet this goal from the availability of vibration reduction lenses to the ability to fix camera shake in Adobe Photoshop.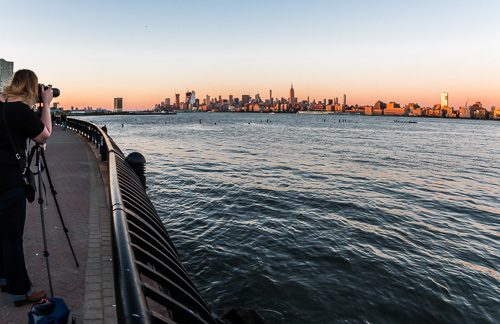 Utilizing a tripod to stabilize my camera during the quickly changing lighting conditions.
Image of me courtesy of Yann Bizeul
One of the best ways that many photographers fail to use to obtain a sharper image is by using a tripod. When shooting a stationary or a subject with mild movement, a tripod can be your best friend. I recently wrote an article all about tripods called, Tripods: Choosing the Right Support for Your Investment packed full of information about the pros and cons of tripods and some recommendations. Tripod not in the budget this month? Find a flat stable surface or ledge to sit your camera on when you shoot. Anything to stable your camera will help to create much sharper images. If you don't have a tripod and there's no flat surface nearby to be found, prop yourself against a wall, pull your camera to your eye and tuck your elbows into your sides to improve stabilization.
Understanding That Timing Is Everything
Sometimes the perfect moment will happen before your eyes and you want to be lucky enough to pull your camera to your face, set your settings and capture the moment before it disappears forever. This is why timing is everything and it's good to be prepared. There is also the trick: anticipating the moment. Oftentimes this works well with photographing sports as well as animals. I once sat at the window of a polar bear exhibit at a zoo for almost an hour studying the swimming pattern of the polar bear – trying to figure out how I was not only going to capture the image, but to do so in a way getting the image as sharp as possible and without glare. The image didn't turn out half bad minus the abundance of breathing bubbles, but there is certainly something to be said about predicting the actions of your subject.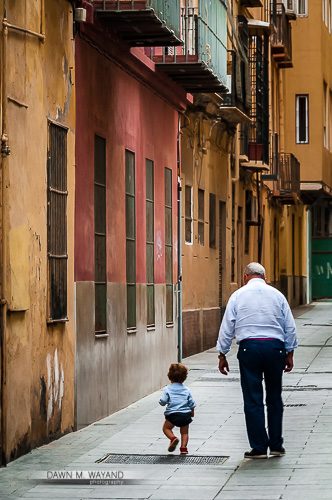 As I walked past this alleyway, I saw this duo and rushed quickly to take the shot as knew it was a fleeting moment.
Malaga, Spain
Whether it's your lucky moment, like for me in the image above, or if you sit perched and waiting for the perfect moment to happen, such as what I did in the image below – timing can be everything to creating a beautiful image.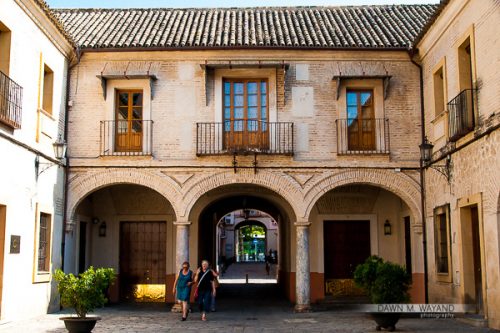 For this image I actually sat and waited for someone to walk through
the archway and found this to be an authentic shot of daily life in Sevilla.
Sevilla, Spain
SHOOT A SUBJECT OUTSIDE YOUR COMFORT ZONE
I shot travel photography and street photography for 12 years before stepping out of my comfort zone and stepping into a studio to shoot portraits and fashion. I try not to have regrets but it probably would have benefited me greatly to have experimented with several genres before limiting myself to only a couple of genres of interest to shoot.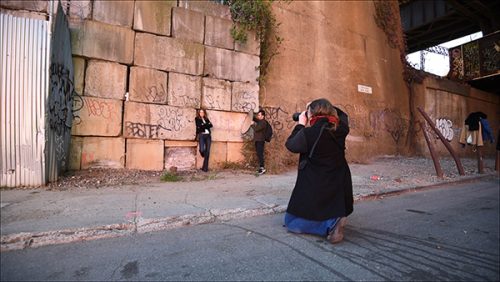 Behind the scenes of one of my fashion shoots.
Model: Daria Komarkova
Image courtesy of Yann Bizeul
If nothing more, you gained some knowledge in an area you didn't know before and the most you gain from trying is that you find you love and are a natural at something you had no idea you could do.
TAKE PHOTOGRAPHY WORKSHOPS (GROUP & PRIVATE)
Photography workshops are the way to go if you want to learn and to hone your photography skills because hands-on learning is the only way to really apply what you learn. As the owner of NYC Digital Photography Workshops, a photography workshop group that has taught over 120 group and private photography workshop topics, I've been blessed to watch our students grow and to see what works and what doesn't and what type of workshops work best for each individual. It's best to choose workshops taught by working photographers. Why? Because they have track record of success in supporting themselves exercising the craft you are trying to learn.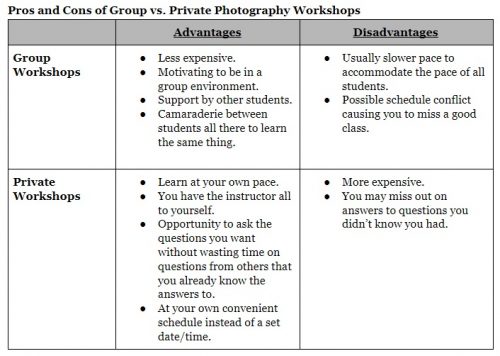 Another good thing to look for is workshops with smaller class sizes so that you get individualized attention, custom to your learning style. Groups with a variety of instructors are also a good mark because every instructor's teaching style is different and you will constantly learn new things on the same topic from those varied perspectives.
GO ON REGULAR PHOTO WALKS
Photo walks are a great opportunity to not only to practice your photography, but to build up your portfolio. Participating in regular photo walks keeps you from putting your camera down because you always have a reason to get out and use it. In addition, when embarking on a group photo walk, you have ample opportunities to learn tips and tricks from others who are also learning.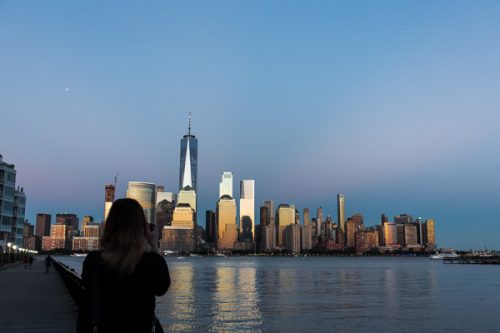 It's important to always be shooting. Photo walks are a great exercise.
Image of me courtesy of Yann Bizeul
GO TO PORTFOLIO CRITIQUES
Portfolio critiques are a terrific way to obtain unbiased opinions of your work as you continue to build your library of images and portfolio. I've done hundreds of portfolio reviews for our students wherein I not only critique an image, but I will tell or show you how to improve an image that may not quite work. Students typically find that by participating in portfolio critiques, that they learn how to improve exposure, composition and technique for the next time they go out shooting.
PRACTICE! PRACTICE! PRACTICE!
The most important thing you can do to learn photography, much like anything else in life, is to practice, practice, practice! If you put your camera down for an extended period of time, more often than not, if and when you ever come back to photography, you lose the momentum you once had when you first starting shooting. Getting out of the house and practicing helps you to learn by making mistakes. Yes, mistakes! Don't let mistakes discourage you from getting out there and shooting. The best way to learn is by troubleshooting your mistakes.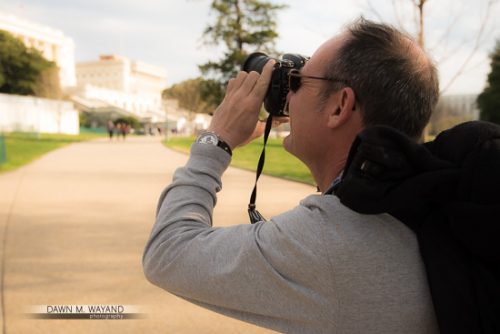 The key to learning photography is practice, practice, practice!

When you get out and practice, this gives you more opportunities to build a portfolio of images and as you get better and better with practice, your confidence in shooting will skyrocket. A great exercise with practice that many photographers, even seasoned photographers, practice is participating in a 365 photo project, where a photographer shoots a particular photograph each day of the year. There are many books and websites out there with weekly and daily photography projects to choose from to get you started.
IT'LL BE A WORTHWHILE JOURNEY…
Seventeen years later, I can say that photography has been a worthwhile journey for me. I've learned so much about the craft; I've captured so many things, people, places, memories and moments in time; I've exhibited my work; curated others' works and now educate other photographers in honing their craft too. Photography is a tool to build self-confidence and thick skin all the while recording everything around you. It will be a worthwhile journey for you too.