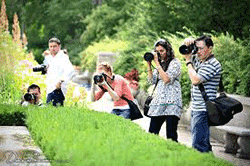 1. "Nothing happens when you sit at home" – Elliot Erwitt
If you've put down your camera for any amount of time, a Photography Workshop forces you to pick up your camera and explore new photographic opportunities that will motivate and inspire you to grow as a photographer.
2. "If you want to be a better photographer, stand in front of more interesting stuff" – Jim Richardson
A guided photo walk or workshop will take you safely and directly to the best locations. Expert knowledge of photographing the site will help enable you to concentrate on your photography without the worry of preparations of where to go and what to photograph. Choose areas you are unfamiliar with to try a new locale and to challenge your sense of awareness of everything new around around you.
3. Like many things, photography is much more fun where shared!
Photography Workshops help you share experiences with like-minded people who share your passion.  Learning and photographing new and extraordinary locations alongside others who share your interest is a valuable learning experience. You don't need to learn alone!  The process of becoming a better photographer is a lifelong journey, the road is much more enjoyable when shared with a few friends.  
4. The only difference between an instructor and a student is that the instructor has already made way more mistakes….
We all have to make mistakes and learn from them, but things go a lot faster when  we can learn from others mistakes.  We all stand on the shoulder of those who came before us, the industry (and your instructor) has much wisdom to pass on.  Learn it.  An experienced instructor will save you much frustration and get you on the fast track to mastering the technical skills needed to executive your vision as well as provide the motivation and inspiration needed to take your photography to the next level and to develop your own personal style.  
5. Being in the right place at the right time isn't a matter of luck, it's a function of experience and local knowledge (alright, and sometimes a little luck!)
An experienced photographer knows the best season, the best time of day and the right light for a particular location. He or she can teach you how to read the landscape in order to get the best image possible. Working with an expert in the field who knows the territory will greatly enhance your photographic experience.  
6. Adapt or die!
In a rapidly changing industry, keeping up to speed with the latest trends, technology and innovation is a full time job, attending workshops regularly helps you keep your finger on the pulse of the industry and keeps you and your work relevant.  
7. You can't learn how to drive a car by reading the manual.
Workshops and photowalks provide the perfect environment to practice what you learn.  Getting hands on experience, making mistakes in a productive environment with experienced instructors who can help provide solutions and advice is the fastest and most effective way to grow. Since Workshop lessons can be given on location, you are enabled to learn technical skills and theory 'in the field' and put your training to the test immediately. The more you practice your new skills, the longer they will stay with you. The goal is to have the process of making a photograph become second nature to free you to pursue artistic and creative vision.
8. "Gear is good, vision is better" – David Duchemin
Photography is learning to see the world all over again.  When you learn how to see differently, when you learn how to see uniquely, you begin to foster and hone in on  your creative vision. This is not easy, this is often a lifelong journey, a path that most photographers are happy to be on perpetually.  Instructors and fellow photographers provide a fresh perspective and constant source of motivation and inspiration, the fuel need for your creative fire.
9. Constructive Critique Sessions will help you to improve your photography.
Feedback and Portfolio Critiques from a knowledgeable photographer and from peers can provide terrific insight into how others perceive your work and how you can improve your photography. Interaction between all individuals is a valuable learning experience.
10. Camaraderie, Friendship and FUN!
Photography is an activity often associated with independent initiative, but the rewards to be gained from participating in a workshop are many. First, there is the energy and dynamics created when you bring together a group of like-minded individuals with a common goal. Second there are the many opportunities to share knowledge and experience. Lastly, there is the camaraderie which can develop new friendships.
– by Dawn M. Wayand