Portraiture has been around for many centuries. Before the digital age and even before the age of film, portraits had been created through other mediums such as paintings and sculptures. A portrait is a treasure that people keep around for a lifetime. A great portrait embodies the essence of the person and tells his or her story without saying a word. How can you make your portraits stand out from the rest? Getting creative. Doing something different. But then, where do you find the inspiration for such types of portraits?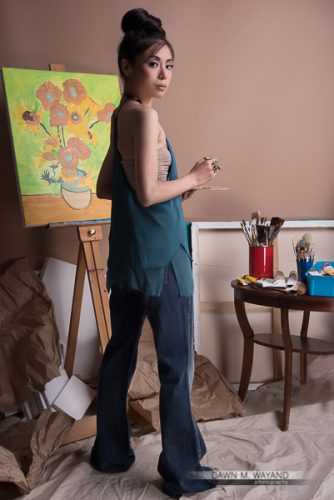 Here I created an artist set to get the look of interrupting an artist at work.
Model: Shoko Fujita
The idea for a portrait can revolve around many different things, such as an overall theme, maybe a piece of clothing, a location, a prop or the person you are photographing – among many other things. You can generate ideas for a portrait through music, art, books and more. It becomes easier to find inspiration the more you become aware of your surroundings and most importantly, familiar with your subject.
What's the Purpose of the Portrait?
The first thing you should think about when deciding how to tackle capturing a portrait of someone is: what is the purpose of the portrait? A portrait might be a senior portrait for a teenager getting ready to graduate high school in the next year, an individual's portrait, a couple's portrait, family portraits or even glamour or boudoir portraits.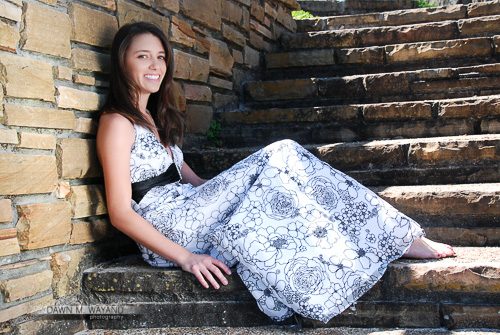 A senior portrait.
Determining the purpose of the portrait can help guide you toward the characteristics your client might be looking for in their portrait such as a couple's portrait might want to display their love for one another, a senior portrait might symbolize hope for a bright future and for a boudoir portrait, the idea is "sexy".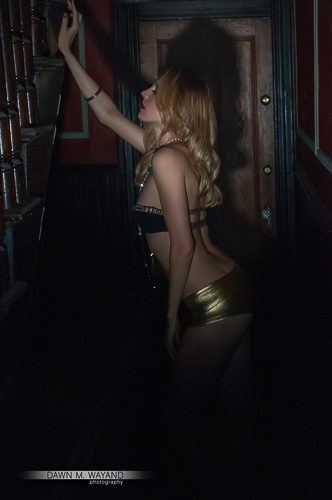 Glamour portrait in my hallway.
Model: Sietzka Wiersma
Below are several characteristics that you may find can help jog some creativity into your portraiture.
Background Choice
In a car. A sixteen-year-old boy just got their first car. He is proud of achieving the passing of his driving test and as a typical sixteen-year-old boy, his car is his most prized possession. This is a good opportunity to suggest shooting a few portraits with him in or standing next to his car.
Outdoors. Shooting a portrait outdoors offers an infinite number of possibilities for backgrounds. Find out your client's favorite area of town and meet them there for the shoot. If they like the beach, shoot at the beach. Are they avid hikers? Strap on your hiking boots and let them guide you to their favorite spot and photograph them in that environment. If they're unsure of an outdoor location, it's up to you to scout out an interesting backdrop.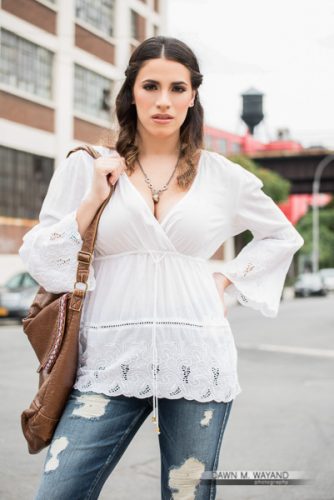 We shot this portrait outdoors in my neighborhood.
Model: Bonnie Byrnes
In a studio setting. Many portrait photographers opt to shoot in a studio so that they can better control the light. You have options for backgrounds in the studio such as seamless paper, canvas, muslin or you can even build a set. Below I used a Savage Mocha seamless paper background along with dramatic lighting.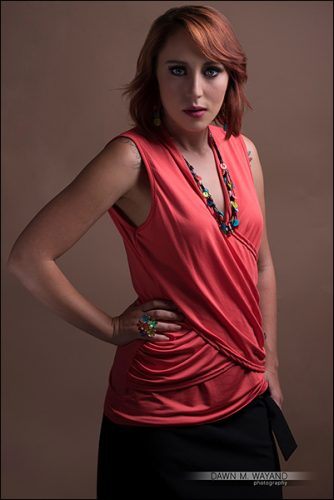 Background choice in the studio against Savage Mocha seamless paper.
Model/Actress: Celeste Smith
Work Your Angles
Shoot From Above. Savage Floor Drops can make for an interesting background when you shoot your subject from above. Having materials around such as fur and silk also add texture and sheen to the image. In the image below, I also added pillows and lit tea candles as well as a guitar to create an "At Home With the Musician" type of portrait.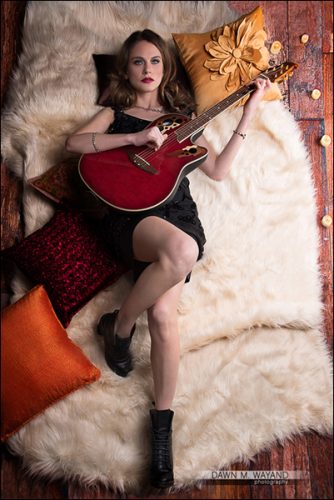 Get on a ladder and shoot from above.
Model: Daria Komarkova
Give your subject space to look into. As a good rule of thumb, when shooting a portrait, especially "landscape-oriented" (horizontally), frame your subject on one side of the image or the other (use The Rule of Thirds as a guide) and make sure that he or she has space to stare into. When you have a subject facing outside the frame closest to him or her, the image generally evokes a bit of tension within the viewer.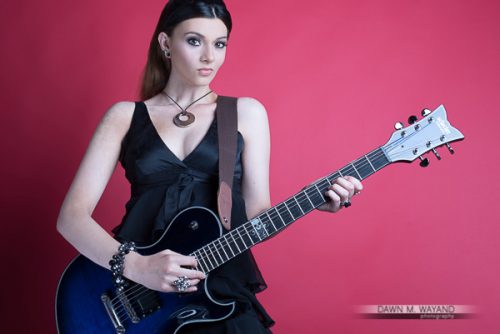 Placing your subject on one side of the image and giving them a lot of negative space on one side gives them space to look into.
Model: Maria Iodice
Shooting Orientation. I generally ignore the idea that portraits should be "portrait-oriented" (vertical). I generally shoot a portrait both portrait-oriented and landscape oriented (horizontal) for variations.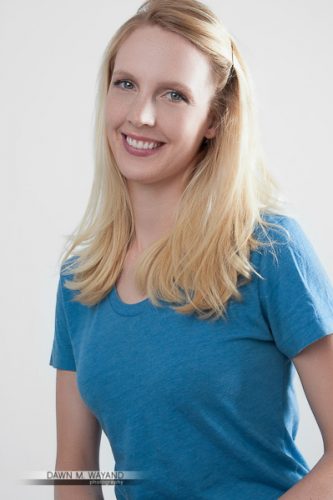 Vertical orientation.
Model: Sietzka Wiersma
Remember the best way to shoot landscape-oriented people photos is to give your subject space to look into by placing them on one side of the image or the other with their face facing into the image center.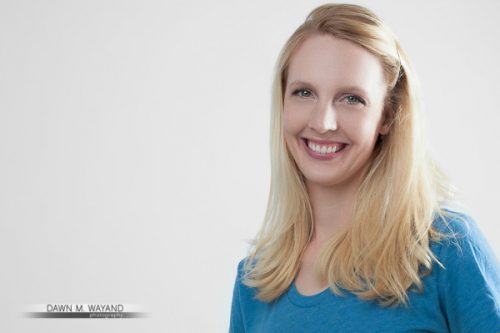 Horizontal orientation.
Model: Sietzka Wiersma
Tight Shots
When I shoot, I generally have my subject hold for 2-3 shots and capture the same photo a few different ways, such as full body, ¾ shot, waist up, headshot and a tight shot. Tight shots can be an interesting choice to create a unique portrait. It especially comes in handy if your subject has a receding hairline or a double chin.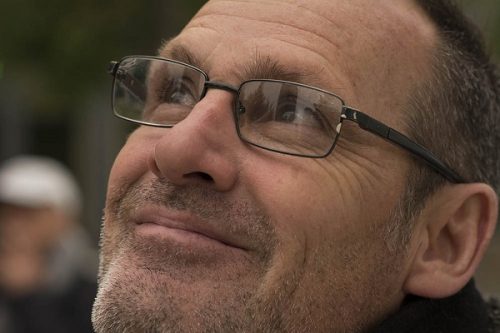 Tight shot of a friend.
Play With Light & Shadow
Mixing Multiple Light Sources. I remember I was once told that mixing different types of lighting could be tricky or disastrous. I did an experiment once in outdoor shade next to a building doorway where there was a combination of ambient daylight, my speedlight and a tungsten bulb in the doorway and came up with the portrait below. Don't ever be afraid to experiment and create things someone else told you that you couldn't.
Here I blended ambient light, the tungsten bulb light in the doorway to the right and my speedlight to get this shot.
Model: Andy Mizerek
Use Shadows. Whether it's shadows created from mini-blinds indoors or from trees outdoors, or even shadows you create with studio lighting, shadows can transform such a humdrum image into something very extraordinary.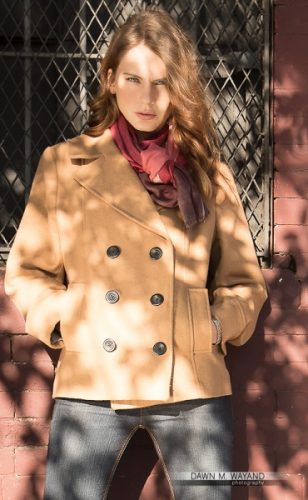 I used a tree to break up harsh lighting and got some interesting shadow patterns.
Model: Daria Komarkova
Create Silhouettes. A portrait doesn't necessarily need to capture all the details of a subject. Sometimes just a silhouette outline of your subject can make for a creative portrait too.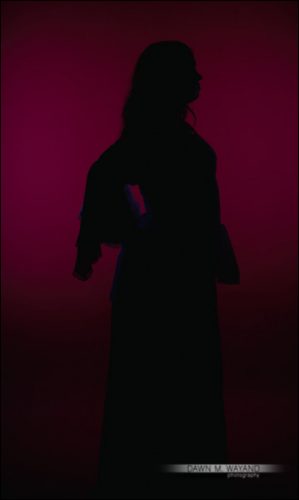 Silhouettes can make for interesting portraits.
Go High-Key or Low-Key. High key portraits evoke a feeling of lightness, innocence and purity. The key to creating a high key portrait is a lot of light, while still managing to maintain a true black point.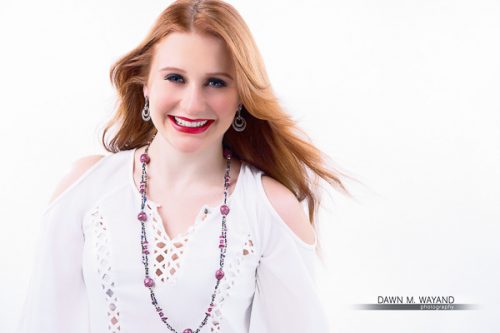 A high key portrait always has a light and pure feel to it.
Model: Kathryn Hopkins
Low-key portraits are a good choice for music and athletic portraits or any type of portrait where you want to create a lot of drama as the images are very dark and the light is very focused on a particular part of a subject such as their face, hands or maybe even just a baby's feet. In the image below I added a rim light to create a separation between my subject and the background to add dimension.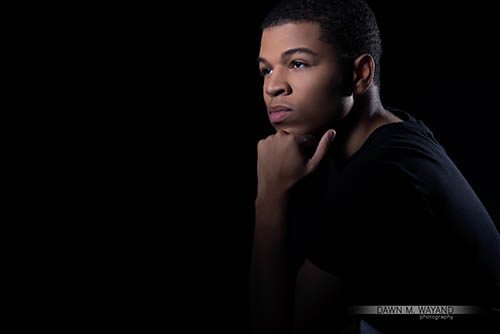 Low-key lighting can add drama.
Model: Baron Jackson
Use window light whenever possible. Many photographers are a fan of natural light and prefer daylight studios to just any ole studio. There's just a quality of softness about light that comes through a window, which can serve as a little bit of a diffuser itself. Window light can be recreated artificially, but there's just something striking about natural window light.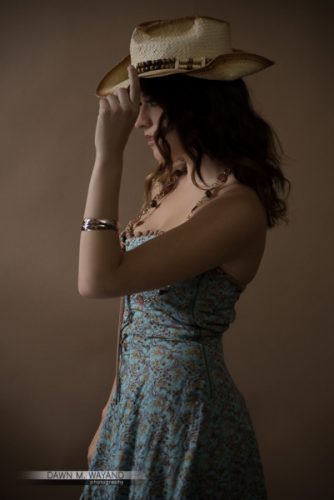 Window light makes for a beautiful dramatic portrait.
Model: Bonnie Byrnes
Add Movement
Spin, Spin, Spin. I recently wrote an article on getting more creative with your self-portraits and experimented with spinning and shooting with a slow shutter. I managed to create the image below on the second try. Here you can see my face in profile and full face. Just a unique "spin" to a portrait.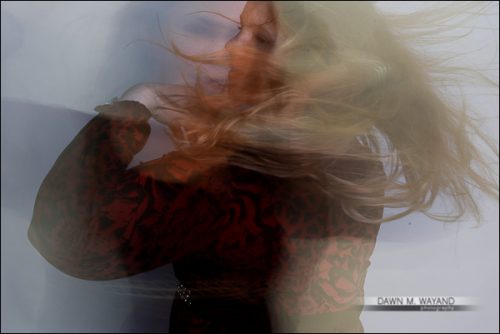 A slow shutter offers a nice motion shot.
Blowing confetti/glitter. You've see the images. A girl with a party hat (or not) blowing confetti toward the camera lens. It's a nice shot to try to capture for a birthday portrait, but it does take practice and a tripod to capture the confetti in the air prior to its descent.
Sports portraits. You might be hired to shoot some portraits during a child's sports game. Anticipation of movement is the key to a sports portrait – that and a fast shutter speed. After the game you can slow down and capture images of the athlete in his or soiled uniform holding the football, catcher's mitt, baseball bat, or whatnot. It provides much more character than a stark, sterile, clean uniform.
Dancing portraits. A photographer can capture beautiful portraits of ballet dancers who are  quick, agile and can hold a pose for a pretty long time. I actually added movement into the image below by shooting the dancer through a piece of Plexiglas wrapped in Saran wrap.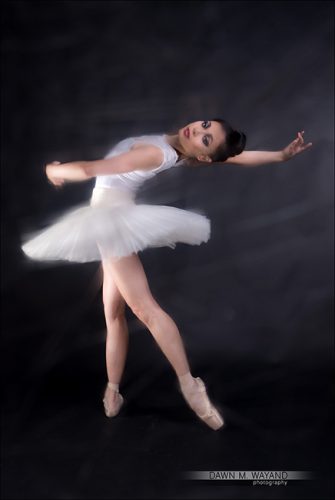 I shot through saran wrap on Plexiglas here to create a sense of movement.
Model/dancer: Shoko Fujita
Reflections
A different way to approach shooting a subject is through the use of a mirror. If you can find a room with a full length mirror on one side, this can make for a stunning image – especially the more dramatic the wardrobe they are wearing. No mirror wall? A stand-up mirror can also work to capture a person in a just little bit of a different way than just a "smile and say cheese" portrait.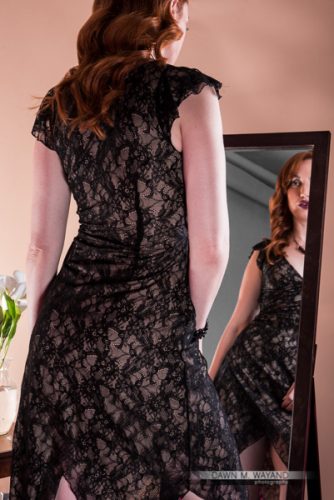 Use of a mirror for this portrait.
Model: Colleen Rose Careri
Composites & Double Exposure
Composites. A composite, if done right, can add a new dimension to a portrait. I'm not an expert with Adobe Photoshop, nor do I have the patience to spend hours and hours to do outrageously amazing composites, but taking your subject and placing them on a different background can sometimes make the image more interesting.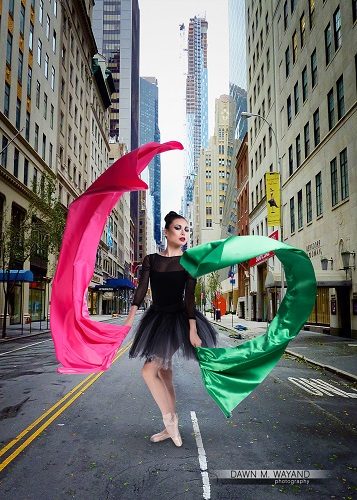 A composite created from a studio shot on white seamless and an image borrowed from Google.
Model: Shoko Fujita
Double Exposure Images. A double exposure image is another process that can take a little bit of time but can fun and can literally share your subject with something they like. I'm a huge fan of sunflowers so we created the double exposure of me in a sunflower field. The sun just happened to be in a perfect spot to generate an even deeper meaning to the portrait.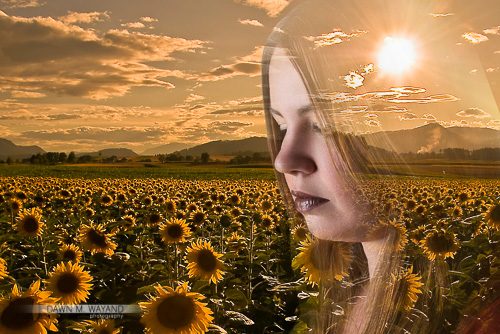 This is a double exposure self-portrait amongst my favorite flower.
Introduce Props
Flowers and foliage. Whether you add flowers to your client's hair or put flowers in their hands (which can also help to relax your subject by giving them something to do with their hands…!), adding a client's favorite flower to their portrait not only adds an additional piece of beauty into the image but it also adds yet another hint to the viewer as to the subject's likes and preferences. Beyond the example below, the self-portrait above also showcases this.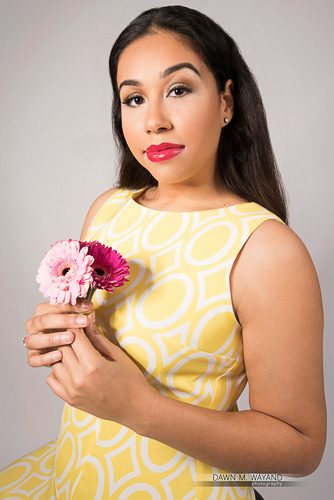 Giving my subject flowers gave her something to do with her hands too.
Model: Larissa Byrd
Food. Yes food… but make it fun food! A portrait of a child blowing out candles on a birthday cake makes a nice sentiment. Combining a lollipop or even a piece of fruit into a portrait can make the portrait a little more fun and interesting. If your subject is holding the object, even better! Giving them something to do with their hands helps to relax them a little in front of the lens as it helps take their attention of the camera and places it on the object they are holding.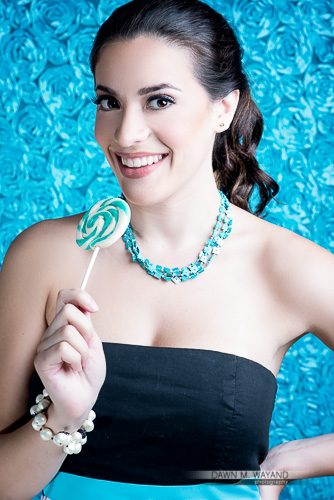 Add a lollipop for a twist to the semi-monochromatic image.
Model: Bonnie Byrnes
Materials and Lace. Exaggeration is okay not only in fashion, but portraiture too. In the image below I draped a piece of beautiful jade lace over my client's hair and gave her a bouquet of black calla lilies to create a little bit of a darker portrait. Adding various materials or lace to a portrait set whether it's on your subject or they are laying on it, adds a nice touch to the final result.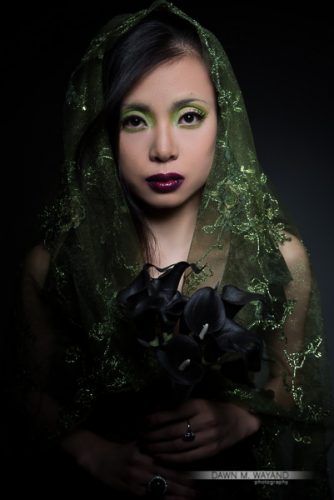 Here the props were the lace made into a veil and the black calla lillies.
Model: Shoko Fujita
Incorporate Accessories
Hats. Hats can be a fun addition to a portrait depending on what they are wearing and your subject's personality.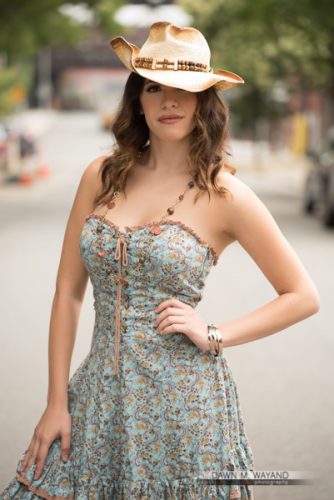 I added a cowgirl hat to complete this ensemble.
Model: Bonnie Byrnes
Scarves. In addition, a scarf can also be a nice addition to a subject's look in a portrait. In the image below, my subject has an Eastern European background and actually asked me if we could incorporate a scarf into some of her portraits.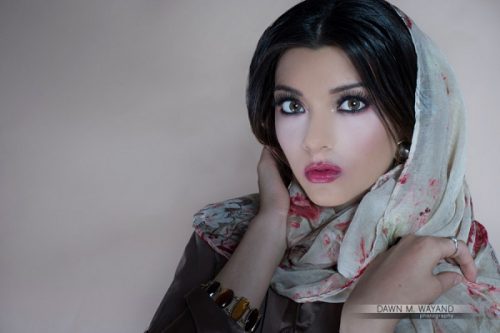 Because of her ethnic background, the scarf helps lend to her story.
Model: Maria Iodice
Add Embellishments to Makeup
Feathers. While feathers might be a little overboard, they can make for a fun and dramatic portrait if you have a great makeup artist on hand. In the image below, we went with a beautiful peacock theme.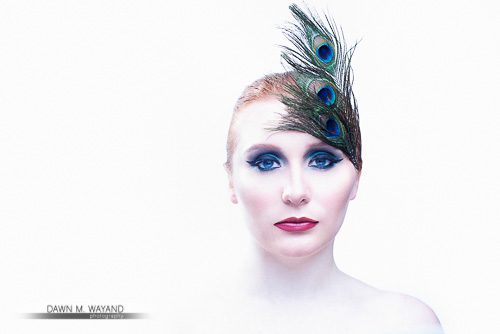 We created a beautiful peacock theme for this shot.
Model: Kathryn Hopkins
Jewels. Adding jewels to makeup, especially around the eyes, can really bring out the feature they are near. The colors and sparkle also really stand out.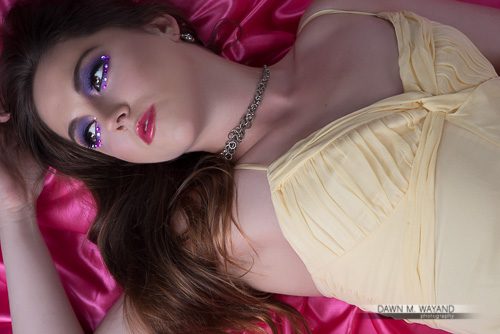 Adding jewels to her eyes draws your attention to the most important part of the portrait – the windows to the soul.
Model: Lizbeth Sawyers
Various Facial Expressions & Emotions
Rather than a typical, "say cheese" portrait, you may be able to evoke several different emotions in your client and capture them. Teenagers are notorious for being a bit reserved when it comes to professional portraits when it's not their idea and the parents are the ones demanding them. A serious expression is quite fine though! Try to conjure up different expressions from your client. A sly or coy smile here, a bright cheery smile there, a pensive and thoughtful expression there – it all works!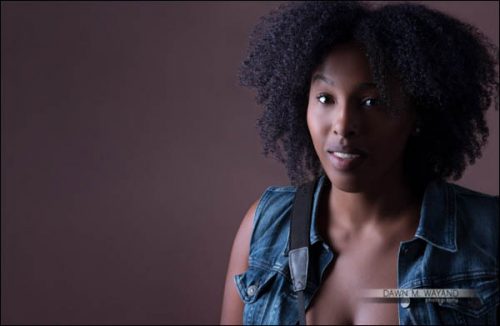 It's ok to capture a normal beautiful portrait.
Model: Chelsea Jackson
If your client is a bit of a jokester, even capturing capturing silly facial expressions really captures their essence and shows the viewer their personality.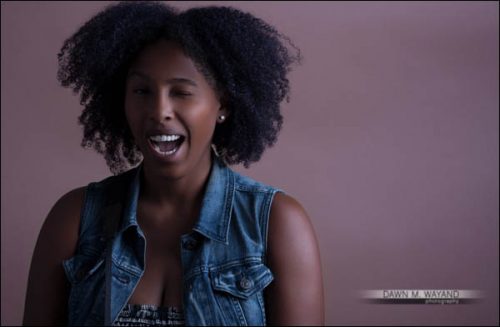 Sometimes different facial expressions can show a fun side of someone in a portrait.
Model: Chelsea Jackson
Shoot Candids Between the Posed Shots
Of course, capturing candid shots in between the posed shots can also be a huge bonus as you're capturing unposed, true, expressions of your client when they are being themselves and are caught off-guard. I managed to capture this candid portrait below during a pause between poses. I thought it was a bit calm and serene (almost meditative) and the client loved it.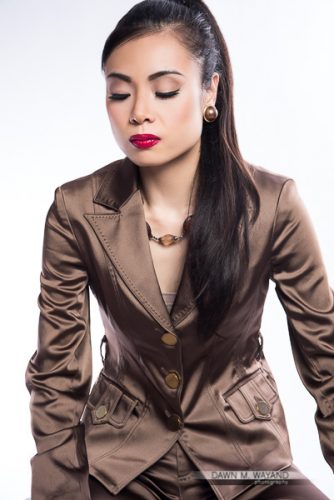 I caught this shot between poses.
Model: Shoko Fujita
A Last Word About Gaining Creative Insight…
Finding inspiration and coming up with creative ideas for captivating portraits can be very easy. The more aware you are of your surroundings, the more you will realize that the possibilities for ideas are endless. One of the great things I've learned over the past few years that has helped my creativity is self-portraits. You learn a lot not only about being in front of the lens, but how to tell your own story.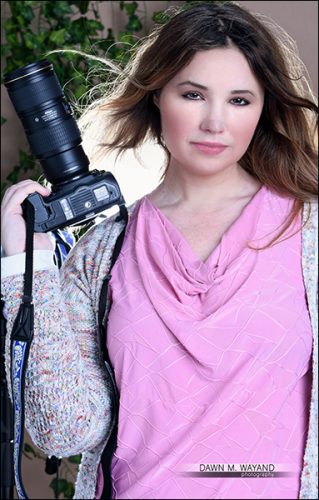 Self-Portrait.