Creating a portrait of a person isn't always an easy task. A portrait should represent its subject, his or her character, likes and dislikes, feelings, mood and more. I love portraiture. I love to capture people with their raw, naked emotion and to show my subject an image of their true self.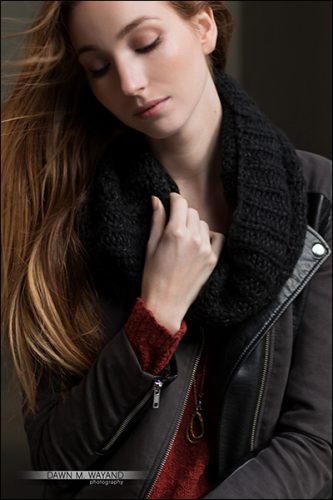 An outdoor portrait of a model/actress – with a lucky tailwind to boot!
Model/Actress: Valery Lessard
They are always moved in what they see, when showing them the reflection of what I captured of who they are. I also like to manipulate emotions and get my subject to step outside of their comfort zones such as in the image below.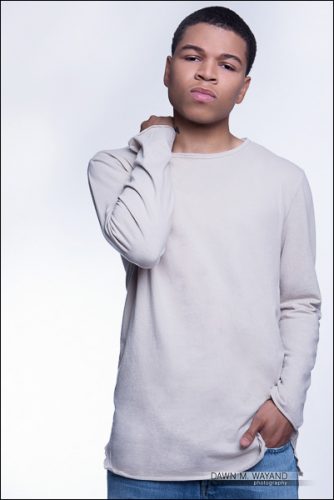 Good boy turned bad.
Model: Baron Jackson
It was really tough to get my subject above to play a bad boy as he was a sweet kid with a crazy positive attitude, but he was thrilled to see a different side of him that I was able to bring out with a little coaxing.
COMPOSITION
Composition can make or break an image. There are many techniques to gaining a great composition in portraiture. The first, most commonly known guideline is the Rule of Thirds.
Rule of Thirds
We've all heard of it: The Rule of Thirds. The term "rule", though, sounds like there is no room for deviation. As an educator, I prefer to think of it as more like "guideline" for composition as it then becomes much less dreadful and a little more beneficial.  The Rule of Thirds is taking a frame and dividing it equally into three sections horizontally and equally into three sections vertically using two lines each resulting in nine equal-sized boxes (imagine a tic-tac-toe box…) Composing your frame so that your focus point of your subject falls on one or more of the four intersecting points, tends to make an image more naturally appealing for a viewer to engage.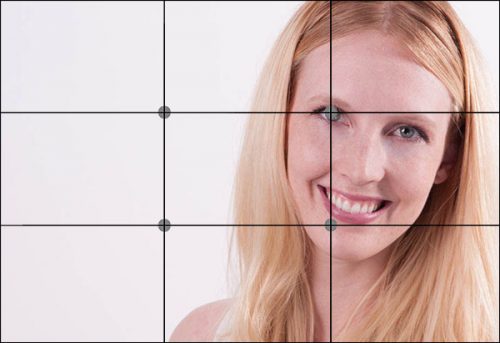 The subject's eye falls on one of the four intersecting points.
Model: Sietzka Wiersma
While you may not always get your subject perfectly on one of the four intersecting points, aligning your subject along any one of those four lines still makes for a more balanced image.
Alter Perspectives and Angles
I once had a mentor mention that if you want your images to be better than 80% of the rest of the images out there in the world, change your perspective! This means, get down low and shoot upward…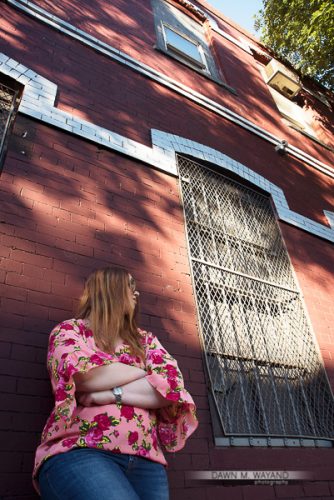 Self-portrait shot from below.
Or get up high and shoot downward…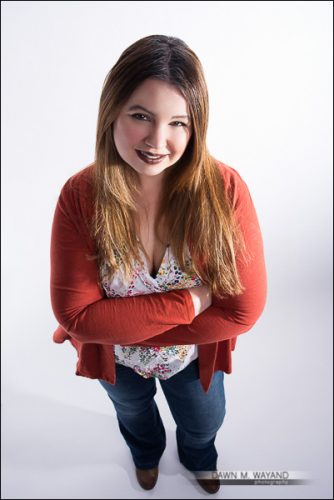 Self-portrait shot from above.
Use Negative Space
The use of negative space can also be appealing when shooting a portrait. I've always been a huge fan of shooting my portraits and headshots horizontally when most people shoot them portrait-oriented… I never knew why it was more appealing to me until I realized that I was turned on by the use of negative space, which is also a big turn-on of famous photographer, Peter Hurley.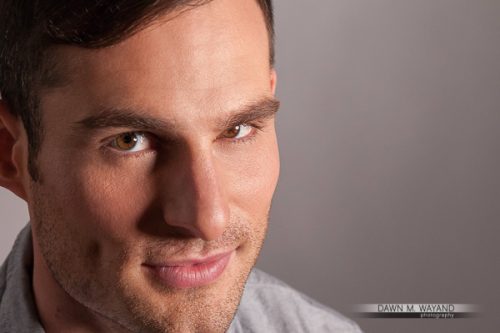 The use of negative space.
Model: Andy Mizerek
Framing Your Subject
You can also make your portraits more interesting by framing your subject, whether it is by using the nook of a tree, an arch of a doorway or even some faux leaves, as I have done in the image below.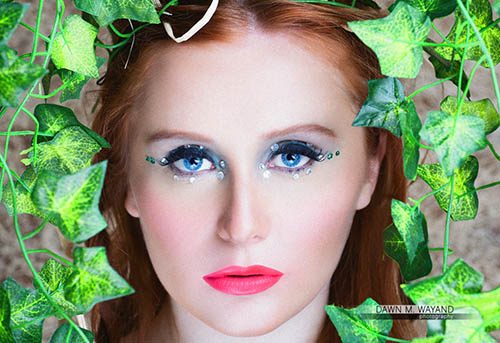 Framing my subject's face using vines.
Model: Kathryn Hopkins
Orientation
Sometimes the orientation of an image can make all the difference. Once upon a time, a very wise mentor once taught me, "What's the first thing you do after you take a picture…? You turn the camera 90 degrees." Basically meaning, if you take a landscape-oriented image to turn the camera and take the same image portrait-oriented directly after or vice-versa.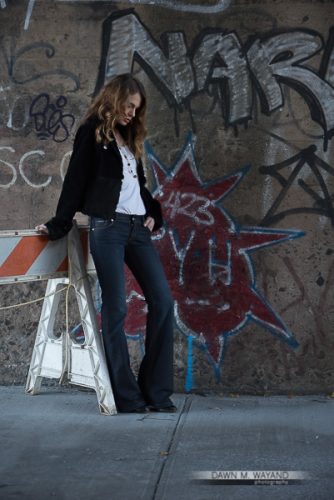 Here my model is tall and I captured much more of the scene in the image portrait-oriented.
Model: Daria Komarkova
This tip works well with ANY type of photograph that you capture as you may find after returning to your computer or laptop to process your images that an image worked better vertically than horizontally or vice-versa..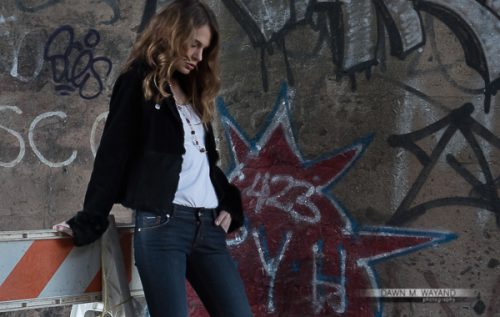 In this image, I was able to crop in closer to focus more on the model and her expression than on the scene.
Model: Daria Komarkova
DEPTH OF FIELD
Shallow Depth of Field
Move Closer.

The closer you are to your subject when you shoot, the shallower the depth of field. If you want more of the image to be in focus, you'll want to put more distance between you and the subject.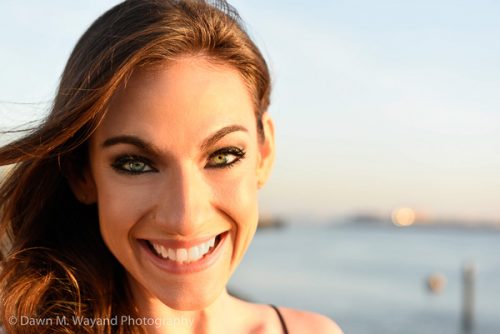 I got in close as at 70mm I could using a 70-200mm lens.
Model: Katie Buell
Large Aperture.

There's a reason for the attraction to a lens that has a large aperture (low number).  A larger aperture will allow for a shallower depth of field whereas a smaller aperture will put more into focus. I used an aperture of F/2 on the image below.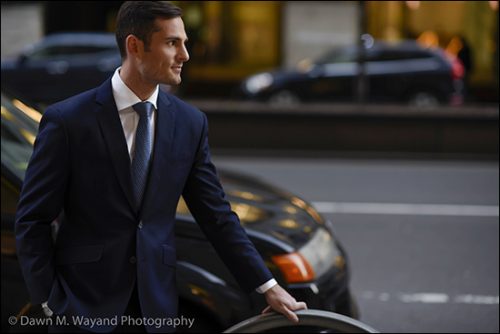 I used an aperture of F/2 here.
Model: Andy Mizerek
BACKGROUND
A background can make or break your image. Put your subject in front of a super busy scene and it takes the focus off of your subject – not to mention, it can sometimes create mergers. Your background should not have a bunch of distractions and should help focus attention on your subject. Other factors of a good background are that it helps give context to your subject and the scene and it can aid in telling a story in your image without saying a word.
Give Context
A good background will help give context and meaning to a portrait. A perfect example of what I mean by context is an environmental portrait. Photographing someone in their natural environment adds context and impact to an image.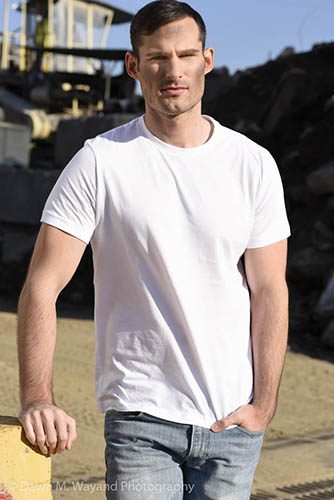 The subject appears to be taking a break from working for an environmental portrait.
Model: Andy Mizerek
Tells a Story
An interesting portrait will also tell a story without a companion writer having to write a word. I love creating sets that tell stories, such as in the image below. I wanted to create the feel of capturing an artist in the midst of a high note as she was singing, so I lent my microphone, microphone stand, headphones and a pop filter for the set and I put her on a bright blue background for impact. Your eye is instantly attracted to the bold blue color and then the subject dressed in a contrasting bright white.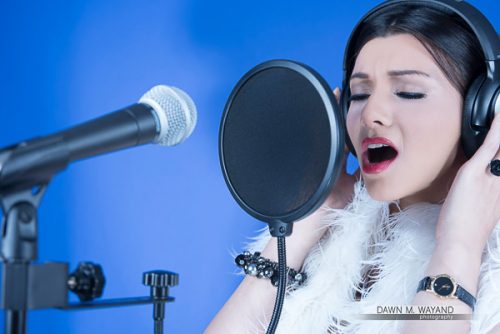 The addition of props and a bold background lend to the interest of this image.
Model: Maria Iodice
General Background Choices
Outdoor/Interior Choices.

An indoor or outdoor location background can be a wonderful choice and can give context to editorial, fashion and environmental portrait work, however, sometimes the background can be a bit busy and distracting causing the need for some type of faux background.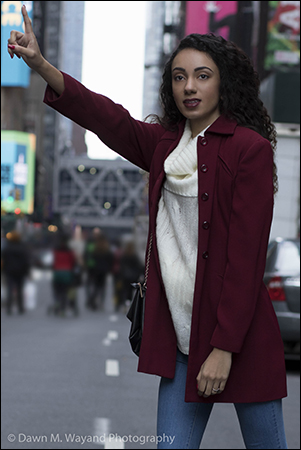 An outdoor background in the busy Times Square area.
Model: Lisette Melendez
Seamless Paper.

If you are looking a clean, crisp and simple background, seamless is definitely the way to go. Savage seamless paper alone comes in around 69 colors to choose from, making it an optimal choice if you are looking for a specific color. You can buy a 9-foot wide, 12-yard roll of

Savage Pure White Seamless Paper

for around $45.00 at Adorama.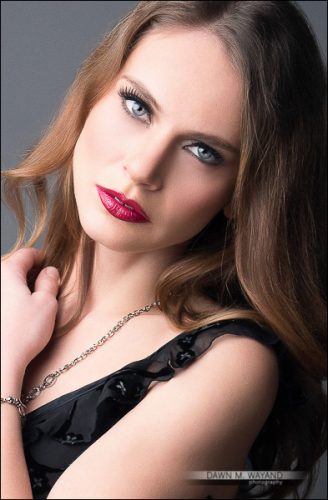 Savage Smoke Gray seamless paper
Model: Daria Komarkova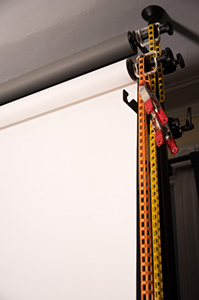 My Auto Poles with Interfit Chain System for Seamless Paper
Seamless paper requires a few additional pieces for support than other backgrounds and these different pieces can be pricey unless you put your kit together yourself like I did. My kit consists of two (2) Manfrotto Auto Poles at $114.99 each, an Interfit Wall Bracket Kit at $79.25 which you can attach to your wall or to a couple of Auto Poles and a four (4) of Manfrotto 035 Super Clamps w/o Studs at $26.88 each.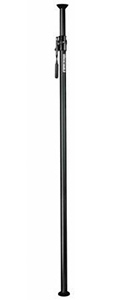 Manfrotto Auto Pole
Image Courtesy of Adorama website.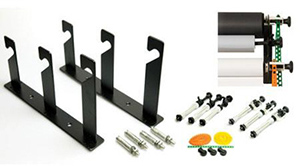 Interfit Wall Bracket Kit
Image courtesy of Adorama website.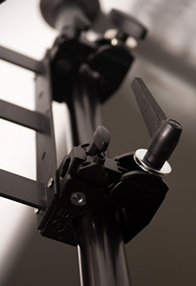 My Manfrotto 035 Super Clamps
Vinyl.

 Another classic and preferred choice for photographers is vinyl. It gets a great reputation because it hangs flat whereas muslin tends to wrinkle easily and seamless tends to crinkle and get dirty more easily. Vinyl is easy to clean and takes up very little space to store as it can be stored straight up and down in a corner.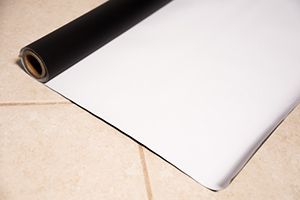 My versatile 6-foot roll of vinyl -black on one side and white on the other.
Portable.

Portable backgrounds can be a great choice as they are versatile, convenient due to collapsibility and inexpensive. You can use them in the studio or take them with you on location. A 6-foot portable background can fold up into a circle as small as 24 inches. They typically have a border so may not be a great choice for a full-length shot, but they work perfectly for headshots, portraits and three-quarter body shots.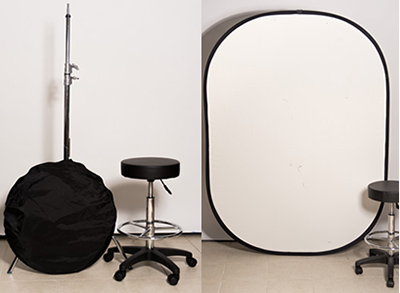 Portable Collapsible Background
The Savage Black & White 60"x72" Collapsible Background shown above is available at Adorama for $127.50.
Muslin.

Muslin can be an excellent choice to shoot with since it's not reflective at all, folds as small as you need and can be hung from a portable background support and costs a fraction of some of the other choices. This all-cotton option is a classic choice for these reasons. Imagine, before cameras, how the old masters' portrait paintings sometimes had a drape of material in the background. They knew it worked then. We know it works now.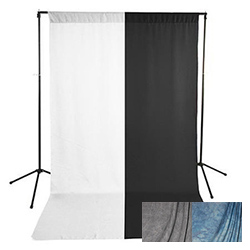 Collaged image by Dawn M. Wayand – original image pieces courtesy of the Adorama website.
Canvas.

Canvas backdrops come in a variety of sizes, colors and designs. They are a good choice because they can be reused over and over again but they can also be a bit heavy to set up. You can use a canvas backdrop multiple times without your image looking the same by changing up your foreground elements and your subject's wardrobe and accessories. Canvas backdrops, however, can be one of the most expensive choices of all of the choices I've listed but can be one of the most creative as well. A very small sample of canvas backdrops available at Adorama below include (clockwise from top left):

Arctic Blue

,

Black

,

Seville

and

Classic Rembrandt

.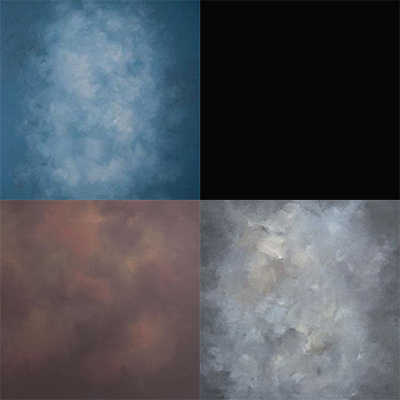 Collaged image by Dawn M. Wayand – original image pieces courtesy of the Adorama website.
Floordrops.

Floor drops are often used together with back drops to recreate a scene. They typically come in designs such as wood floors, brick walls, metal panels or tile as shown below. A rubber floor drop also makes for a great backdrop when going for a more edgy feel to an image. It's simple enough to still keep the focus on your subject. A small sample of floor drops below include (clockwise from top-left):

Industrial Grunge

,

Mosaic Pavers

,

Worn Planks

and

Red Brick

.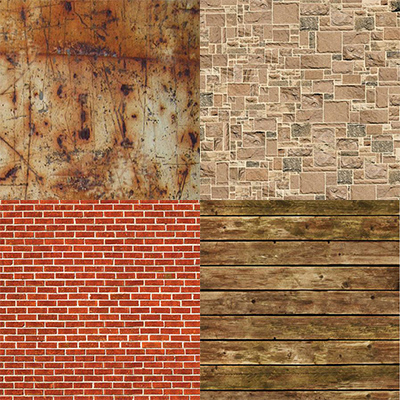 Collaged image by Dawn M. Wayand – original image pieces courtesy of the Adorama website.
Other Creative Backgrounds.

I'm all for thinking outside the box and making my backgrounds as interesting as possible. Some other great creative choices for backgrounds include materials such as wallpaper, sequin fabric and designer art paper which makes for a great headshot background that you can get at your local art store for between $4-10 each piece (as shown below), among numerous other options. Put your creative thinking cap on and figure out some other interesting backgrounds that might work for you.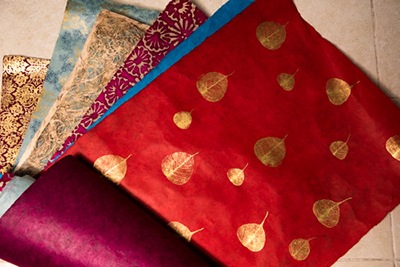 Just a few of the creative art papers I've collected over time for headshot opportunities.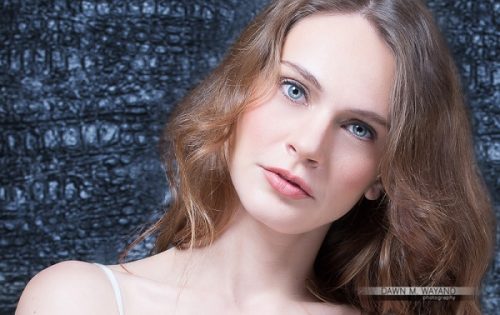 Here I used a black crocodile art paper as a background to add a little texture to this beauty shot.
Model: Daria Komarkova
COMPOSITION AND BACKGROUND CAN BE EVERYTHING…
As you can see, how you compose your image can make all the difference between a humdrum photo and a much more stunning portrait. It's also important to choose your background wisely. There are so many options out there. If you choose an outdoor or interior background, be sure that your subject IS the subject of the image and that the background doesn't take the show. Composition, depth of field and background are just a few elements to the Art of Portraiture. Stay tuned for the next article, The Art of Portraiture: Light.