Getting the light right is extremely vital in photography. It can make or break an image. Just as there are many choices in cameras, lenses, backgrounds, light stands, tripods and other various photographic tools, there are also numerous choices for studio lighting.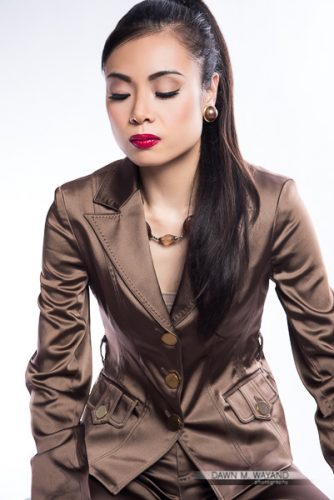 Four monolight light setup.
Model: Shoko Fujita
As I round out the last article in my Building the Home Studio Series, I wanted to recap on some of the options for lighting to help create your magic in the studio and discuss monolights and power packs.
CONTINUOUS LIGHTS & SPEEDLIGHTS
Previously, I touched on two other tools for lighting an image – once in one of my series articles: Building the Home Studio Part 2: Continuous Lights & Light Stands, and then later in a series article on speedlights, Building the Home Studio Part 3: Flashes, Light Meters and Backgrounds. Let's do a quick overview on those two lighting choices again before jumping into monolights and power packs.
Continuous Lights
Continuous lights do as they are titled: they are continuous running lights. They do not flash like a speedlight, monolight or power pack light would. Some of the benefits for using a continuous light are that many subjects tend to relax more under continuous lighting rather than a flash – especially good for blinking subjects. You can also shoot wide open for a shallow depth of field. The downside to continuous lights is that you are limited on modifiers and a tripod is almost a must for the sharpest image when setting the shutter slower than sync speed.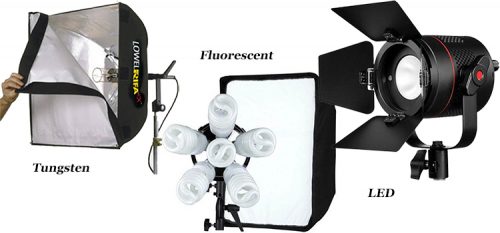 Left to Right: Lowel Rifa 66ex – 750 Watt Light, Westcott Spiderlite TD6 and the Fiilex P360EX Variable Color LED Lights.
Images by Adorama.
I have tested and used a few continuous lights in the past that I thought were pretty impressive:
Tungsten: Lowel Rifa 66ex – 750 Watt Light available for around $475.11
Fluorescent: Westcott Spiderlite TD6 available for $419.90
LED: Fiilex P360EX Variable Color LED Lights available for $795.00 each
A single portable option for continuous lighting that makes for beautiful convenient light is the Westcott Ice Light 2 available at Adorama for $499.90. I created a demo photo below using two Westcott Ice Light 2 light sticks to show their power and potential effect.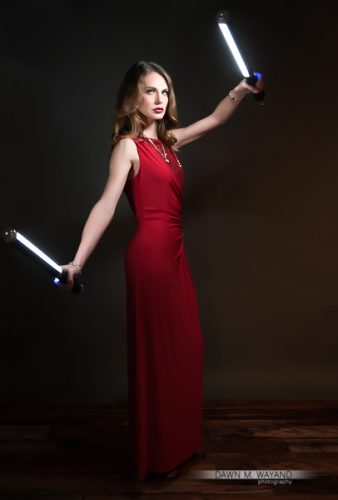 Demonstrating the Westcott Ice Light 2.
Model: Daria Komarkova.
Speedlights
Many of you may not start off working in a studio. Some of you may be going to client homes or offices. Some of you may also shooting outdoors. Due to their compact size, speedlights can be a more portable and convenient solution for lighting a subject than a continuous light, a monolight or a power pack. I dive deeper into the actual advantages, disadvantages and functions of using a speedlight in my article: Quickstart Guide to Speedlights.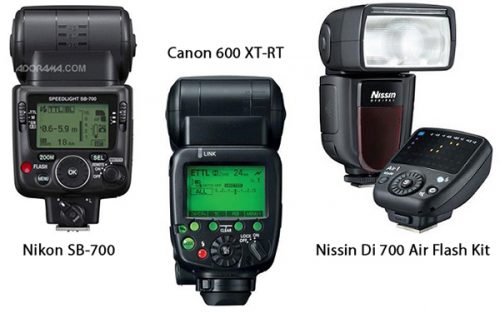 Nikon
I currently work with the Nikon SB-700 Speedlight (an older, but "still kicking" Nikon model), like most upgrades, the latest Nikon SB-5000 is a nice upgrade from the SB-700 in that it provides a longer flash duration, a quicker recycling time and greater lens coverage as noted below. Depending on what you are wanting to photograph, how quickly you are shooting and how far away you may typically be shooting your subject, these semi-minor differences might make a difference to you in deciding between the older model and the $270 difference for the newer model.

Canon
The industry standard speedlite for Canon shooters has been the Canon Speedlite 600EX-RT at a $469.00 price tag. Unfortunately, and unlike the wireless Nikon speedlight, the Canon speedlite requires the Canon Speedlite Transmitter ST-E3-RT at an additional $280.00 to fire the speedlite – physically – off-camera.

Nissin
A current third party model that has comparable features to both Canon and Nikon flashes, but has radio capabilities at a fraction of the cost that I am a bit impressed with at the moment is the Nissin Di 700 Air Flash Kit at $299.00 which comes with the Commander and is made in Nikon, Canon and Sony compatible versions.

MONOLIGHTS & PACK AND HEAD LIGHTS
What is a Monolight?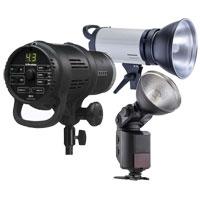 Image courtesy of Adorama
A monolight, also called a "monobloc", is a self-contained flash light source in which the head contains a lamp and power supply altogether. Monolights are a great choice because they involve no extension cables to meet a power pack. Since each of your flash heads are powered separately, if one head goes down, it may not affect the others. The only downside, really, to a monolight is that for most, you have to dial in and adjust the power on the back of each head individually, unless you have a remote control that controls the power for each of your heads. Monolights are generally less expensive than pack and heads due the the power source being a bit on the expensive side.
What is a Pack & Head Light?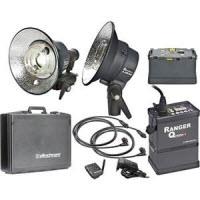 Image courtesy of Adorama
A pack and head light, also called a "power pack", is a light that must be connected to a battery pack. These can be a great choice as they can be placed just about anywhere without worry of having a power outlet nearby – including outdoors. You can control the power level of all of your lights connected to power packs in one place and use one power pack to ignite and power more than one head. That being said, the common downside to Power Pack lights is that if one head goes down or the battery isn't working for some reason, any light connected to the same power supply may not be unusable. The other downside is cables between the lights and the power supply will run everywhere and will need to be taped down.
CHOOSING A MONOLIGHT OR PACK AND HEAD LIGHT THAT IS RIGHT FOR YOU
Which flash lighting option you should consider purchasing is really up to you, your preferences, where you do most of your shooting, and your budget. Know that for speedlight options, you will usually have to buy a receiver if shooting off-camera flash, which will add to the cost of your investment. For monolights and pack and heads, this is also sometimes the case, though not always, and you may also need for a transmitter for your camera too. On a side note, as a rough guideline, 250W lights are sufficient for home studio use while 500W lights should cut it for a larger studio.
MONOLIGHTS
Flashpoint Rapid HSS 600 Monolight. I've had the opportunity to use several different monolights over the past few years in which I've liked some and others were just not my cup of tea. For the more budget-friendly option, I fell in love with the Flashpoint Rapid HSS 600 Monolight as it's not only budget-friendly, but the receiver for this light is built-in. While the receiver is built into the monolight, a necessary piece of gear needed to run the light is a remote transceiver.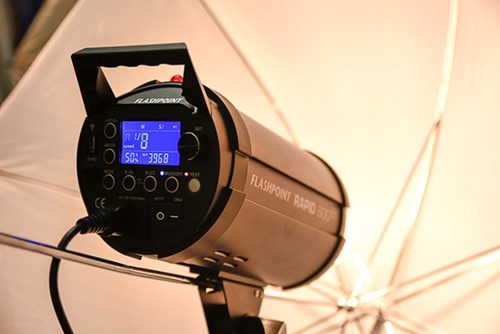 Flashpoint Rapid 600 HSS Monolight with Built-In R2 2.4GHz Radio Remote System
Image by Yann Bizeul

I shoot with Nikon and was able to test out the Flashpoint R2 i-TTL Wireless 2.4 G Transmitter Remote for Nikon with both the monolight and the R2 Zoom Flash. There's also a version for Canon, the Flashpoint R2T 32 Channel 2.4GHz Manual and HSS Transmitter for Canon. There's also a 2.4GHz transceiver version for Sony, the Flashpoint R2 TTL 2.4G Wireless Remote and Triggering System – Sony. All transceivers work with Flashpoint's other R2 lights including the Xplor, Streaklight and the Zoom Flashes.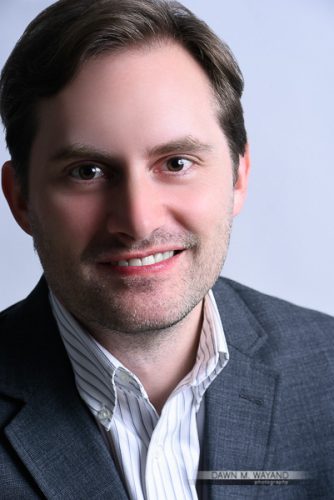 Shot with a Flashpoint Rapid HSS 600 monolight.
Subject: Yann Bizeul
Profoto B1 500 Air TTL Battery Powered Monolight Flash. Another monolight that I bow down to is the Profoto B1 500 Air TTL Battery Powered Monolight Flash which is available on its own, with a transmitter or in a 2-head kit. I love this light because it's wireless and the battery for the light is attached to the head. This means you can use this light indoors, outdoors and/or on-location where you might not have a power outlet nearby.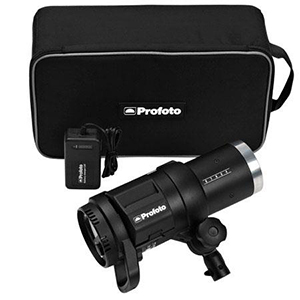 B1 500 Air TTL Battery Powered Monolight Flash
Image courtesy of Adorama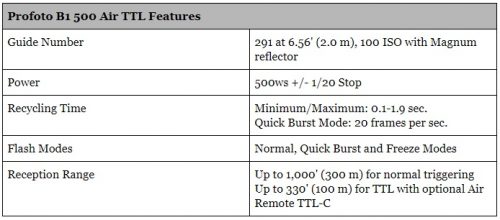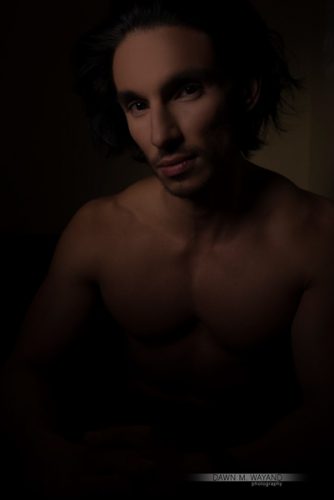 Use of a Profoto B-1 monolight with a grid.
Model: Xavier Lujan
Elinchrom ELC Pro HD 500 500ws Compact Flash Head. If you're looking for something in between, the Elinchrom ELC Pro HD 500 500W/s Compact Flash Head is a great choice. Beyond its 20 FPS lighting on low power, it has an auto-sensing  multi-voltage power supply which makes it able to be used anywhere in the world. This particular light comes complete with a metal reflector, a softbox and a light stand so you have a good starter kit without the additional expense.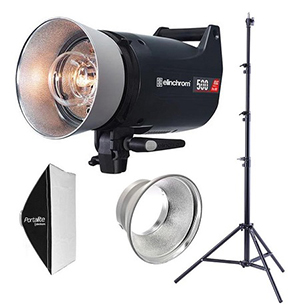 Elinchrom ELC Pro HD 500 500W/s Compact Flash Head
Image courtesy of Adorama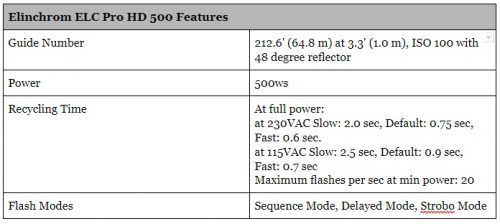 Broncolor Siros 800 Monolight w/ WiFi and RFS2.1 Receiver. Another good choice is the Broncolor Siros 800 Monolight with WiFi and RFS2.1 Receiver which you can also get battery-powered in a kit with 2 heads, a silver umbrella, a softbox and speedring is also a good find as the receiver is included and offers rapid flash sequences with up to 50 flashes per second. It also has a receiver and wifi capabilities built-in.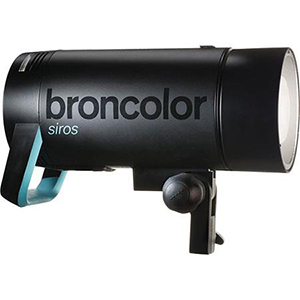 Broncolor Siros 800 Monolight with WiFi and RFS2.1 Receiver
Image courtesy of Adorama

PACK AND HEADS
Profoto B2 250 AirTTL To-Go Kit. The Profoto B2 250 AirTTL To-Go Kit is a great lightweight power pack kit choice as it has a fast 0.03-1.35 seconds recycling time and functions in TTL and high speed sync. The built-in AirTTL allows for wireless operation and the battery can power two flash heads. The kit includes the powerpack, one (1) B2 head, a carrying bag and a battery charger. The transmitter for this is not included though is available in some of the kits offered at Adorama specific to your camera brand.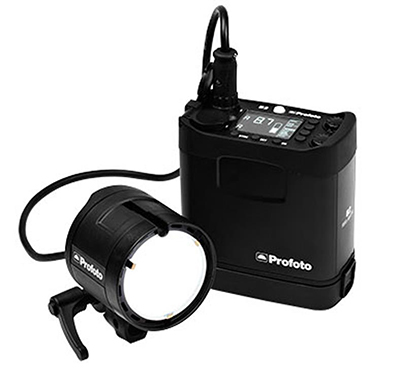 Profoto B2 250 AirTTL To-Go Kit
Image courtesy of Adorama

Hensel Porty L 600 Power Pack Kit. The Hensel Porty L 600 Power Pack Kit is a good choice is you are looking for a good 600ws starter kit. It has incredibly fast recycling times from 0.2 sec with a short flash duration up to 1/8100 sec (with speed head), individual settings in 1/10 f-stop increments and an output range of 7 f-stops. This power pack has integrated Profoto Air radio, Hensel Strobe Wizard Plus and Freemask receivers. The kit includes a Hensel Porty L 600 Power Pack, an EH Pro Mini 1200-P Speed Flash Head, an EH Pro Mini to Porty Adapter Cable 16.5′ (5m), a 50-watt modeling lamp for Porty Heads, a quick charger for Porty 6 & 12 Lithium Battery (120-240VAC), an 8-foot aluminum stand, a 7 grid reflector for Hensel, a 4201 Deluxe Holdall VII Case with Wheels and a Hensel 90-day warranty.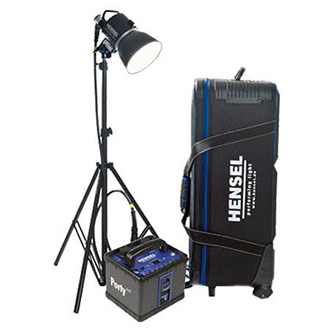 Hensel Porty L 600 Power Pack Kit

Elinchrom ELB 400 Dual Pro To-Go Kit. Another great starter kit is the Elinchrom ELB 400 Dual Pro To Go Kit, which is a 424ws light that has a fast recycling time of 1.6 sec. at full power. The battery lasts 350 flashes at full power and is incredibly light making it easy for transport. The kit includes an Elinchrom ELB 400 Quadra Battery-Powered Pack with Battery, 2x Quadra Pro Head, 2x EL 11001 8′ head cable, 2x protective caps, an EL-Skyport Transmitter Plus, a 7″ Grid Reflector, a 5.3″ Standard Reflector, a multifunction cap, an Elinchrom 15.75″ sync cable, a ProTec location bag and an Elinchrom 2 Year Warranty for the ELB 400 Quadra Battery-Powered Pack.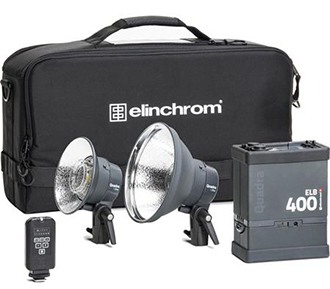 Elinchrom ELB 400 Dual Pro To Go Kit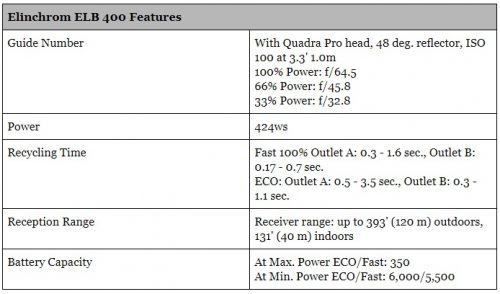 MODIFIERS
Modifiers are a necessary need once you have decided to jump into purchasing a monolight or strobe as you will need to diffuse and shape the light emitted from it. There are many choices on modifiers depending on the end result you envision and want to achieve. I recently wrote an article called: Transforming Light Into Art: 9 Modifiers for Diffusing and Shaping the Light which goes into great detail on a variety of modifiers and their uses. Some of the modifiers available for use with monolights and strobes are below.
Collapsible Reflectors
While not everyone has an easy time folding them back up, most of us know what a collapsible reflector is and many folks have actually successfully used one. They should really be your first light modifier, even before you buy your first monolight or strobe because they are useful outside in the field too. They work for not only lighting people outdoors, but subjects like flowers and animals too.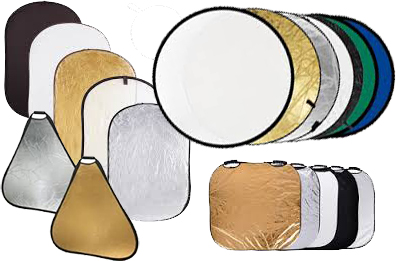 Collapsible Reflectors come in a variety of shapes, sizes and colors.
Reflectors basically bounce or reflect light from a light source back onto a subject. Photographing a person outdoors in the sun? We generally put the sun behind our subject to avoid him or her squinting, but then our subject becomes too dark because the light behind him or her is so bright. A reflector can be used to bounce light from the sun behind the subject back onto him/her so that the subject is also lit.  This works the same way in a studio.
Metal Reflectors
Metal reflectors are those circular metal bowls that attach around the bulb or flashtube of your monolight or strobe and light reflects from the bowl directly onto your subject. Some monolights and strobes come with a metal reflector as a starter modifier. They are generally great for background and rim light use.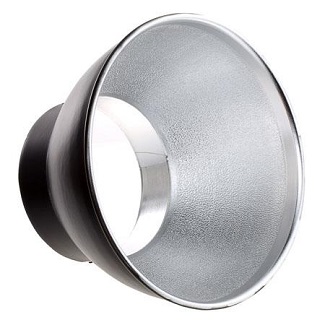 Flashpoint 8-1/4″ Reflector to Fit Elinchrom
Image courtesy of Adorama
While they tend to cast a very harsh light, I have often been able to pull them off as a front light, especially when photographing males (where a more harsh light might be desired), such as in the image below.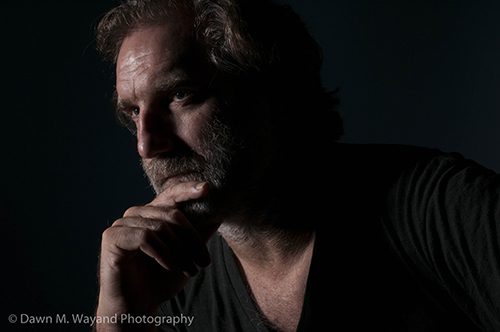 Harsh light for male portraits.
Actor: Patrick Walsh
They also work well as a background light, such as in the image below.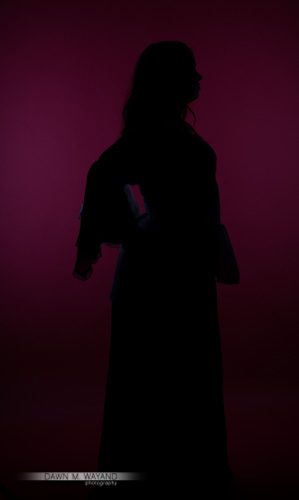 Self-portrait using a metal reflector on a floor light.
Umbrellas
Umbrellas are probably one of the first studio modifiers that are ever purchased by photographers as they are cheap, portable and come in a variety of sizes and colors. White shoot-through, or translucent, umbrellas are one of the more common umbrellas used in photography because the shaft of the umbrella is pointed away from a subject when lighting, which means a light source can be moved in as close as desired without poking out their eye! The downside to a shoot through umbrellas is that the light is hard to control because the umbrella is translucent and the light spills everywhere.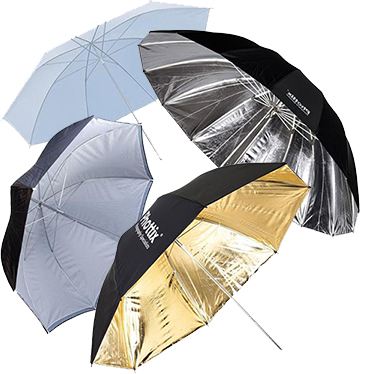 From top left clockwise: white shoot-through umbrella, Silver reflective umbrella,
gold reflective umbrella and black and white umbrella.
Individual images courtesy of Adorama
Black/white umbrellas are a great choice for when you need to fill in shadows without it affecting the color, quality or quantity of light. A reflective umbrella, a silver umbrella (with a black covering) can be used when you want to bounce in specular highlights without affecting the color of the light. The light will be subtly harsher than a shoot through, depending on your umbrella's distance from your lightsource and from your subject as well as the size of the umbrella. A gold umbrella with black backing can be used to warm the color of an image and your subject. This umbrella color works well when photographing someone in a bathing suit or photographing someone with a very fair skin tone, where a healthy warm glow might be desired. To see the effects of these umbrellas, check out my article, Umbrellas: Good for More Than Just A Rainy Day.
Softboxes
Whether using continuous lighting, speedlights or strobes, softboxes prove to be one of the best light shaping tools for any professional photographer's to have in their toolbox. Round softboxes, called octaboxes or octabanks, make for wonderful key lights. Their round shape is similar to the sun and the catchlights produced by round softboxes can be much more pleasing to some as they cast a more natural round catchlight into a subject's eyes to match the roundness of the pupils.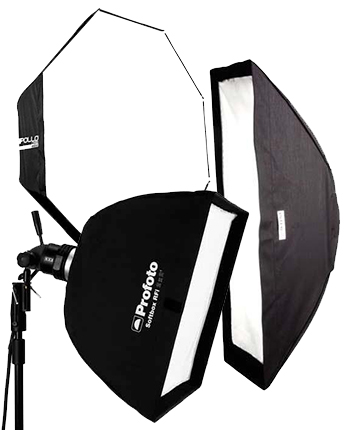 Individual images courtesy of Adorama
An octabox also tends to wrap light around its subject. I find a larger octabox placed close to my subjects face serves close to what a beauty dish would do for me when placed straight in front of my subject. When placed anywhere else, shadows can vary from subtle to harsh depending on its proximity to the subject. I'm personally a huge fan of the 43" Westcott Apollo Orb because it's easy to set up and break down – much like an umbrella! Squares and rectangles work well as main light sources as well as a fill lights. Depending on their size, they tend to throw out a more defined light complete with a nice and soft transitioning of shadows. Strip softboxes are great for lighting the full body when placed parallel with a subject. They also work well as hair lights. Depending on the distance from the subject, strip softboxes can create a very subtle or a very harsh transitioning in shadows. You view some of the effects that each of these shapes of softboxes create and more recommendations in  my article, Softboxes: Containing, Directing and Diffusing the Light.
Beauty Dishes
If you are into portrait or beauty photography, a beauty dish is a "must". A beauty dish is a circular reflector or bowl with an opening in the center that attaches to a monolight or strobe. The bulb or flash is hidden by a raised plate in the center that forces light to disburse into bowl and onto a subject rather than the light source directly hitting the subject. Beauty dishes come as white or silver coated on the inside. White coated dishes make for a softer light whereas silver coated dishes make for slightly more contrast.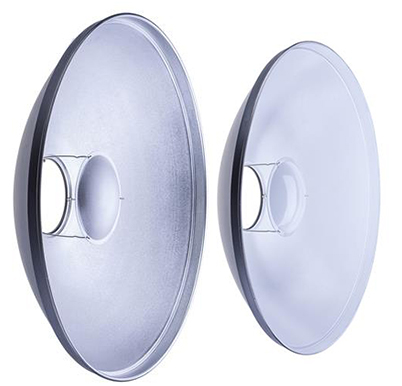 From left: silver beauty dish and white beauty dish.
Individual images courtesy of Adorama
Beauty dishes have two different companion modifiers that can be used along with them: a diffuser, sometimes called a "sock", and a grid. The image above was taken using a diffuser while the image below was taken using a grid. I've always had a regret of buying such a small beauty dish – at 16 inches. If you can swing it, get something at least 22 inches in diameter or more. Which beauty dish you should get will depend on the monolight or strobe that you have. Brands like Glow make a variety of mount options to work for more than one single brand.
Grids
If you need the direction of light from your light source to be more concise, a grid is your best choice. Grids are useful when you want to light something specific with little to no spill, such as when you want to light your subject but you want to keep the background dark.  Grids are typically made to work with beauty dishes and softboxes, but I've also found them as companion modifiers for barndoors and snoots too. They come in different sizes, the hole width determining the width of the light beam emitted.
Image courtesy of Yann Bizeul
Grids come in a variety of types, brands, sizes and hole widths and which you get will depend on the type and brand of main modifier you use it with.
Barndoors
Barndoors are one of the most versatile lighting modifiers one could own. This modifier is basically four doors that attach to a base which can be attached to a monolight or strobe. What's versatile about this modifier is that these four doors can be opened as little or as much as desired offering numerous lighting combinations. Many barn doors are sold as kits that also include companion modifiers of four gels and a grid, such as Flashpoint's Universal Barn Door Kit featured below.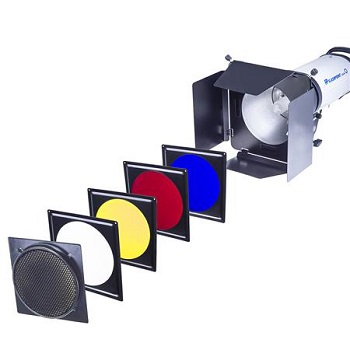 Flashpoint Universal Barn Door Kit
Image courtesy of Adorama
Snoots
Snoots allow you to focus in specifically on one small thing on a subject, such as just the face, just the hands or for baby photography, just the feet. They are also a great tool for lighting particular things for an interior shoot or even products because the light is so concentrated and direct.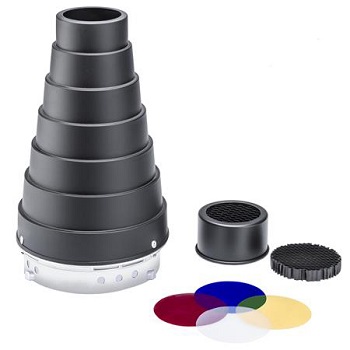 Flashpoint Snoot Kit
Image courtesy of Adorama
Snoots can also have complimentary modifiers of attachable gels and grids. Snoots are generally brand specific or universal as long as they have the specific speed ring adapter that matches the brand of monolight or strobe you are using.
Gels
Gels are not only a practical tool but they are also a fun, creative modifier to use for lighting a subject. In situations where white balance is an issue (such as incandescent bulbs adding a warm orange cast to an image and fluorescent bulbs typically generating a green cast, gels can be used to match the light's color in order produce an image with light color closer to white.
For a more creative touch, gels can also be used to color backgrounds or to color the light hitting a subject. In the image below, I used a Rosco 20"x24" Color Effect Kit which contains 15 different color gel sheets and is sold at Adorama for around $97.65 for the whole kit. These gels can be bent or folded and are still reuseable. This particular kit contains the larger-sized sheets, which also allows me enough available to be able to also cut swatches of the gels for use too.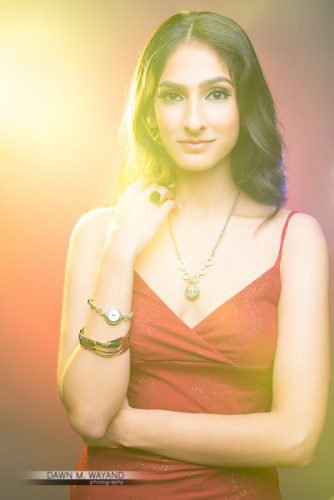 I used gels to color the background and the light hitting my model.
Model: Deeksha Chawla
I used a red gel on a background light aimed at a Savage Smoke Gray Seamless background. I also used a yellow and blue gel on two separate lights on each side behind my model aimed back toward the camera to give her an interesting rim light color on her skin and hair. As a bonus, because I used a fog machine for special effect, the gels colored the smoke as well.
DON'T FORGET!!
One tool that is a huge help that you'll want to have on hand in the studio is a handheld light meter. The largest goal in photography is to capture your images with accurate exposure or in better terms: for the camera to record your scene or subject as you see it. How can this be achieved if your camera or handheld meter only measures in tonality and brightness? In the same lighting scenario, every shade or color reflects a different amount of light and this is where a light meter can come in handy.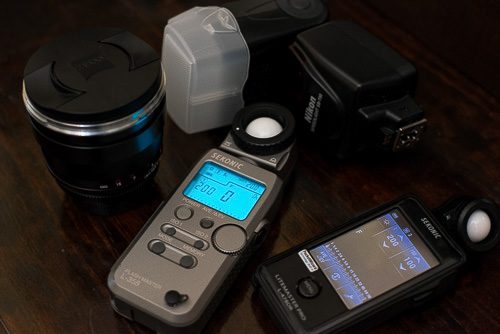 My Sekonic Flash Master L-358 with its younger sister, the Sekonic LiteMaster Pro L-478DR.
I wrote a very informative article on light meters, how to use them and some recommendations called, Light Meters: Measuring Light in Studio Photography, which you can check out on the Adorama Learning Center.
PUTTING IT ALL TOGETHER…
Well, this wraps up my series on Building the Home Studio. From cameras, lenses and bags to carry it all; to backgrounds, light stands and tripods; to light sources, modifiers and the random odds and ends, you now have the resources to begin your own home studio. If you missed any of the other articles in this series, you can catch them on the Adorama Learning Center or by clicking any of the links below. You'll find additional articles within each series article. Happy building!
Building the Home Studio Part 1: Space and Essential Shooting Gear
Building the Home Studio Part 2: Continuous Lights & Light Stands
Building the Home Studio Part 3: Flashes, Light Meters and Backgrounds
Building the Home Studio Part 4: Essential Studio Tools, Props and Odds & Ends