Light is crucial in photography. Don't believe me? Turn out all of the lights in your room, close the blackout curtains, make sure there is absolutely no light coming from anything in your room. Now try to take a picture. Focus giving you issues? Don't give up. Turn your focus to manual and now try. I bet you still get nothing. Without light, there is no photograph.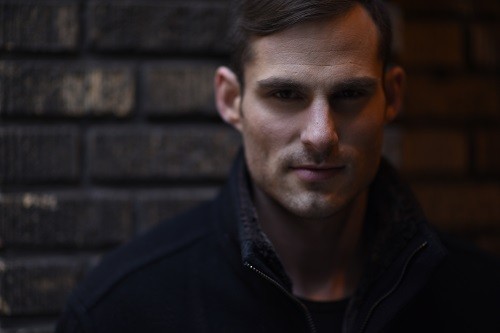 Light of any amount from any source is necessary to create an image.
You can create and shape light as you wish to convey the mood you envision for your end result, but you must always have some sort of light – no matter how little – to create a photograph. We covered continuous lights in our last article of this Building Your Home Studio series. In this article, we will move into the convenient and portable flash or "speedlight".
Speedlights
Though a decent strobe can be less expensive than a good speedlight system, I wanted to start our flash lighting topic with speedlights first because many of you may not start off working in a studio environment. Some of you may be going to client homes or offices. Some of you may also shooting outdoors. Due to their size, speedlights can be a much more portable and convenient solution for lighting a scene than a strobe. I dive deeper into the actual advantages, disadvantages and functions of using a speedlight in my article: Quickstart Guide to Speedlights.
NIKON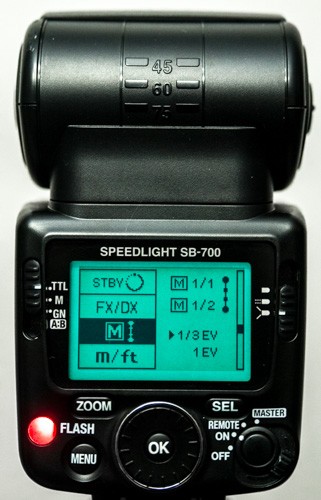 My Nikon SB-700 Speedlight.
I am primarily a Nikon shooter, and while I currently work with the Nikon SB-700 (an older, but "still kicking" Nikon model), like most upgrades, the latest Nikon SB-910 is a nice upgrade from the SB-700 in that it provides a longer flash duration, a quicker recycling time and greater lens coverage as noted below.
| | | |
| --- | --- | --- |
| Comparative Features | Nikon SB-700 | Nikon SB-910 |
| Flash Duration – M1/1 (full) output: | 1/1042 sec. | 1/880 sec. |
| Quicker Recycling Time –  [using NiMH (eneloop) batteries]: | 2.5 sec. | 2.3 sec. |
| Greater Lens Coverage – (FX-format, Auto mode): | 24-120mm | 17-200mm |
| Price | $326.95 | $546.95 |
Depending on what you are shooting, how quickly you are shooting and how far away you might shoot your subject, the semi-minor differences might make a difference to you to warrant the $120 difference for the newer model.
CANON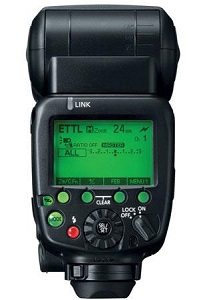 Image courtesy of Adorama.
The industry standard speedlite for Canon shooters is now the Canon Speedlite 600EX-RT at a $469.00 price tag. Unfortunately, and unlike the wireless Nikon speedlight, the Canon speedlite requires the Canon Speedlite Transmitter ST-E3-RT at an additional $280.00 to fire the speedlite – physically – off-camera.
| | |
| --- | --- |
| Features | |
| Flash Duration (at full power): | 0.0018 – 0.0023 sec |
| Recycling Time: | Approximately 0.1 – 5.5 seconds |
| Lens Coverage – (Full-frame): | 14 mm – 200 mm |
| Total Price: | $749.00 |
NISSIN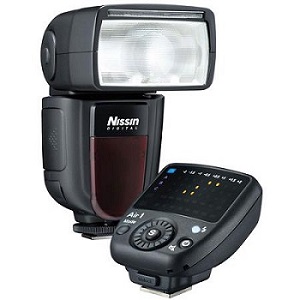 Image courtesy of Adorama.
A current third party model that has comparable features to both Canon and Nikon flashes, but has radio capabilities at a fraction of the cost that I am a bit impressed with at the moment is the Nissin Di 700 Air Flash Kit at $299.00 which comes with the Commander and is made in Nikon, Canon and Sony versions.
| | |
| --- | --- |
| Features | |
| Flash Duration: | 1/800 – 1/30000 Sec |
| Recycling Time: | 0.1 – 4 Sec |
| Lens Coverage – (Full-frame): | 24 – 200mm |
| Total Price w/ Commander: | $299.00 |
Flash Accessories
Batteries
Batteries can be a big investment over time if you go with regular alkaline batteries. However, if you go with NiMH rechargeable batteries, they are better for the environment because they are reusable, they help the flash have a better recycle time and they are less expensive in the long run. Panasonic Eneloop AA Rechargeable Batteries are $19.99 for a pack of 8, but are high-performance and be reused up to 2,100 times.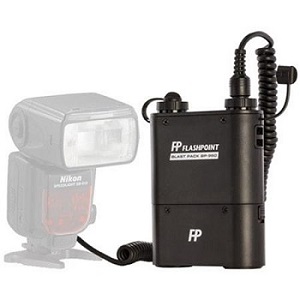 Image courtesy of Adorama.
For extended use in the field, a battery pack could be a good idea as well as they are also rechargeable, they can triple the duration of the flash and they allow for a faster recycle time. Flashpoint Blast Power Packs are decent budget power packs that run between $269.95-$349.95 depending on if you want an extra battery with it or not. They are available according to your brand of flash.
Flash Brackets
Flash brackets are mainly used for events but they can be a little cumbersome for the average user. They are used because they typically place the flash a little higher than the line of sight, which helps to avoid red eye.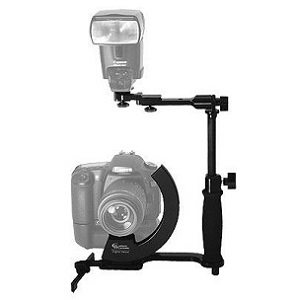 Image courtesy of Adorama.
With flash brackets, you are able to rotate the camera but keep the light in the same position. The Custom Brackets Digital PRO M Rotating Camera Bracket Kit is the standard for those that use them. At $379.95, if you are an event photographer, it just might be a good investment for you.
Flash Modifiers
On and Off -Camera Flash Modifiers
There are many tools out there that can be used to shape the light of both on and off-camera flash. There are things such as:
Diffusers

Umbrellas

Mini and Standard Softboxes

Bounce Cards

Grids & Honeycombs

Snoots

Color Filters & Gels

Ringlights
Expoimaging makes a great kit that has many of these tools called the ExpoImaging Rogue FlashBender 2 Portable Full Lighting Kit  for $199.95 at Adorama.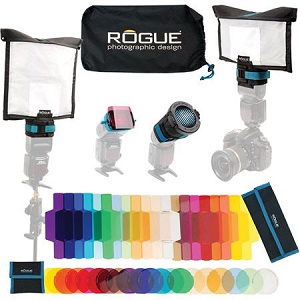 Image courtesy of the Adorama website.
Another great tool that I actually own and love is made by Interfit called the Interfit Photographic Strobies Modi-Lite Accessories Kit and it sells for $99 at Adorama. It includes a universal mount that works on most flash heads, a snoot with 2 honeycomb diffusers, a diffuser globe, a barndoor set, a reflector/beauty dish with a honeycomb grid,, a small softbox, a set of colored gels and a simple honeycomb grid.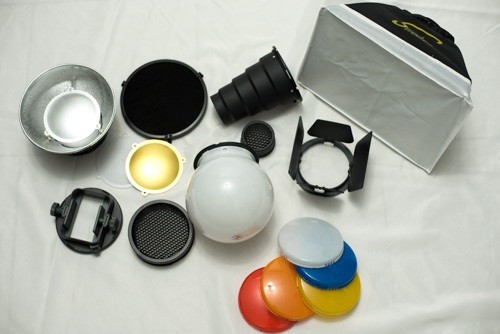 My Interfit Strobies Modi-Lite Accessories Kit.
Other Off -Camera Flash Modifiers
Other modifiers you can use to diffuse harsh light from a speedlight include softboxes and umbrellas which I will individually dive into deeper next month… stay tuned.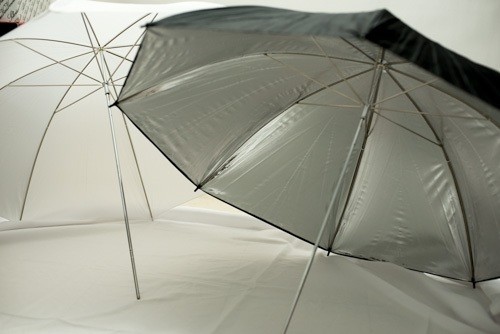 White umbrella and silver umbrella. Available in gold too.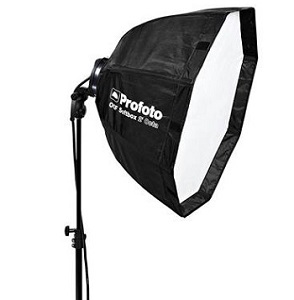 Profoto 2′ Octagonal Off-Camera Flash Softbox
Light Meters
Now that we're starting to get into flash lighting, it's definitely time to think about investing in a good light meter.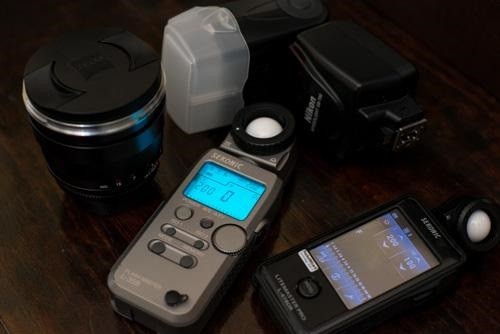 My Sekonic Flash Master L-358 with its younger sister, the Sekonic LiteMaster Pro L-478DR.
A good handheld light meter will have the three metering capabilities: incident, reflected and flash modes and if you are also looking for the percentages of where your exposure is coming from (ambient, LED, fluorescent and/or tungsten continuous lighting vs. flash or strobe lighting), Sekonic meters are known to possess this feature. My current light meter, the Sekonic L-358 Flash Master (discontinued), along with the Sekonic Litemaster Pro L-478DR (available at Adorama  for $337.99) has this feature. As you may contemplate strobes either now or a little later down the line, you may find the need for a meter to be able to fire your strobe – "wirelessly" – too. Some Sekonics such as the Sekonic  L-758DR Digital Master have this feature too. I do discuss light meters pros and cons, how to operate a light meter and features more in-depth in my article: Light Meters: Measuring Light in Studio Photography.
Backgrounds
As you are now beginning to pull together home studio, don't forget that background as it can make or break your image. Your background is a very important piece of your photo shoot puzzle, something that it will never be without – so it's important not only to choose creatively, but to choose wisely so that the focus stays on your subject and not the background.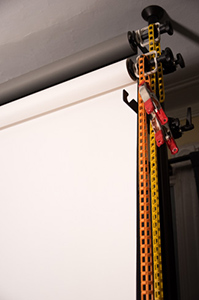 My Auto Poles with Interfit Chain System for Seamless Paper
In my article: Backgrounds: Choosing the Right Backdrop for Portraits, I spend a great deal of time going over the nitty gritty of backgrounds including the importance of and considerations for choosing a proper background for your subject. In addition, I jump into the major background types such as natural backgrounds, portable backgrounds, muslin, canvas, floordrops, vinyl, seamless paper and other creative background types.
We are getting there you guys! For those of you following along, and that have been taking some of my suggestions and who have become proficient in using some of the equipment I've mentioned should now have the necessary means to bring in a client here and there to start to start reimbursing those upfront, out-of-pocket costs of your immediate equipment such as your camera, lens(es), continuous and/or flash lighting, a tripod, a background choice or two and a few initial modifiers. I have a few things up my sleeve to help you along your journey including some helpful tips and information coming up in the next few months. Stay tuned!