Technology advances and new platform creations have brought photographers new ways of sharing their news and their work. Long gone are the days of printing images and having a get together with your friends and family to share photos from your latest trip or requiring you or your client to travel to meet with you to see proofs from a photo shoot. Social media, along with many other software programs and platforms allow everything to be done online from the comfort of anywhere. It also provides a better avenue for attracting new clients and followers because there is no limit to your reach, if you share and/or market using social media in the most optimal way for your business.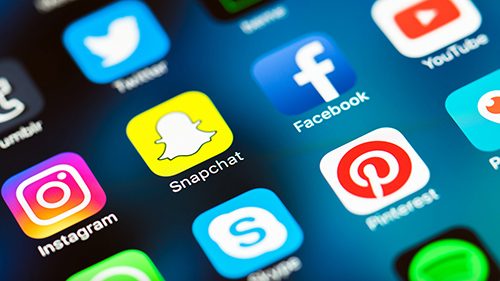 Image courtesy of Google
While there are more than one hundred social media platforms out there around the world, in this article, I'm going to discuss social media uses for your photography, the top six platforms along with tips and best practices for optimizing your content on those platforms.
POTENTIAL SOCIAL MEDIA USES FOR YOUR PHOTOGRAPHY
Now that we live in the Age of Social Networking, there are several uses through various social media platforms that you may find useful in engaging users with your photography.
To Share Your Work With the World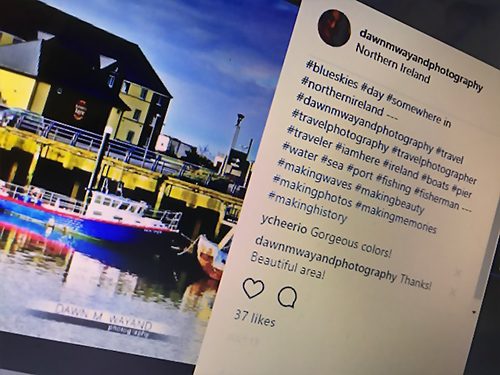 For the average, for professional photographers, amateur photographers, everyday hobbyists and even non-hobbyists, social media platforms such as Facebook and Instagram have been major platforms used to share photographs with connections and/or to be found by anyone with an interest in a specific hashtag. People share their everyday moments: where they are, what they're doing, what they're eating, things of importance such as objects of affections, pets or their children (not in any particular order…) I generally share retouched images from my latest photo shoots on Facebook, Instagram and Twitter – a new image 3-5 times per week. I also share a new travel photograph from my extensive collection of photographs from past travels once a day. It's a great way to get feedback on your work.
To Promote Your Upcoming Exhibitions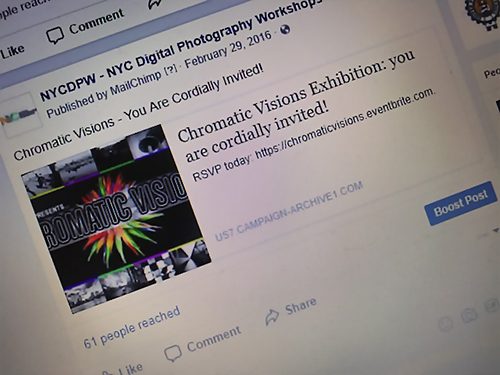 Social media platforms are also an excellent tool for promoting any upcoming exhibitions in which you may be participating. Posting an event or a notification of an event on any social media platform works just like a press release, but to a larger audience. As a photographer, artist and a curator, I've found posting exhibitions I'm participating in and exhibitions I'm curating drives more traffic to the event in support of my work or the work of the exhibitors I'm representing.
To Sell Your Work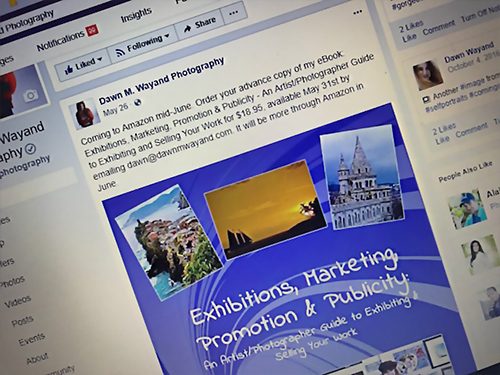 Posting a small resolution image of your work regularly can generate interest in someone wanting to purchase a print or to even hire you for a commission. If the goal is to sell your work, it's a good idea to always include a tagline that your work is for sale and to contact you through direct message in that platform for more information.
To Promote Your Brand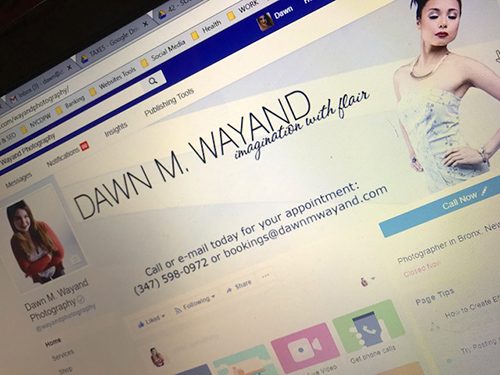 In addition to selling prints, social media platforms are a great tool for promoting your brand. While you can create and purchase ads and target those campaigns toward a specific demographic, posting your work very regularly and including some sort of tagline to contact you for your photography services can also help generate leads for you, sometimes without even having to buy ads. I've generated several leads through my image posts on Facebook and Instagram.
Maintain Client Relationships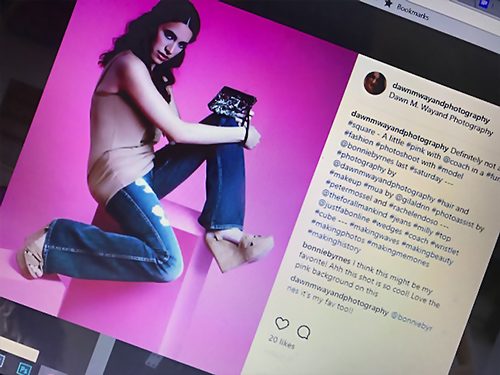 Social media platforms are also a good way of communicating with your potential and existing clients since these platforms are where your target clients are already spending a lot of time socializing and networking. Showing you are very regular and active in shooting, showcasing your results from your shoots, updating the public on projects and exhibitions you have coming up, receiving feedback from the general public and if negative criticism – publicly providing a solution can be some of the ways a social media presence can enhance your business.
A MAJOR PLAYER ON FOLLOWERS & FANS: FACEBOOK
Facebook is probably the most popular social media platform out there, with Twitter following behind and Instagram creeping up to second place. The Facebook platform has so many features – some useful, others not really – that can make for a robust business platform to connect with existing and potential clients. Your personal Facebook page limits you to no more than 5,000 followers. This is why it is a good idea to create a Facebook Business Page if your goal is to promote (and sell) your work. Facebook Business Pages offer a place to add all your business information, offers and promotions, create events, post updates and comments and add photos organized into albums. For selling your services, you can dabble in Facebook Ads to create campaigns or pay a discretionary sum for a discretionary period of time to boost any important posts you may want to highlight. You have many options for this including targeting specific demographics.
Tip #1:  As a general rule of thumb, it's best to create a Facebook page for your business and keep it separate from your personal Facebook page. Why? Think about it. Do you really want a potential client seeing a photo you were tagged that shows you having a little too much to drink and doing odd things at a party the night before? Or seeing a photo of what you ate last night for dinner in which you make a very snarky remark? Human, yes. Professional, no. Keep personal and business pages and posts separate.
Tip #2: Post frequently. Be sure sure to update your status on your personal or business pages often to keep your followers updated and to let them know you are active and always available.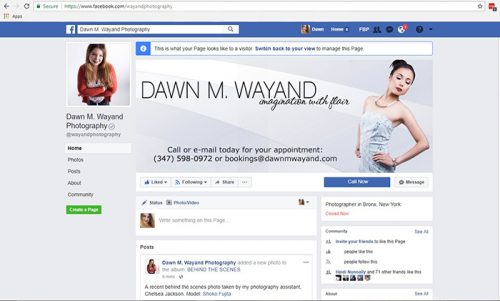 My Facebook page.
Tip#3: Engage your followers. Be humorous ("appropriately" humorous with business pages). End your posts with questions. This will evoke people to make more comments on your posts.
Tip #4: Create events on Facebook when you have an upcoming event to promote. Facebook has a great system of "reminders" to your followers and to those who RSVP for your event via the Facebook application.
Tip#5: If you are trying to promote your services or sell your work, take advantage of boosting your posts or creating a targeted ad campaign to gain exposure. For as little as a few dollars a day (a budget which is set by you), you can get your posts or ads seen by a specific demographic of your choosing.
Recommended Usage: Personal pages to share photos of your personal life with your followers. Business pages to share images from a recent shoot, to communicate news on an events, to create a call to action (via Call Now, Message, Sign Up Today, etc.) for potential new clients, to link people to where they can see more of and purchase your work, and much more.
Ideal Posting Time: Wednesday through Sundays between 9am and 3pm (Around lunchtime and a few hours before making plans for the evening…)
Frequency: 1-2 posts per day.
THAT LITTLE BIRD ALWAYS IN YOUR EAR: TWITTER
Twitter reminds me of one of those little tiny birds that moves around really quickly before it takes off and is gone. With a restriction of 140 characters, "tweets" can supply updates to those who may not know of you, your work or your services while also improving your SEO. "Tweets" have a little bit of a shelf-life though considering so many of them are posted within seconds of each other so for those who follow a lot of contributors, tweets can potentially get buried in an hour or less.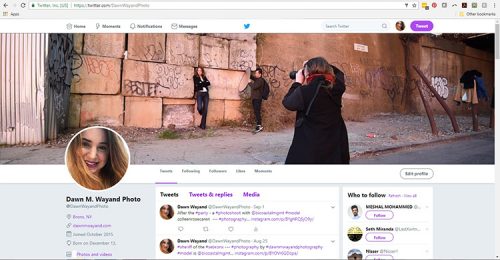 My Twitter page.
Tip #1: Tweet often, but also retweet whenever possible as when you promote others, they oftentimes may promote you in return, if your content is good.
Tip #2: Be tactful with keywords. Find out Twitter followers care about the most. This may also improve your chance to show up on Google searches as well.
Tip #3: Start a conversation and engage in other conversations, especially with the big fish. If you get mentioned somewhere in the big pond, you reap the benefit of more eyes on you.
Tip #4: Follow the top professionals in your industry as it helps get your name and brand out there and can help increase engagement.
Recommended Usage: For news and announcements of special events like exhibitions, promotions, awards and achievements, etc.; to share your images for feedback; to improve SEO and to push people toward a newsletter sign up or call to action.
Ideal Posting Time: SproutSocial shows that Mondays through Thursdays are the best days of the week to post with the best times being between noon and 3pm.
Frequency: Between 2-3 tweets per day.
A PICTURE'S WORTH A THOUSAND WORDS: INSTAGRAM
Instagram has to be a favorite among photographers as the main substance of Instagram is visuals: images. There's rare chit chat, like what is found on most other platforms – just images and numerous hashtags linking followers and new potential followers to see your visual creations. Personally, I have managed to attract more business leads through Instagram than through any other social media platform as the images speak for themselves.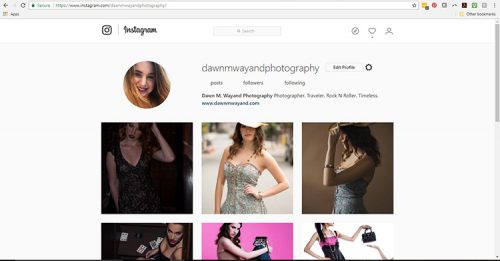 My Instagram profile.
Tip #1: Post extraordinary images. Meaning… don't just post anything. Post only your best work as sometimes people who see one of your images go into your profile to see your other images too. Always put your best foot forward.
Tip #2: Don't be afraid to use DSLR photos on Instagram! I generally backup all of my images to Dropbox. I have Dropbox installed on my iPhone and download images from my Dropbox to my camera roll which I want to showcase on Instagram. You are not restricted only to square image format either. Instagram will crop the edges of the images but a rectangular format will work too.
Tip #3: Hashtag, people-tag and geotag your images. This helps non-followers find your images based on specific tagged keywords.
Tip #4: Use the option to concurrently post your images to Facebook, Twitter and Tumblr, etc. This saves you a step from separately having to post the same image and content on those platforms too.
Recommended Usage: For sharing personal photos, thought-provoking images and marketing professional images to personal and business clients.
Ideal Posting Time: SproutSocial shows that Monday through Friday are the best days of the week to post with the best times being 2am, 8am and 5pm.
Frequency: 1-3 times per day
IT'S ABOUT WHO YOU KNOW: LINKEDIN
As many of you know, LinkedIn is a great platform for networking for business purposes. Whether you are in the market for a job, an employee or a freelancer, or even for B2B marketing, LinkedIn allows you to post your professional credentials out there for all to see and gives you the tools to meet the people you wish to network with through introductions and direct contact.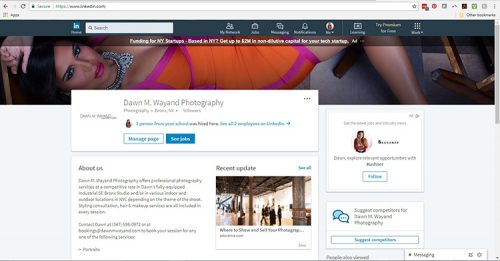 My LinkedIn profile.
I personally use LinkedIn to showcase all of my well-rounded accomplishments in my IT and legal backgrounds as well as my education and photography backgrounds through posting art and photography events when I have them, but mainly to post references to my educational articles such as the one you are reading now. The platform is heavily sprinkled with all different types of groups to suit whatever interest you want to keep up with and posts for which you might want to read or contribute.
Tip #1: Share events related to your industry with others. The more you put yourself out there and give info, the more recognition you gain.
Tip #2: Share newsworthy content related to your industry. Whether you write it yourself or you find it somewhere else on the web, the idea here is to share with the community.
Recommended Usage: To showcase your professional accomplishments and accolades and to link to your website and portfolios. This is also a great place to build references and contribute your knowledge on your area of expertise either in your own posts or by participating in others' posts.
Ideal Posting Time: Weekdays as this is mostly when the business crowd checks into LinkedIn. Jobseekers will use this platform on weekends too, if you find a use for that market, such as needing to hire assistants or hair stylists or makeup artists.
Frequency: Once a day is completely sufficient but more will not hurt if you can provide valuable content for others to absorb.
THE WORLDWIDE NETWORK: GOOGLE+
Just about anything can be found via Google – including your business, your images and your profile. Having a Google+ page can be beneficial in several ways. Google+ offers a way of better organizing your contacts so that sharing content and images via "Circles" helps you separate what you share with whom. I've personally set up several "Circles" to classify my contacts and some contacts fall into more than one Circle. For instance, I have "Family", "Inner Circle Friends", "Friends", "Acquaintances", "Clients: Models", "Clients: Headshots", "Clients: Boudoir", "Clients: Fashion", "Clients: Portrait" and so forth and so on. I may want to share specific relevant content with my headshot clients, such as a special headshot session promotion, that I wouldn't typically share with my boudoir clients, and so forth.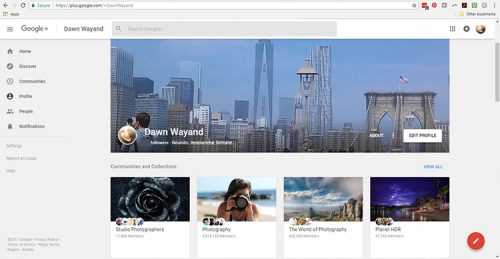 My Google+ profile.
Another terrific feature of Google+ is the Google+ Stream, which is similar to Facebook's newsfeed. Whenever you share something publicly or specifically with another person, it appears in their Google+ Stream where others can see the post and it helps increase your exposure.
Google Hangouts is a great tool offered by Google+ that allows you to chat face to face with whomever you wish to chat with that also has a Google+ profile. This is a bonus for more personalized "verbal" communication that email cannot offer. I like to use it to chat with my models or clients prior to a shoot to see what wardrobe they will be bringing with them and to confirm details of a shoot.
Lastly, Google+ offers the ability to post images into albums to share publicly or privately with whomever you choose.
Google+ does offer company pages, and while they are a bit limiting in the sense that you cannot customize a URL for your company page, nor can customers post on your wall, but one highly beneficial feature is that your company page is connected to your personal profile but your profile can remain completely hidden from your company page.
Tip #1: Don't just link to your blog post. Post an image and a teaser portion of your blog post, then include a link to that respective website blog post.
Tip #2: Participate on other profile pages and give them a positive boost by giving them a "+1" on their posts. This helps promote engagement.
Tip #3: Share the wealth. Share the work of other contributors every once in awhile. It may help lead that user's followers straight back to your profile too.
Recommended Usage: Creating organized contact lists, sharing news and updates through posts, sharing your images and communicating face to face on the web via Google Hangouts.
Ideal Posting Time: SproutSocial claims the best time to post on Google+ is weekday mornings between 9-11am with Wednesdays being the very best day of the week for posting.
Frequency: 1-2 times a day is just fine.
FINDING & CREATING INSPIRATION: PINTEREST
Pinterest! I love Pinterest mainly for creating mood boards for my photo shoots. People can create a profile and can share images and/or articles with images through "pins" on their "pinboard" for anyone to find and get inspired by. You can set up as many categories or ways of organizing your pins as you like. For me, I categorize by things like "Boudoir Inspiration", "Hair Inspiration", "Makeup Inspiration", "Set Inspiration", "Wardrobe Inspiration", and so forth. When I have a specific shoot, I search through other people's pinboards for inspirations and add the "pin" to a separate category titled by the name of my shoot.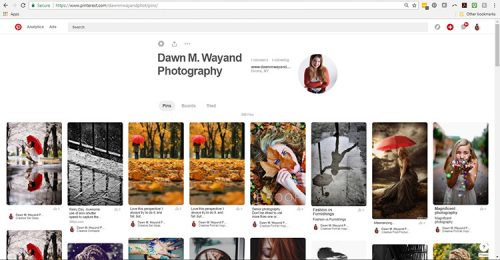 My Pinterest Page.

Pinboards can be beneficial for photographers who have photo shoots to search for ideas and inspiration and to share mood boards with those ideas/inspirations with their photo shoot team and with their clients.
Recommended Usage: Creating inspirational mood boards for your next photo shoot, sharing "pins" with links to your blog or content and sharing your images with links to your business services.
Ideal Posting Time: SproutSocial says weekends and late at night are the optimal times to pin on Pinterest.
Frequency: There's no ideal limit to posting here.
PRESSED FOR TIME? SCHEDULING POSTS
If you're a busy professional like me, you don't have time to think about posting to one to 10 social media platforms each day every week. There are a few amazing options out there that allow you to bulk schedule your posts in advance on multiple platforms using just one tool.
Hootsuite: For around $20/month, you can utilize Hootsuite to set up 10 social media profiles for one user to schedule hundreds of posts in advance. It allows you to track real-time analytics, run social sweepstakes and integrate as many RSS feeds as you wish. There's also a free option, but it allows only 3 social media profiles for one user and 2 RSS feed integrations. There are also more extensive pricing plans and options that un up to $500 and more per month depending on the size of your business and your needs.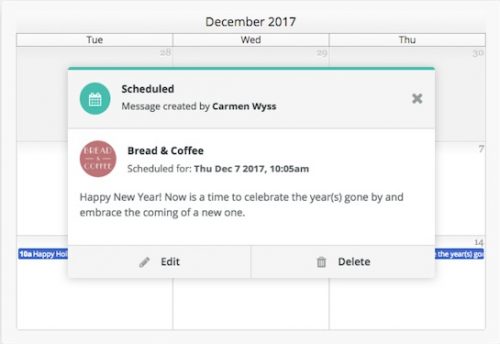 Hootsuite post example.
Image courtesy of Hootsuite.com
Buffer: Similar to Hootsuite, Buffer is another tool that, for $10/month, allows you 10 social media profiles and to schedule 100 posts per social media profile per month. It also offers a calendar, use of the Pablo image creator and RSS feed integration. There is also a free option here which allows you to set up one profile for Facebook, Twitter, LinkedIn, Google+ and Instagram. While the paid option also provides Pinterest profile scheduling, the free version does not. The free version does not include RSS feed integration.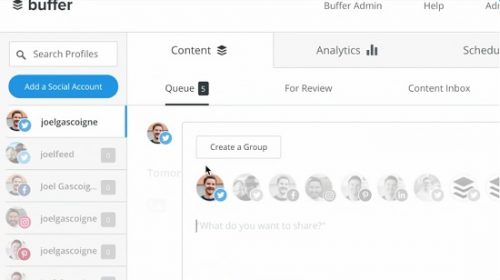 Buffer platform.
Image courtesy of Buffer.com
There are also more extensive versions for larger companies that run up to $399/month, but again, it depends on the size of your company and your needs. Link shorteners are provided on all plans. Analytics tools are only available on the larger company plans that start at $99/month.
TRACKING PROGRESS
Tracking your social media progress is an article, if not a book, all in and of itself, but know that Google Analytics is a prime way of tracking your company's reach where you can connect tracking to your website and your social media platforms. It is important to keep up with analyzing your tracking reports to help you learn what works, what doesn't, when to post, what to post, where your audience is primarily located and much, much more. It can help you develop a more targeted marketing campaign.
A FINAL WORD ABOUT SOCIAL MEDIA & YOUR PHOTOGRAPHY…
While I sometimes complain that technology and the internet are taking away a lot of personal service and communication between a business and its customers or even between people in general, I do admit that we are blessed to have a medium where we can have a global reach and global impact, a medium where you can share your work and engage with potential and existing clients or average everyday users anywhere in the world instantly. It's important to share a little to receive a little. Share your images. Provide valuable content. Engage with users and watch your following and your business grow.