There are many ways to light a subject when creating an image. You can choose daylight and a reflector. You can take your subject indoors and plug in some continuous lights with modifiers when photographing young children or subjects that blink a lot with flash photography. The other option is isolating a moment in time using a flash option such as a speedlight, a monolight or a pack and head light. It's really a matter of personal preference and situation as to which type of light you decide to use to illuminate a photo.
Monolight flash lighting in practice.
Model: Shoko Fujita
In this article, I want to discuss studio flash lighting options: what they are, how they're used and giving you the information to empower you to decide which flash lighting option is right for you.
SPEEDLIGHTS
Let's start with speedlights. I've written a few articles in the past on speedlights such as: Building the Home Studio Part 3: Flashes, Light Meters and Backgrounds as well as Quickstart Guide to Speedlights. I've also touched on Speedlights in articles such as: Practical Tools for the Portrait Photographer on the Go and The Art of Portraiture Part 2: Light.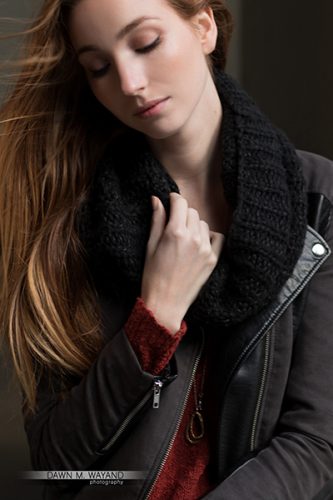 A speedlight in conjunction with natural daylight was used here.
Model/Actress: Valery Lessard
Speedlights are a great, economical light source not only for photographers on a budget, but they are also typically the go-to tool for photographers on the road because they small and portable. Event photographers, wedding photographers and outdoor portrait photographers are among the types of photographers that use speedlights the most.
Nikon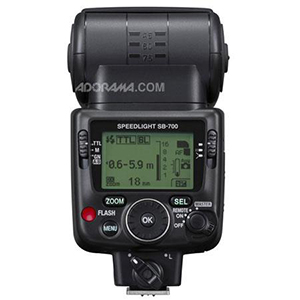 My Nikon SB-700 Speedlight.
Image courtesy of Adorama.
While I have shot with Canon and Nissin speedlights in the past, I am primarily a Nikon shooter and I own a Nikon SB-700 Speedlight, which is an older model, but it still does the job for me. The newer model in this line is the Nikon SB-5000, which  is a nice upgrade from the SB-700 in that it provides a longer flash duration, a quicker recycling time and greater lens coverage as noted below.

Depending on what you are wanting to photograph, how quickly you are shooting and how far away you may typically be shooting your subject, these semi-minor differences might make a difference to you in deciding between the older model and the $270 difference for the newer model.
Canon
The industry standard now for Canon shooters is the Canon Speedlite 600EX-RT at a $469.00 price tag. Unfortunately, and unlike the wireless Nikon speedlight, the Canon speedlite requires the Canon Speedlite Transmitter ST-E3-RT at an additional $280.00 to fire the speedlite – physically – off-camera.

Nissin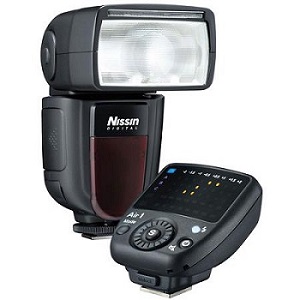 Image courtesy of Adorama.
A current third party model that has comparable features to both Canon and Nikon flashes, but has radio capabilities at a fraction of the cost that I am a bit impressed with at the moment is the Nissin Di 700 Air Flash Kit at $299.00 which comes with the Commander and is made in Nikon, Canon and Sony versions.

MONOLIGHTS AND PACK & HEAD LIGHTS
What is a Monolight?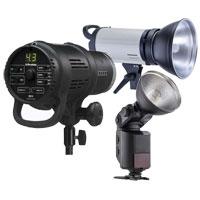 Image courtesy of Adorama
A monolight, also called a "monobloc", is a self-contained flash light source in which the head contains a lamps and power supply altogether. Monolights are a great choice because they involve no extension cables to meet a power pack. Since each of your flash heads are powered separately, if one head goes down, it will not affect the others. The only downside, really, to a monolight is that for most, you have to dial in and adjust the power on the back of each head individually, unless you have something like a remote control that controls the power for each of your heads. Monolights are generally less expensive than pack and heads due the the power source being a bit on the expensive side.
What is a Pack & Head Light?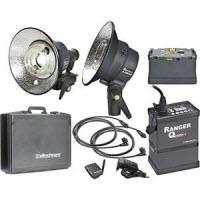 Image courtesy of Adorama
A pack and head light, also called a "power pack", is a light that must be connected to a battery pack. These can be a great choice as they can be placed just about anywhere without worry of having a power outlet nearby. You can control the power level of all of your lights connected to power packs in one place and use one power pack to ignite and power more than one head. That being said, the common downside to Power Pack lights is that if one head goes down or the battery isn't working for some reason, all of the lights are typically unusable since they are all connected to the same power supply. The other downside is that there will be cables between the light and the power supply everywhere which will need to be taped down.
USING MONOLIGHTS
Manual vs. Digital Controls
Manually controlled monolights are basically controlled by physically being present behind the light head and pressing buttons and turning knobs. There is typically a wheel or a slider to adjust the power, a button for turning the modeling light off and on, a test button, an on/off switch and sometimes there is a button that when pressed, allows for a release of the built up energy inside the head which is generally for releasing energy as the user powers the light down before shutting it off. Ports include the power plug port and a sync port for plugging in a receiver.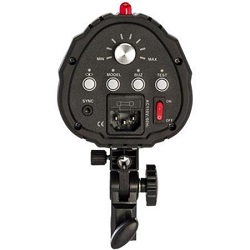 Flashpoint Budget Studio Monolight Flash
Image courtesy of Adorama
Digital controlled monolights can be used just like manual monolights in that you can physically control the power and press buttons standing directly behind the light, but they can also be controlled by remote control, which comes in handy when you have several lights at different powers and want more efficiency in adjusting light controls during a shoot as it prevents you from running back and forth to each light to adjust power.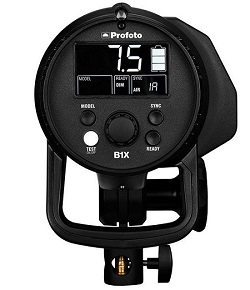 Digital display of a Profoto B1X 500 AirTTL Light
Image courtesy of Adorama
WHICH FLASH LIGHTING OPTION SHOULD I PURCHASE?
Which flash lighting option you should consider purchasing is really up to you, your preferences, where you do most of your shooting, and your budget. Know that for speedlight options, you will usually have to buy a receiver if shooting off-camera flash, which will add to the cost of your investment. For monolights and pack and heads, this is also sometimes the case, but not always the case, as well as having the need for a transmitter for your camera too. On a side note, as a rough guideline, 250W lights are sufficient for home studio use while 500W lights should cut it for a larger studio.
Monolights
I've had the opportunity to use several different monolights over the past few years in which I've liked some and others were just not my cup of tea. For the more budget-friendly option, I fell in love with the Flashpoint Rapid HSS 600 Monolight as it's not only budget friendly, but the receiver for this light is built-in. While the receiver is built into the monolight, a necessary piece of gear needed to make it "go" is a remote transceiver.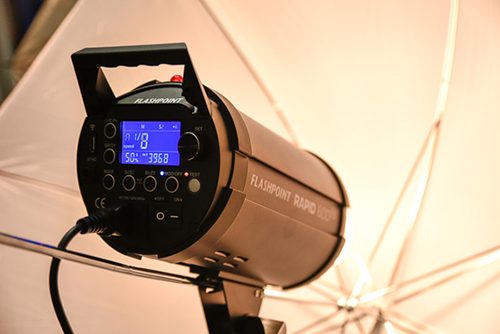 Flashpoint Rapid 600 HSS Monolight with Built-In R2 2.4GHz Radio Remote System
Image by Yann Bizeul

I shoot with Nikon and was able to test out the Flashpoint R2 i-TTL Wireless 2.4 G Transmitter Remote for Nikon with both the monolight and the R2 Zoom Flash. There's also a version for Canon, the Flashpoint R2T 32 Channel 2.4GHz Manual and HSS Transmitter for Canon. There's also a 2.4GHz transceiver version for Sony, the Flashpoint R2 TTL 2.4G Wireless Remote and Triggering System – Sony. All transceivers work with Flashpoint's other R2 lights including the Xplor, Streaklight and the Zoom Flashes.
Another monolight that I bow down to is the Profoto B1 500 Air TTL Battery Powered Monolight Flash which is available on its own, with a transmitter or in a 2-head kit.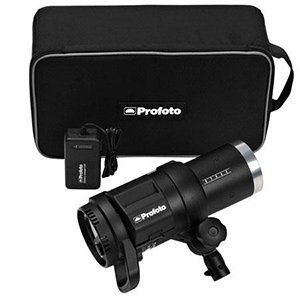 B1 500 Air TTL Battery Powered Monolight Flash
Image courtesy of Adorama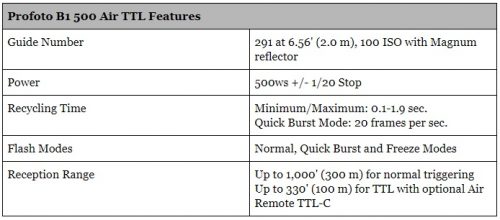 I love this light because it's wireless and the battery for the light is attached to the head. This means you can use this light indoors, outdoors and/or on-location where you might not have a power outlet nearby.
If you're looking for something in between, the Elinchrom ELC Pro HD 500 500W/s Compact Flash Head is a great choice. Beyond its 20 FPS lighting on low power, it has an auto-sensing  multi-voltage power supply which makes it able to be used anywhere in the world. This particular light comes as a kit complete with a metal reflector, a softbox and a light stand so you have a good starter kit without the additional expense.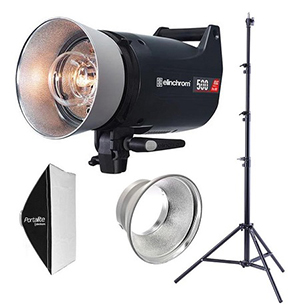 Elinchrom ELC Pro HD 500 500W/s Compact Flash Head
Image courtesy of Adorama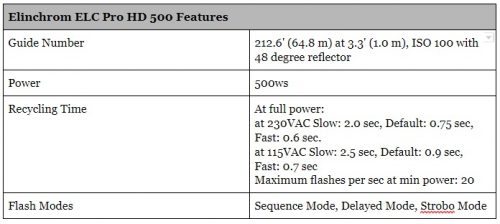 Another good choice is the Broncolor Siros 800 Monolight with WiFi and RFS2.1 Receiver which you can also get battery-powered in a kit with 2 heads, a silver umbrella, a softbox and speedring is also a good find as the receiver is included and offers rapid flash sequences with up to 50 flashes per second. It also has a receiver and wifi capabilities built-in.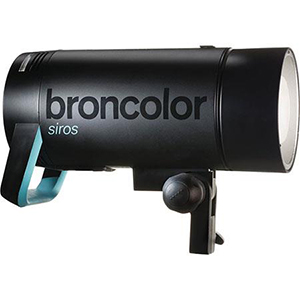 Broncolor Siros 800 Monolight with WiFi and RFS2.1 Receiver
Image courtesy of Adorama

Pack & Heads
The Profoto B2 250 AirTTL To-Go Kit is a great choice for a power pack kit as it's lightweight, has a fast 0.03-1.35 seconds recycling time, and functions in TTL and high speed sync. The built-in AirTTL allows for wireless operation and the battery can power two flash heads. The kit includes the powerpack, one (1) B2 head, a carrying bag and a battery charger. The transmitter for this is not included though is available in some of the kits offered at Adorama specific to your camera brand.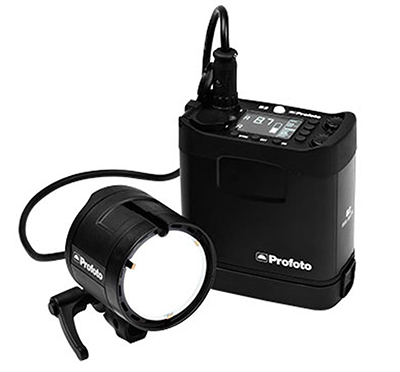 Profoto B2 250 AirTTL To-Go Kit
Image courtesy of Adorama

The Hensel Porty L 600 Power Pack Kit is a good choice is you are looking for a good 600ws starter kit. It has incredibly fast recycling times from 0.2 sec with a short flash duration up to 1/8100 sec (with Speed Head), individual settings in 1/10 f-stop increments and an output range of 7 f-stops. This power pack has integrated Profoto Air radio, Hensel Strobe Wizard Plus and Freemask receivers. The kit includes a Hensel Porty L 600 Power Pack, an EH Pro Mini 1200-P Speed Flash Head, an EH Pro Mini to Porty Adapter Cable 16.5′ (5m), a 50-watt modeling lamp for Porty Heads, a quick charger for Porty 6 & 12 Lithium Battery (120-240VAC), an 8-foot aluminum stand, a 7 grid reflector for Hensel, a 4201 Deluxe Holdall VII Case with Wheels and a Hensel 90-day warranty.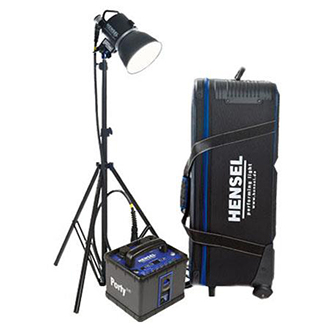 Hensel Porty L 600 Power Pack Kit

Another great starter kit is the Elinchrom ELB 400 Dual Pro To Go Kit, which is a 424ws light that has a fast recycling time of 1.6 sec. at full power. The battery lasts 350 flashes at full power and is incredibly light making it easy for transport. The kit includes an ElinchromELB 400 Quadra Battery-Powered Pack with Battery, 2x Quadra Pro Head, 2x EL 11001 8′ head cable, 2x protective caps, an EL-Skyport Transmitter Plus, a 7″ Grid Reflector, a 5.3″ Standard Reflector, a multifunction cap, an Elinchrom 15.75″ sync cable, a ProTec location bag and an Elinchrom 2 Year Warranty for the ELB 400 Quadra Battery-Powered Pack.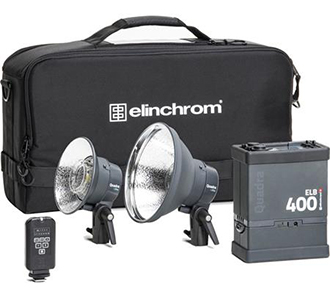 Elinchrom ELB 400 Dual Pro To Go Kit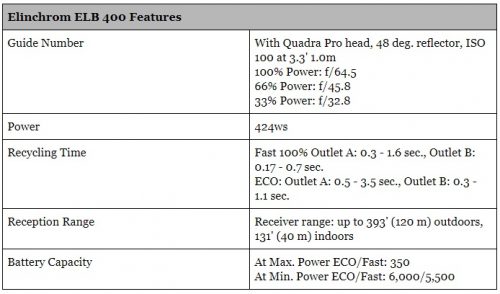 WHEN YOUR LIGHT FLASHES BEFORE YOUR EYES…
Speedlights, monolights and pack and heads all have one thing in common. They produce a burst of light for a split second aiding you in capturing a sharper image. Recycling time is important  with flash lighting, especially when working with a moving subject which may require a need for back-to-back consecutive captures. Whether you choose a speedlight, a monolight or a pack and head setup, flash lighting is a must for studio work when you don't have the luxury of a daylight studio or want more control over your light.