"You don't take a photograph – you make it"   – Ansel Adams
Seeing is the very essence of photography as much so as the light that is needed for a photograph to exist. It's a consistent and continuous mental activity that we do everyday as we go to school, go to work, go out for a night on the town, traveling and so forth.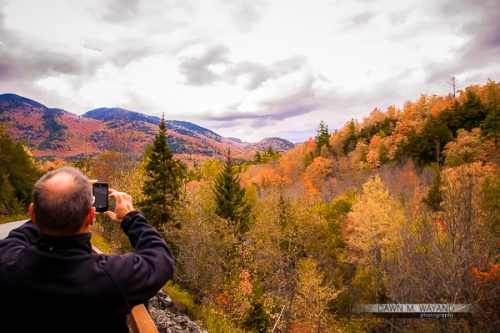 While this image has been digitally enhanced, there are several elements of composition here lending to an interesting image.
The Adirondacks, Upstate New York
Remember when you were younger, the game of "Punch Bug" that you might have played with a friend or family member(s) where you called out "punch bug" and the color, whenever you saw a Volkswagen Beetle? You then begin to notice Beetles a lot more often after making it a practice to find them in the game. Perhaps you buy a new car and it's not until you own the drive the car that you notice how many other people are on the road drive the same type of car. It's only when you practice looking for something or when you are involved in or with a certain thing that you start to see it everywhere when you never really noticed that thing before. This is a form of "awareness" as you become more aware of something because you've been exposed to it in some way.
When you become more aware of your surroundings, the more photographic opportunities will arise for you. Below are various elements and techniques to help you train your eye to create more interesting images.
THE ART OF COMPOSITION
Lines
I never really formally studied art until I was 33 years old, living in St. Petersburg and attending Eckerd College after having already acquired a bachelor's degree in Legal Studies. I decided to major in Visual Arts and in the very first class I took, I spent the entire semester working with lines. The first exercise I had was to use sharpie only and create faces using a certain number of straight and curved lines.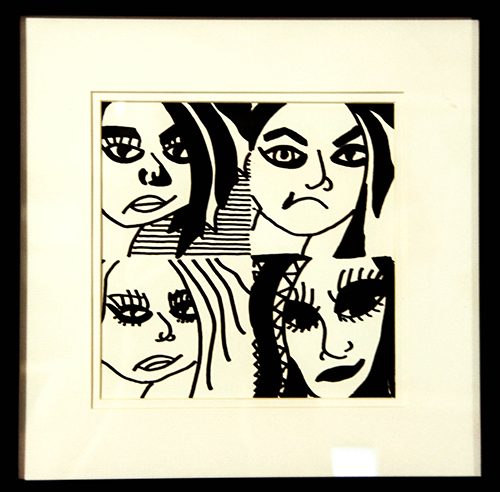 By week 5, the faces became more character-like as I was released more and more from line restrictions.
As the semester progressed, the exercises built upon the exercise from before until I had gone from being a realistic artist to an abstract artist. It was a terrific exercise to creativity. While that was drawing and painting, photographing has a use for lines as well in the form of the S-Curve, leading lines and patterns.
The S-Curve
Some of you may somehow find an image of a winding road through a scene to be very interesting to look at and there is a pretty good reason for this. It's generally called an S-Curve and it helps to take a viewer's eyes throughout an image from bottom to top and left to right (and vice-versa).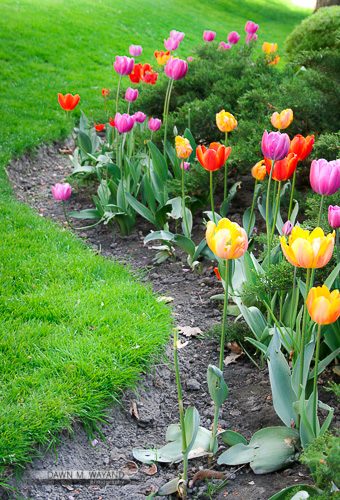 The S-Curve of the flowerbed here takes your eyes from the bottom of the image to the top.
Toronto, Canada
Leading Lines
Leading lines help to connect the foreground to the background of an image and they also create a sense of depth and dimension, bringing the viewer into the image. They give a sense of an infinite beyond. Some good examples of a leading lines are straight roadways and paths or even a river or creek.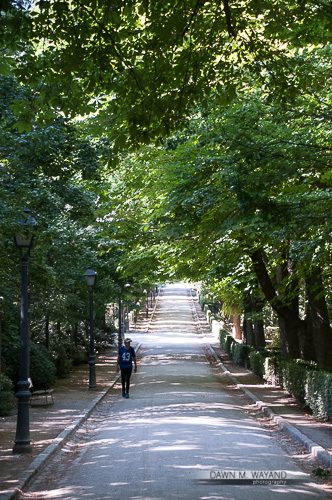 The leading line of the path here creates a sense of infinite distance.
Madrid, Spain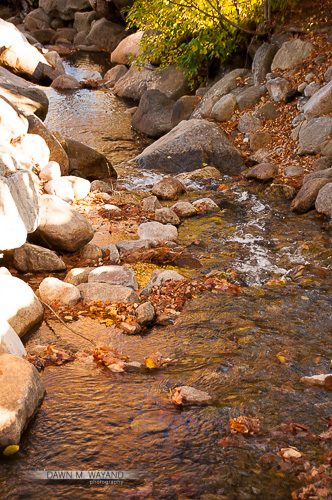 The little creek connects the foreground to the background here.
Near Mont Tremblant, Canada
Patterns
Patterns give way to be an interesting element to photograph. Symmetry and repetitive things in an image are good examples of types of patterns to try to capture. In the image below, not only is there a sort of C-Curve in this image taking the viewers eyes from one side to the other, but there is a repetition of shadows, windows and arches that pulls attention into the image.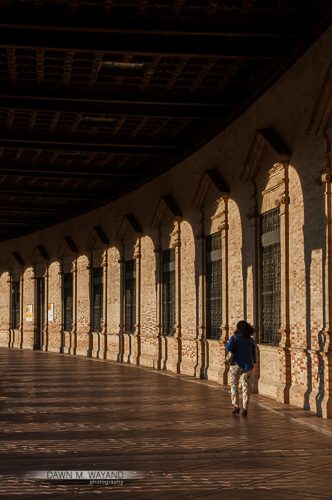 Also a good example of a leading line, there's several repetitive aspects in this image.
Sevilla, Spain
Complementary Colors for a Pop Factor
If you remember the color wheel in grade school and learning about primary, secondary and tertiary colors as well as complimentary colors. Balance and harmony of an image not to mention a nice pop can be created using color contrast, which is why the use of complementary colors can be effective in composition.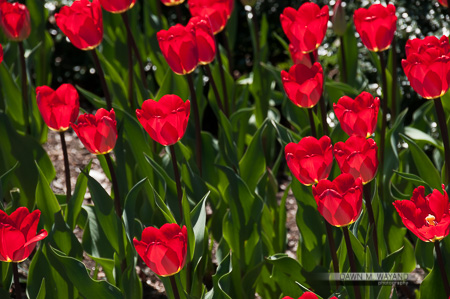 The use of red and green complementary colors.
Brooklyn Botanical Gardens
Orange and blue…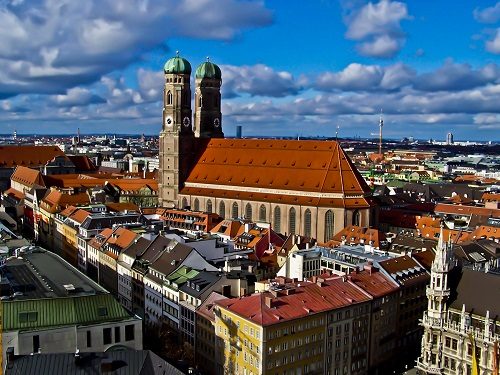 The use of orange and blue complementary colors.
Munich, Germany
and purple and yellow…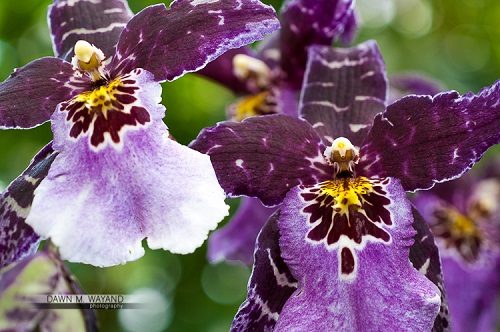 The use of purple and yellow complementary colors.
New York Botanical Gardens Annual Orchid Show
Texture
Another element of composition that makes for an interesting capture is the element of texture. Photographing fur, wool or even in the case below, the macro capture of a flower petal conveying the feeling of a velvet-like touch appeals to a viewer's sense of touch.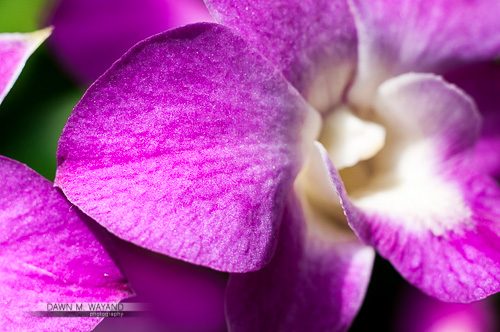 The detail conveys a velvet-like feel of the petal stimulating a viewer's sense of touch.
New York Botanical Gardens Annual Orchid Show
Negative Space
Negative space is the area surrounding your main subject with your main subject known as "positive space". Negative space is a natural relief for a viewer's eyes to rest and prevents your image from appearing too cluttered.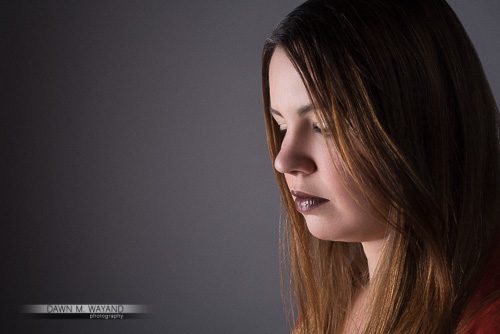 I like using negative space in my headshots and portraits (and here, a self-portrait…)
Negative space also places more emphasis and bring the viewer's attention more clearly to the main subject of your image.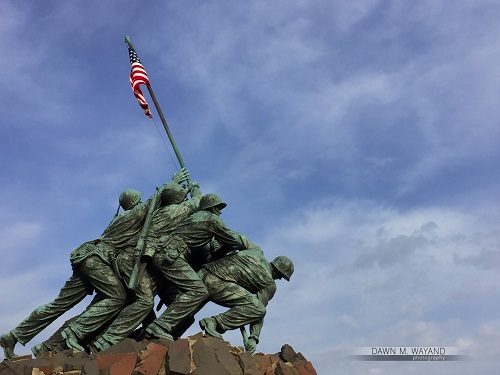 The negative space of the sky, though textured, brings the viewers attention to the main subject, this statue.
Iwo Jima Monument, Arlington, Virginia
Close Crop
The opposite of negative space really is cropping in close, used mainly to eliminate distractions around a main subject, but also to capture detail and/or for artistic purposes. It also works well when your subject is stuck in broad daylight.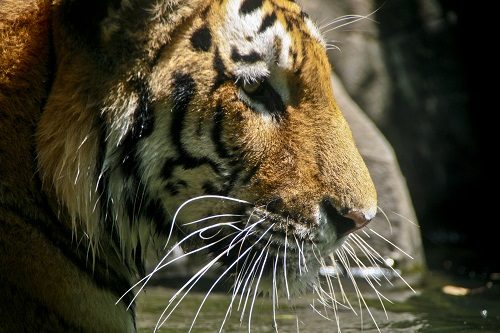 Capturing a tight crop of a tiger in harsh daylight works.
Lowry Park Zoo, Tampa, Florida
Motion
An interesting way of grabbing a viewer's attention is through a capture of motion. In the image below I focused on the center guitarist's face, allowing the movement to show throughout the rest of the image, which brings the image to life.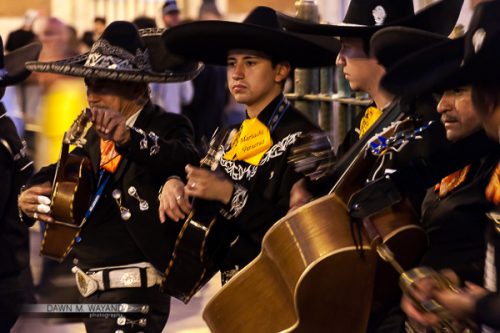 Amongst the crowd watching a mariachi band I capture motion to bring my image to life.
Madrid, Spain
Light & Shadows
Light and shadows are what make up photography, after all, the word photography literally means "to draw with light". Light and shadows can create patterns on surfaces, which we've already determined is appeasing to the viewer's eye. It can also create lightest and darkest areas of an image whereas the lightest part of an image generally will attract a viewer's eye before anything else.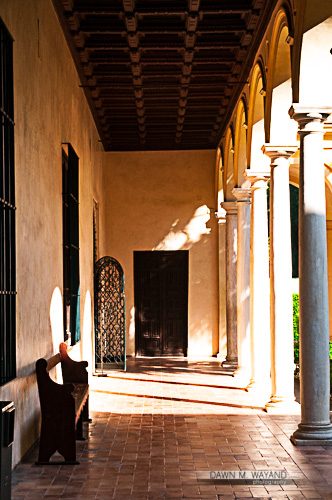 Here we not only have repetition with the columns, but the
light and shadows cast patterns on the wall and ground.
Sevilla, Spain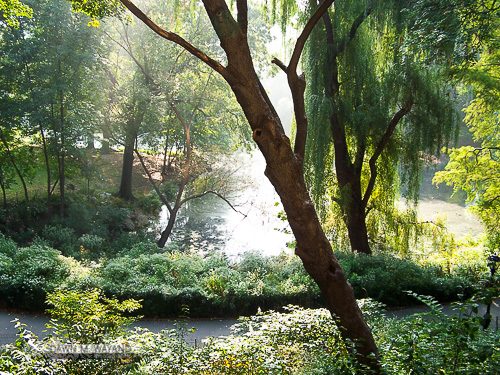 As you can see here, the brightest part of this image draws your eye inward first
Central Park, New York
RULE OF THIRDS AND POINTS OF IMPACT
Almost all of us has heard of the Rule of Thirds. Using an off-center composition has been known to be more appeasing to the viewer's eye. This composition also tends to appears more natural when taking in an image rather than an image with a subject dead center.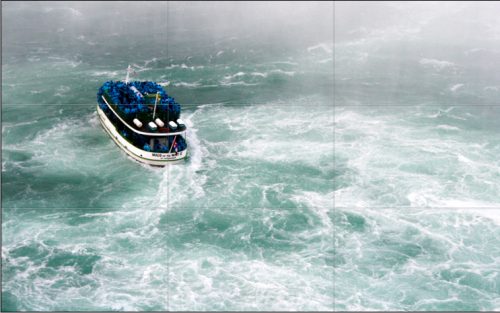 The boat falls on the top left intersecting point of the grid.
Niagara Falls, Canada
The Rule of Thirds is when you divide your frame into a grid of three equal rows and three equal columns = nine equal sections total with the object being to place your main subject on one of the four guidelines, preferably at one of the four intersection points.
FRAMING
Another useful tool in creating a more creative capture is the use of framing your your subject. You can do this using a crook in the arm of a tree, a windowpane an arch of a doorway and so on and so forth – you get the picture. Framing your subject helps to bring focus on your subject, much like literally putting your image in a photo frame.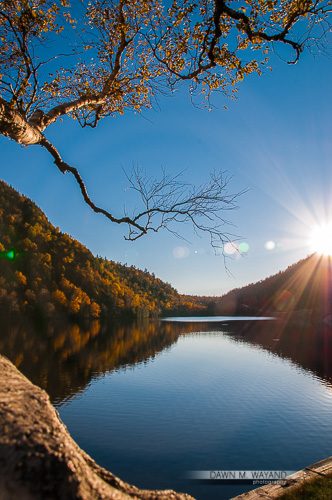 I used the curving arm of a tree to frame the serene lake with its beaming sunlight cast upon it.
Near the Adirondacks in Upstate New York at Fall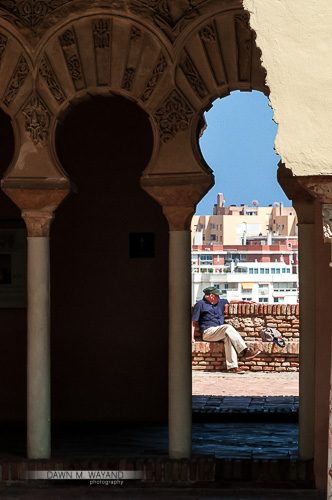 Here I used an arch in the foreground to frame the gentleman relaxing on the stone wall in the background.
Malaga, Spain
PERSPECTIVES AND ANGLES
Someone once taught me, "If you want to make your photography better than 80% of other photography out there in the world, change your perspective." This was probably some of the best advice I had ever heard. If you just stand there, put the camera to your eye and take the image, anyone can do that and your images may appear to be more snapshot-like. We don't want just snapshots – we want interesting and captivating images!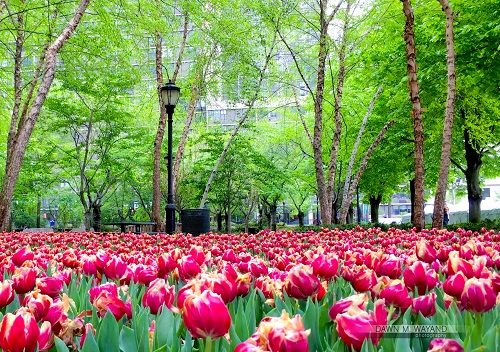 I kneeled down to capture the tulips at a level of their own height.
Battery Park City in the Spring.
Move about a scene and try different levels: get up on the wall or bench and shoot down. Lie on the ground and shoot your subject from below (a "bug's eye view"). Or get at the subject's level for a more realistic impact, which works especially well for photographing animals and children.
Madrid, Spain
I entitled the image above, "I Am Here" as the pants and shoes are dusty and worn. Most people know that I am a traveller and this was my expression of my journeys. While you can lay down and shoot upward, in the image below, I placed my camera lens up on the ground and shot the tulips from a bug's eye view.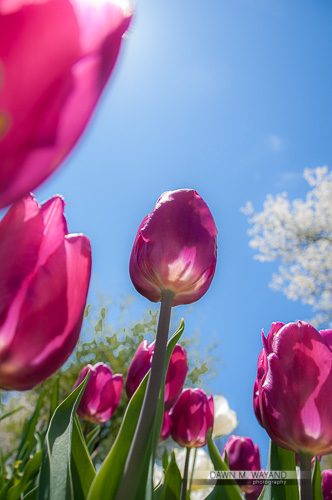 Shooting from below.
Brooklyn Botanical Garden
CREATIVE LENS USE
Sometimes you can get more creative with your images just by lens choice. A wide angle or fisheye lens is a fun lens to capture a little bit of distortion in your images, giving them a bit more powerful grip on the viewer. In the image below I had borrowed a Canon 7D Mark II Camera used a Canon EF8-15mm F/4L Fisheye Zoom Lens to capture the children running through the Fall leaves.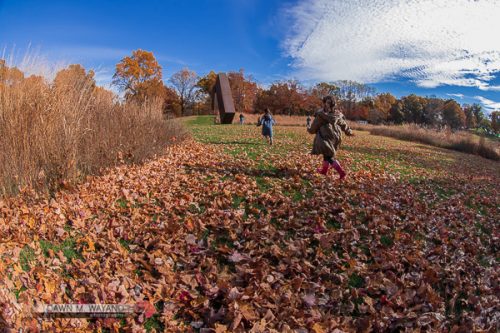 Timing and a fun lens made this image a bit more dynamic.
Storm King Art Center, Upstate New York
TIMING
Other times it can come down to the perfect moment. Sometimes life just happens before you and you get lucky enough to pull your camera to your face, set your settings and capture the moment before it disappears forever. There is also the trick of anticipating the moment. Oftentimes this works well with photographing sports as well as animals. I once sat at the window of a polar bear exhibit at a zoo for almost an hour studying the swimming pattern of the polar bear – trying to figure out how I was not only going to capture the image, but to do so in a way getting the image as sharp as possible and without glare. The image didn't turn out half bad minus the abundance of breathing bubbles, but there is certainly something to be said about predicting the actions of your subject.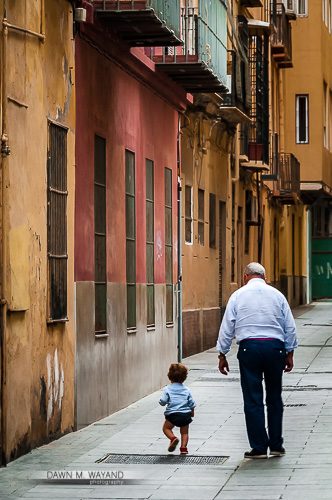 As I walked past this alleyway, I saw this duo and rushed quickly to take the shot as knew it was a fleeting moment.
Malaga, Spain
Whether it's your lucky moment, like for me in the image above, or if you sit perched and waiting for the perfect moment to happen, such as what I did in the image below – timing can be everything to creating a beautiful image.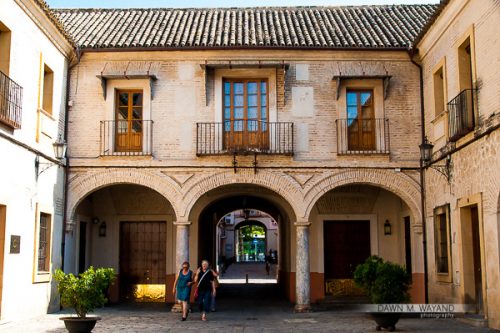 For this image I actually sat and waited for someone to walk through
the archway and found this to be an authentic shot of daily life in Sevilla.
Sevilla, Spain
EXERCISES TO HELP TRAIN THE EYE
There are many ways to develop a better awareness of photographic opportunities around you using the composition elements and techniques above as guidance for end results. A few starter exercises could be:
Study the works of the Masters and how they used composition, color, light, etc. for inspiration in your own photographs.

Lock yourself in a room and commit to taking 100-150 photos of various things in a room. You will definitely find that you are looking at something a different way for the first time after this exercise.

Commit to photographing only objects of one color or monochromatic only.
There are many books with 365 Projects that can also be a great tool to help you train your eye, but if nothing else, the more you get out and shoot, the more practice you'll have in finding creative ways to shoot even the most ordinary of an object.
LOOK BEFORE YOU LEAP!
You've probably been told to get it right in camera in the first place and quit thinking about post-production. Yes, post-production can enhance an image and can sometimes also create a whole new image depending on your skill but the bottom line is that you need to have a strong image to begin with, so practicing with the goal of a creative capture in camera is the best way to do just that.