As a photographer, we are in charge of and responsible for everything that happens on a photo shoot. We plan the shoot. We prepare for the shoot. We shoot. We clean up after the shoot. Then we begin the process of retouching and distribution. There's a lot to do and a lot to remember each time you have a photo shoot. When your jobs get bigger, there's always even more to do.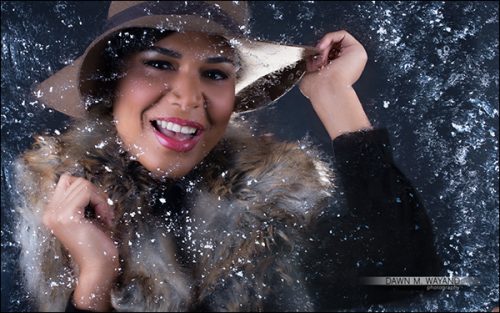 Winter project in the summer using Plexiglass.
Model: Karen Ramos.
Photographers, new photographers especially, are always looking to build and update their portfolio images. You can oftentimes work with models for little to no cost through TF shoots ("TF" meaning "time for" something, usually prints or digital images) as new models are always looking for images for their portfolios and willing to exchange time for images.
A majority of my work at the moment is shooting a model's portfolio images. Much of this work now comes from agencies needing portfolio images for their new faces. These can sometimes be paid or TF shoots . Since I need to pick an avenue of reference and because I will not be going into marketing and how to get a model portfolio client, I'm going to gear this to the professional photographer who is providing his or her services in exchange for portfolio images only. However, many of the tasks are the same regardless of how a model client ends up in your studio – they may just be in a different order.
For this series, I'm going to focus on the things I do before, during and after a shoot in three segments, respectively. These steps can apply to anyone working in a home studio or a commercial studio. For this first segment, I will discuss what I do before a TF model portfolio shoot. Please keep in mind, this is my general checklist when preparing for this type of shoot and that not all of these tasks will apply to every situation.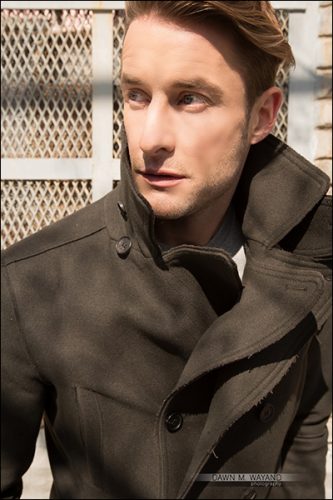 Outdoor fashion look shot late Winter of last year.
Model: James Karl Campbell.
THE PRE-SHOOT
I generally only shoot a model's portfolio "TF" approximately once per month. New photographers may do this more often to build their own portfolio. So when I say pre-shoot, for me, this is everything I do up until a week before a photo shoot. These tasks may take more or less time for your situation. I'm very detail-oriented, so for these I try to plan as far in advance as possible since I am more in control of the details of a TF shoot. However, when working with paying clients, sometimes we do not have the luxury of all the time in the world because your client needs images… yesterday!
Develop Ideas/Concepts/Themes. One of the first things I do before this type of a photo shoot is to develop an idea, concept or theme for the potential shoot. This can revolve around a makeup idea, a hair idea or a set idea that you want to build. It can revolve around wardrobe. Maybe you have a lighting style in mind? It can even revolve around a location where you would like to shoot. Some influences I've also learned to use to conjure up ideas are music, art or film.
Create Mood Boards. Throughout the year, I subscribe to various magazines for mood board inspirational purposes. I do not copy what I see in the images. I like to clip out things that I like and scan and store them on my Google Drive to be able to put together a mood board later down the road which helps the client and my creative team visualize what I have in mind for the photo shoot. Things that I like which get the scissors include: lighting styles, makeup ideas (which get sub-categorized into to eyes, lips and overall), hair ideas, wardrobe inspirations, pose ideas, mood of the image and general concepts and set ideas.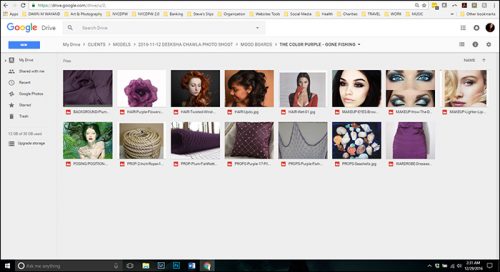 A sample mood board for a set idea on Google Drive.
Don't forget, it's also good to include a color palette on your mood board as color palettes can help your makeup artist. Pinterest is also a great tool for getting inspiration to create a mood board. It also has sharing options that you can use to share with your creative team.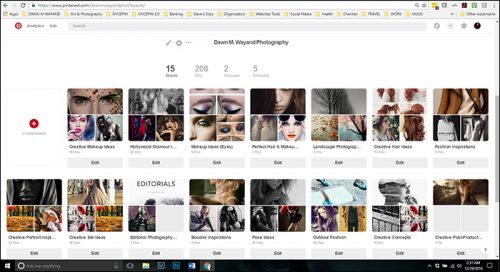 Folders for my mood boards on Pinterest.
Select Wardrobe. For some, selecting wardrobe can come before a model. I actually keep a commercial double rack full of clothing, shoes and some accessories in various sizes that I can use when shooting a model. This leaves only the need to bring shoes if I do not have their size. I do this because many models do not have stylish designer clothes of their own. More often than not, shoes became an issue so I started to collect shoes in general colors, styles and sizes as well. When I am shooting a TF project, I may have an idea in mind revolving around a piece of clothing I already have and I find the model based on size.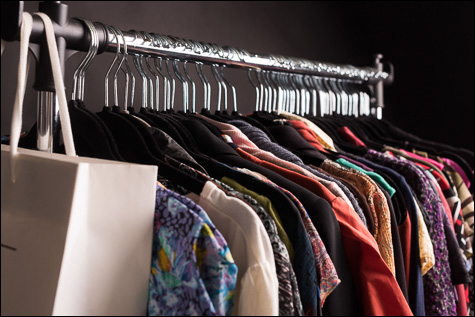 Clothes are obviously key to a fashion business.
Photo courtesy of Yann Bizeul
If you have a particular idea or concept in mind and do not have the time to shop for wardrobe and accessories and if the budget allows, hire or "test" a stylist. Upon conveying your idea and giving him or her the specs, a stylist will be able to find the wardrobe you need for the shoot. For many, you may not be able to provide wardrobe, so selecting wardrobe will come after you book a model as you will need to coordinate wardrobe with the model from his or her own closet.
Select Your Creative Team. For the TF type of shoot, I tend to select my creative team prior to setting a portfolio photo shoot date and time as I have my favorites and I try to coordinate a shoot based on their schedules. At the very least, for a TF model portfolio shoot, if your model isn't skilled at her own makeup, you will want to have a makeup artist (MUA) at the photo shoot. I have been blessed to work with a makeup artist who also does an amazing job with hair, but for a paid job I might have these two jobs separate, depending on the client.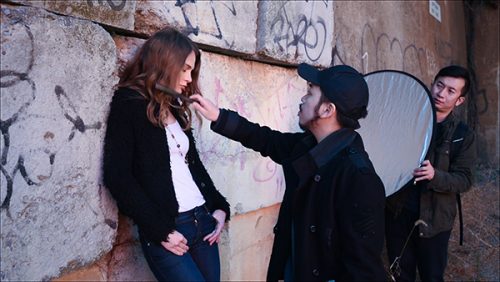 I always work with at least a hair/makeup stylist and a photo assistant to help make photo shoots a little easier on me.
Model: Daria Komarkova; Hairstylist/MUA: Gil Aldrin
Photo courtesy of Yann Bizeul
Having a photo assistant is a plus as it is sometimes a lifesaver (and a timesaver) to have an extra set of hands on the set. If you have patience and are able to teach while shooting, you are sometimes able to find a photo assistant to help at no charge in exchange for learning and experience.
In addition, if you do not do your own retouching because you do not yet know how (in this case, check out my group, NYC Digital Photography Workshops for group and private workshops at www.nycdpw.com for photo editing workshops), or you do not have the time, it's also a good idea to locate a retoucher who can handle your project in the time period for which you need the photo shoot images back.
Choose a Location. Whether you are shooting in your home or commercial studio and/or on location, you will want to decide on location(s) for the photo shoot as this is information you will need to relay to your model, or the modeling agency to pass along to the model.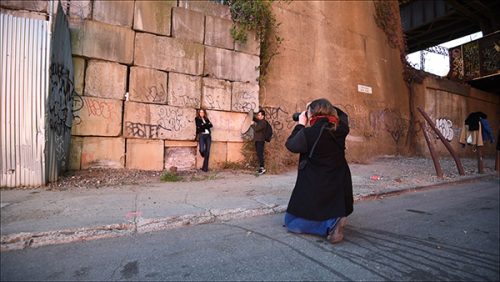 I often like to shoot in my own urban and industrial backyard.
Model: Daria Komarkova
Photo Courtesy of Yann Bizeul
I like to at least start in my home studio to shoot any images with any white or color seamless backdrops or any sets I want to build and then move outdoors or to another location whether it is in my immediate urban and industrial neighborhood or further out.
Set the Photo Shoot Date/Time. So now I'm almost ready to book a model for my TF shoot. Since I have access to agency models for portfolio building shoots, I want to have a date or two available where my preferred team and I are set to shoot. As mentioned in the step above, I then coordinate available date(s) with my team using my company's G-Suite calendar.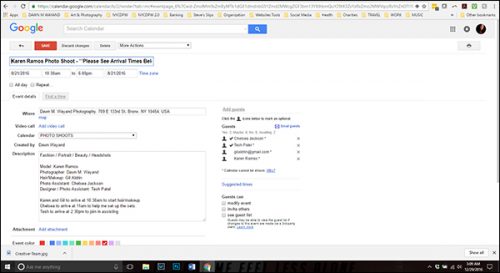 I generally use my company's Google calendar to note and remind for my appointments.
Develop a Model Spec List to Give to an Agency. If you are working for an agency, the next thing to do, since I have some potential concepts in mind, is to develop a spec list to give to the agency. Some general things on a spec list will include things like: age range, hair color and length, eye color, height, weight and/or body build and clothing sizes. You may be more specific if needed.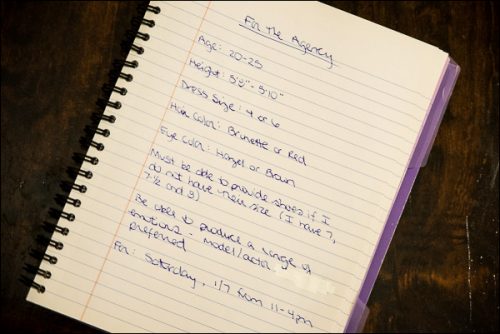 Just a few notes to relay to the modeling agency to described what I prefer for the idea I developed.
Get In Touch With the Agency to Provide Spec List and Select Model(s). I then call, or, if you have worked with the agency before – email the agency and pitch your ideas for the shoot and provide them with the specs you are looking for in a model for the images you envision.
Ask the Agency for Their Needs for the Shoot. In addition to providing what you need, it's a good idea to ask the agency for their needs for promoting the model such as, do they need headshots, fashion or fitness-type images or maybe they need black and white vs. color images. Then make sure you fulfill their needs too during the shoot.
Coordinate Wardrobe/Shoes with the Model(s). Once you know who you're client is, if you are providing the wardrobe, you will want to coordinate shoes for the model to bring to match your wardrobe ensembles for them. While I do keep a few pair of heels and booties in various colors and sizes, I cannot cover all colors and styles in all the different sizes.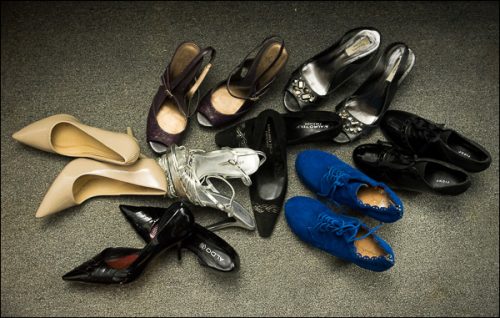 Some of the shoes I keep in my Model Closet in my home studio.
If the model is providing the wardrobe, they will usually know the type of shoe to bring to the photo shoot to match the pieces they are bringing.
Buy and/or Create/Build Props for Sets. If you will be doing any work in the studio, you might have some ideas for a set that you will need to build. While you can often find some props or furniture for little to no cost through Craigslist, the want ads or maybe even a tag sale, you can also borrow these things from family and friends too. If I do not use those means to help build my sets, I typically go to eBay and I'm usually able to find exactly what I want whether it's 2-inch thick boat rope for a nautical-like image or a black goth-type umbrella for a faux graveyard scene. I was once able to buy a 10-setting set of fine China from a lady on Craigslist for $15.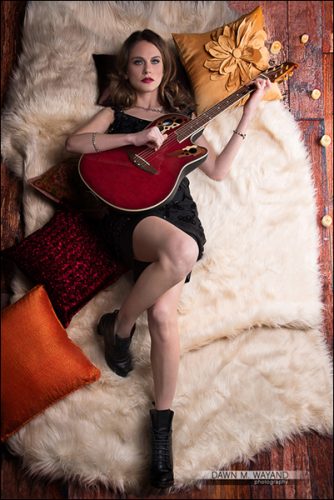 I used a faux wood photo carpet, a fur throw, my acoustic/electric guitar and
votive candles as props and bought pillow covers to create this set.
Model: Daria Komarkova
Adorama offers a wide variety of backdrops and faux floors similar to the wooden floor above. I also used one of my guitars and some votive candles as a props. I used eBay to buy a variety pillow covers for a bunch of throw pillows that have become handy for my shoots.
Think on Poses That Lend to the Wardrobe and Set. Before a photo shoot, I like to think on definite poses I would like to incorporate into a shoot and have a wide variety of reference from which to choose. Some folks like to sketch pose ideas and while I'm an artist too, with all the tasks involved in preparing a shoot, I always try to opt for the easiest choice. As I previously mentioned, I like to tear things that I like and want to inventory for future inspirational use such as wardrobe, a set idea, a mood, a lighting style, etc. out of fashion magazines. Additionally, I like to tear out images of poses that I may want to use in future photo shoots. In doing this, I end up with a very large catalog of these inspiration to work with in the future. From time to time, I do go through this catalog and purge things I no longer like to keep my catalog of inspiration always up to date.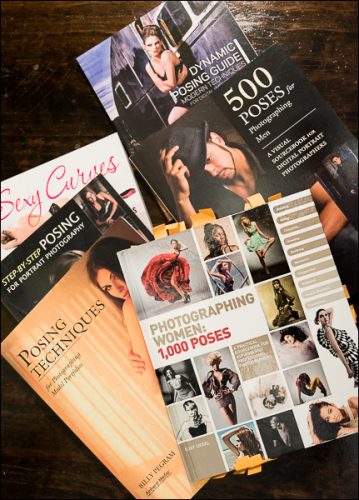 Several posing books I also own and refer to before a shoot.
I also own several posing books (above) and have found them a nice resource to look through before a shoot to contemplate what might work with a certain wardrobe ensemble or a location I will be working with for that shoot.
THE WEEK OF
Make Sure Wardrobe is Ironed and Ready. I cannot stress how important it is to make sure you iron the wardrobe if you have no one to do this for you. It is a huge pain to take wrinkles out of clothes in post-production.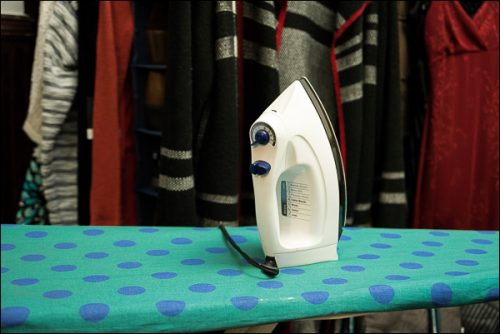 Ironing the garment is extremely important as it can save you time and effort in post-production after the shoot.
Coordinate Jewelry & Accessories to Wardrobe. I like to put together at least a necklace and watch for every wardrobe ensemble, but oftentimes add things like bracelets, earrings, rings, purses, hats and/or scarves too.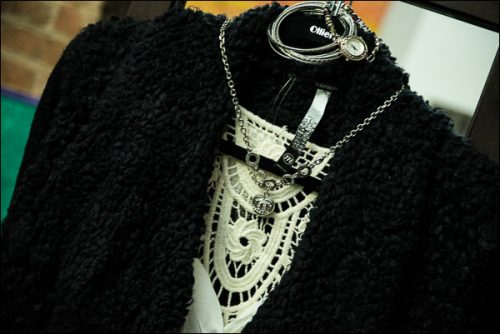 Accessorizing prior to the shoot makes the shoot day a lot less stressful.
To make a portfolio appeal to a client selling a product like an accessory, I throw in a purse in at least one of the images or I dress up the model with jewelry and then for one or the other, make sure to pose the model to highlight the product, whether it's the purse or jewelry.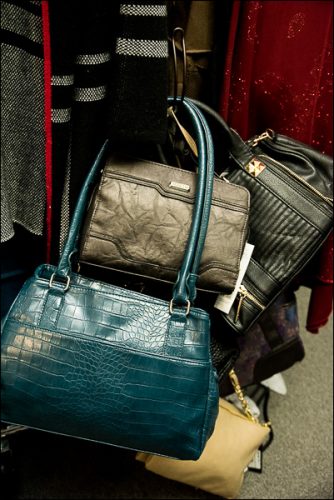 I keep purses in various colors, styles and sizes.
Order Catering for Photo Shoot, if Desired. While professional models typically know to bring their own snacks and drinks, I generally provide coffee, tea, water bottles and things like fresh fruit and nut/trail mix packets and have these delivered to me the day before or the morning of the shoot.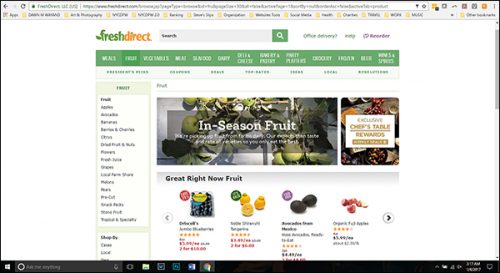 I use Freshdirect to place orders for my catering delivery the morning of the photo shoot.
Clean Up Your Working Space. It's a good idea to make sure your studio is clean prior to a photo shoot. Everything in my studio has a home. I tend to "reset" my studio after every photo shoot to have a fresh start for each shoot (kind of like a blank canvas…) Putting everything back where it belongs, even though I may be using it again the next day, prevents me from having to search for where I left something.
Order or Purchase Any Equipment or Supplies Needed. If you are renting equipment, 7-10 days before a shoot is a good time to get that order in to ensure a rental company, like Adorama Rentals, has the gear you need in stock for the date and time desired. Check how much seamless paper you have left, test your lights, check all of your batteries and by the way, how much gaffer tape do you have left? Refill and replace as needed.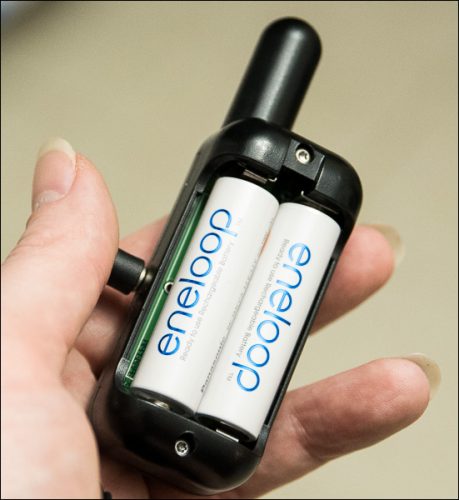 Checking the batteries of the receivers on my monolights.
THE DAY BEFORE
Send an Email Out to All Parties for Confirmation. I tend to send out a general  information a few days before the shoot but usually the day before. It includes an intro to everyone who will be at the photo shoot along with their headshots, when to arrive, what to expect, location and directions and what I will provide as far as snacks and drinks, if anything. I always ask each person to confirm they received the email, which serves as a confirmation that everyone is on the same page about the basics.
Pull Wardrobe, Accessories, etc. for Shoot Tomorrow. You may have many shoots throughout the week. I like to pull out everything I need for the next day's shoot, the night before to double check that everything is paired, wrinkle-free and ready for the shoot the next day.
Do a Second Equipment Check. I was a girl scout in my early years and I was taught to always be prepared. While I know I checked everything earlier in the week, I like to at least check my lights and flash the night before to put my mind at ease or to know if I or my assistant need to make an early morning runner before the shoot to replace something. At this time, I also like to make sure all of my modifiers are where they are quickly and easily accessible.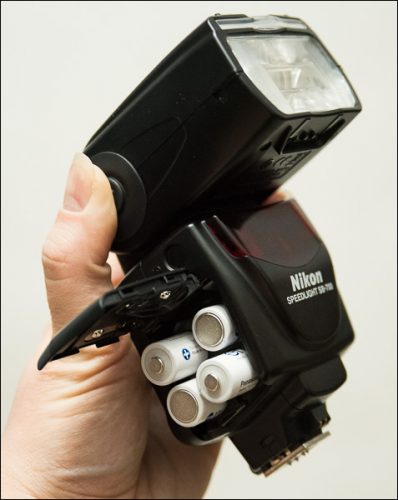 I check my flash again to see if I need to recharge my Eneloop Rechargeable Batteries.
Pack Any Bags Necessary if Shooting on Location. If I know I am shooting on location for all or part of my shoot, I pack as much as I can the night before into gear bags, leaving out only what I need to use in the studio before moving away from the studio. When I only need a few lenses and adapters, I use my Kelly Moore Brownlee bag (guys, you'll probably use a small backpack like the Case Logic SLRC-206). When I'm not sure what I'll need because circumstances can change, I like to take a variety of lenses and adapters, etc., so I take my Ape Case ACPRO 1900 which holds a lot of gear and accessories, including my laptop for tethering!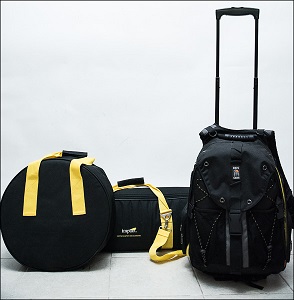 My basic luggage for a location shoot.
You may need a lighting bag for a stand or two and a few monolights. For this I own a couple of bags like the Interfit Two-Head All-in-One Soft Carrying Bag which can also hold things like umbrellas and a small light stand or two. If you have any large or specialty modifiers, like a beauty dish, there are bags for these too.
These are all of my steps for working on a TF model's portfolio photoshoot. You may or may not use some of these steps for various reasons or may have additional steps in your workflow. In the next article, I will run down my checklist for what I do on the day of the photo shoot. Until then…